It's never too early to start making friends for life. You can laugh as you learn together and give each other a helping hand through the thick and thins of growing up. It's what being a Young Oddfellow is all about.
If you're 17 or under and a resident of the British Isles when you first join, we'd love to welcome you as a Young Oddfellow.
At just £10 a year, you can:
…have heaps of fun making friends and learning new things
Many of our events are family-friendly, with a number of them designed just for Young Oddfellows like you. This could include trips to theme parks, craft workshops, quizzes or simple playtime in one of our venues.
…treat yourself each Christmas*
Every Christmas, we'll send you a £5 gift voucher, so you can hit the shops with your own money and spend it on something you like.
…receive care and welfare help if you need it*
Your happiness is something we really care about. So if at any time you feel the need to chat something over with us, you can. We've Care and Welfare support available at your Branch, as well as help available through the Care & Welfare Helpline, the Oddfellows Citizens Advice Line and our Convalescence and Carer Support benefits. In some circumstances, parental/guardian consent and their presence may be needed when it's required by law or by third-party providers.
…receive financial help through the Orphan Gift Fund if the unthinkable happens*
If you ever lose one or both of your parents, then we'll support you where we can through your education, training or first job. Our Orphan Gift Fund can provide one-off and regular financial support to help fund things such as your school uniform, travel cards, books, musical instruments and school trips.
When you get older, being a Young Oddfellow also means that you can:
…enjoy savings on Adult Membership*
When you reach 18 and look to become a Adult Member of the Oddfellows, you could save up to four years on the cost of annual membership. How much you save depends on when you became a Young Oddfellow. You must also have remained a member continuously up until the age of 18. Take a look at the chart below for a break down.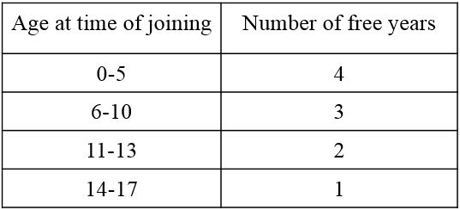 …apply for an Educational Award to help advance your career*
We know that studying and vocational training can cost you a lot these days. Each year we grant up to three First Degree Course Educational Awards consisting of £900 per year for the duration of a student's first degree programme and up to three Apprenticeship Educational Awards consisting of £250 per year for the duration (max three years) of an apprentice's apprenticeship. You must have had at least five years' continuous membership to apply, however. But if you have, then it's all yours to try to secure.
Additional Young Oddfellows benefits
In addition to the benefits above, being a Young Oddfellow means you're also eligible for Benevolence Grants* to help you through a difficult time, Accidental Death Benefit*, some money-saving member offers*, our Legal Aid Scheme* and Emergency Financial Aid (Household)*.
Need more information?
If you'd like to discuss becoming a Young Oddfellow or any of the benefits with us, just give our Membership team a call or email. You can also get in touch with your local Branch. You can find their details by using our Branch Finder.
Want to become a Young Oddfellow?
That's great news! You can join here. We can't wait to say hello.
*Terms and conditions apply to all financial benefits. All Oddfellows benefits are non-contractual and may be withdrawn at any time without notice.  Read the full list of Oddfellows member benefit terms and conditions.
For benefits provided a third-party, please check their individual T&Cs.