Never lonely or forgotten: Pauline's story
Updated: 16 Oct 2020
True friendship is a real safety net during difficult times. Pauline Jones, a member of Birmingham Oddfellows, couldn't agree more.

Pauline (centre) enjoys a coffee with fellow Birmingham Oddfellows members Sheila (left) and Bridget (right)
Retirement can have a devastating impact
"I had a very fulfilling job, working as a PA to a consultant in a children's hospital," says Pauline. "But when the time came to retire, I felt completely lost." 
Pauline wasn't alone in feeling like this. The people you see day in and day out in your workplace become such a strong support network, that when the time comes to leave, the impact it has on your social life can be devastating.
"The friends I had made at work were often busy with their own lives, and their work schedules meant they had little free time for us to catch up. I turned to reading to fill my time, but it's such an isolating activity. I wanted to be with people and enjoy some great conversation."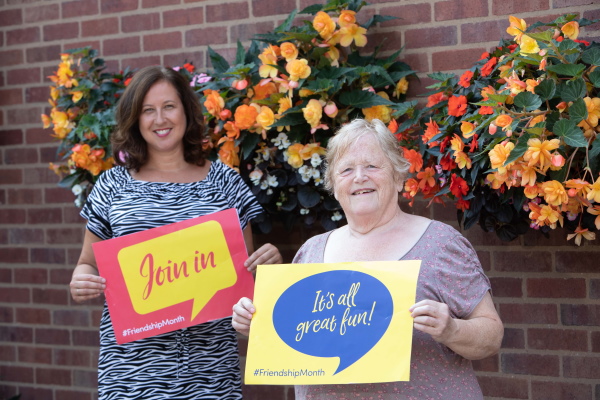 After meeting Joanne (left), Birmingham Oddfellows' Social Organiser, Pauline decided to come along to a coffee morning to learn more about the Oddfellows.
Finding new friends in unexpected places
For Pauline, however, The Oddfellows proved to be a lifeline. Now 75, Pauline joined her local Branch of the Oddfellows during our annual celebrations of Friendship Month in 2019. She found the group full of welcoming people that she could try new things with. 
Pauline had struggled during the early days of her retirement, and hadn't got used to the new, slower, pace of life. She'd previously worked long hours, which hadn't left her with much time to build up a strong circle of friends outside of her job. When she heard about a coffee morning being held by the Birmingham Oddfellows, she didn't hesitate to give them a try. 
I had so many calls from different members checking in on me, I never once felt lonely or forgotten. Pauline
"After that first event, I knew I would be coming back, I didn't even question it. Walking into a room full of people you don't know can be intimidating, but it's such a lovely group of people that I didn't feel nervous in the slightest. Since then, the group has been my safety net, and they have filled a huge hole in my life.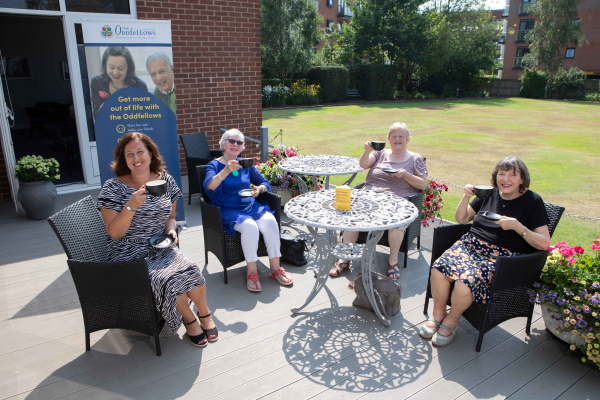 Joanne (left) organises a range of fun and welcoming events across the wider Birmingham area.
"During the lockdown, I had so many calls from different members checking in on me, I never once felt lonely or forgotten, although nothing is better than seeing my friends in person," added Pauline. 
Rebuilding a busy social diary
The Oddfellows has offered friendship and support to its members for more than two centuries. It is one of the UK's largest friendly societies, with 309,000 members across its 121 Branches. It's a non-profit mutual (membership from £25 a year) run by members, for members, to improve the quality of people's lives.
Members can enjoy regular social events, such as coffee mornings, craft sessions, lunches out, guest talks and excursions.
"I love trips to the theatre, so I'm hoping lockdown won't last too much longer! I enjoy getting stuck in and helping Joanne, our Social Organiser, with the organisation and planning of events, at it's great fun, and really makes me feel I'm part of something special."
More than just friendship
There are also group holidays run by Oddfellows Travel in addition to benefits which include care and welfare advice and support, special member discounts and historical archive access*.
Pauline adds: "When they say everybody is welcome at the Oddfellows, they truly mean it. If you don't know anybody when you arrive, you'll certainly leave with a handful of new friends!"
If you feel that you'd benefit from additional support and friendship, you can visit our Join Us page, to discover the different benefits membership provides. You can also use our handy Branch Finder to search for your local Branch using your postcode.
With a whole host of events happening online and in person, our Events page is the quickest way to see what's going on near you, and nationwide, too.
To learn more about the Oddfellows and how to join, contact us by email, or call 0800 028 1810.
See how our network of 121 Branches marked Friendship Month 2020, helping people stay connected in the face of social restrictions and a worldwide pandemic.