Live from the lab
An £88,000 donation by the Society's charitable fund has made it possible for the University of Bradford to undertake research into non-healing wounds. We share the updates so far.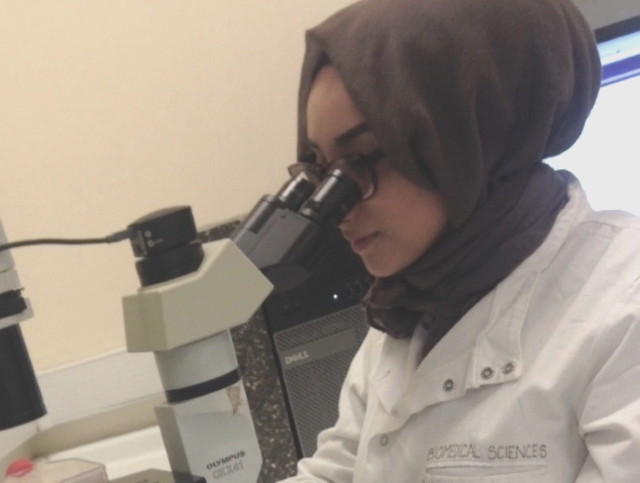 An £88,000 donation by the Society's H A Andrews Memorial Fund has made it possible for the University of Bradford's Plastic Surgery and Burns Research Unit (PSBRU), to undertake a vital three year research project into the treatment of non-healing wounds.
ANISA HANIF, head researcher and PhD student, updates us on the developments from the lab so far.
A typical day in the laboratory for me involves maintaining hair follicles and dermal fibroblast cells for experimental purposes. Responsible for synthesising collagen and elastin, the connective tissue which allows skin to recover from injury, our lab dermal fibroblast cells are often donated by face-lift patients.
It's a tricky job requiring a lot of dexterity and patience which can take up to 10 days to complete.
Once these key cells are isolated, the experiment can begin. Currently, I am investigating the effects of high glucose (sugar) conditions on different types of skin and hair follicle fibroblasts. This is to more closely mimic diabetes-associated high sugar levels and explore how this affects wound healing.
I look forward to presenting some of these early results at the annual meeting of the British Society for Investigative Dermatology (BSID) in early April this year.
Looking ahead, the project will further test these high-sugar conditions through numerous different methods in order to gain a broader understanding of the biological changes occurring.
I must say that I am very much enjoying the experience so far, and am very grateful to both the University and the Oddfellows for this exciting opportunity.
Anisa Hanif (BSc, MSc), University of Bradford
Your chance to make a difference
Providing financial support to medical research projects, the Society's H A Andrews Memorial Fund has donated over £760,000 to good causes including Parkinsons UK and the Stroke Association.
To make a personal donation to the fund please make a cheque payable to 'The Oddfellows' with H A Andrews Memorial Fund clearly printed on the back and send to: The Oddfellows, Oddfellows House, 184-186 Deansgate, Manchester M3 3WB.