Couple's advice for relocating in later life
Updated: 03 Jun 2021
Oddfellow members, Penny and John Burch, have tried and tested living in countless towns across the UK. They share their tips on how to settle into a new home.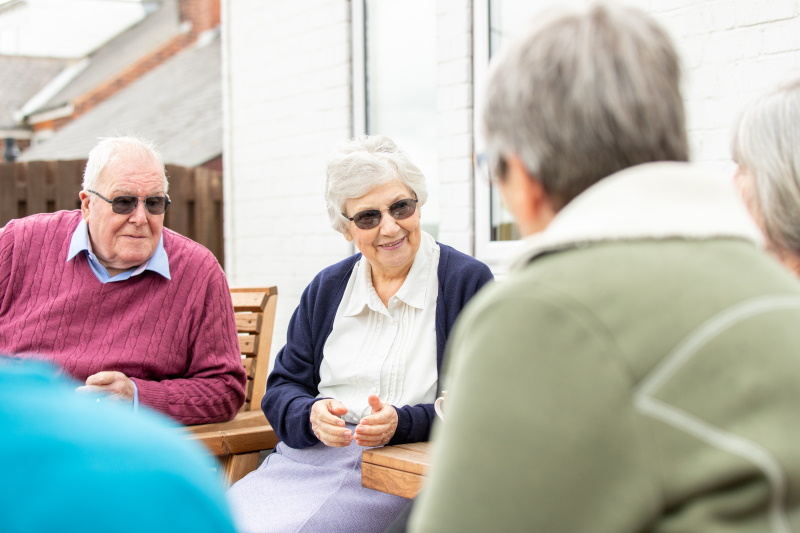 Penny and John have lived in dozens of homes as a result of their post-retirement careers as pet sitters. Now, aged 83 and 88, they say they've relocated for the last time and are sharing their expertise on how to settle into a new town as older adults – with joining friendship society the Oddfellows at the top of the list.
Penny, who has been married to John for 30 years, said: "We're used to moving about. We did the pet sitting as a bit of an adventure to fill our retirement and allow us to travel. It was fun getting to know different areas and people.
"Our move to Chesterfield was different, because we are laying down roots, but the tricks to getting quickly settled are the same, you still need to get out and explore and enjoy meeting friendly faces."
Find a friend
Penny and John, who have five grandchildren and one great-grandchild, have lived all over the country, but their latest relocation from Worthing on the South coast, to Derbyshire, is to be their last.
The most important thing when settling into a new place? They both agree that finding a group with mutual interests should be your top priority. You don't both have to join the same group either!
It's not just about buying a house and making it look nice, you have to make an effort to integrate into the community. John Burch
Penny joined the Women's Institute and encouraged John to come along to the Oddfellows, which was something they could do together.
She said: "One of the first things we did when we moved was to join the Oddfellows, which I think was the best thing we could do. Everyone was very friendly – it took about five minutes to settle in. We took a taxi the first week, and by the second week we'd been offered a lift by one of the other members.
"I think it's one of the few groups you join specifically to make friends, not just because you share a hobby," she added. "We do think it's important to join things that are of interest to you, but just because you share something in common it doesn't mean you are going to have a good time together. The Oddfellows is all about friendship, so there's no worrying about the fact you won't make friends!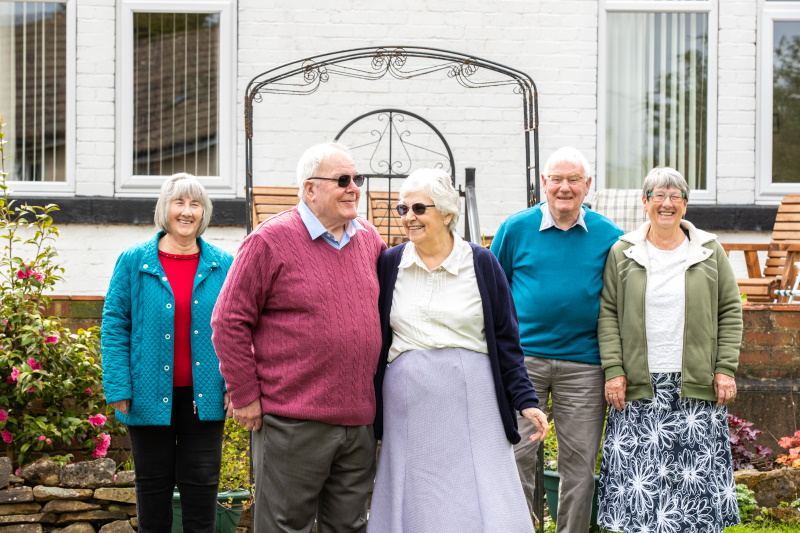 John and Penny (front row) say finding a group with mutual interests should be your top priority.
Know what you like!
Penny and John, who are members of the Oddfellows' Derbyshire Peak Branch, got itchy feet after retiring and decided to take up pet-sitting, which saw them stay in homes across the country. As well as looking after family dogs, they were also responsible for the care of alpacas, chickens and ponies.
Penny said: "It was a really lovely way to see the country. We would spend two weeks in a new home, a new town, and we'd get to have a little explore of areas we might not otherwise have gone to.
"We got to know what we liked about different areas and what we would avoid. We began to realise that it was important for us to live in an area with a friendly community, but we also liked places that were easy to get about and were interesting to be in."
The couple moved to Chesterfield to be near their son Philip, but Penny says it's important to relocate for a love of the area as well as the loved ones who are there.
She said: "We definitely wouldn't have moved if we hadn't liked it here already. I think it's wonderful to be near family, but it's got to be a place you can see making a life for yourself in too."
Respect your needs
Penny added: "People have said to us 'I don't know why you do it at your age', but your needs change as you get older. Moving out of the town you've lived in for many years could be the right decision for you. Or travelling more, or going on an adventure, or doing something new – you need to put yourself first and concentrate on what you need at that point in your life.
"Worthing was lovely, and we loved living close to the beach, but once we couldn't walk to the beachfront and enjoy it the way we used to it got us thinking if it was the right place for us. We were very fond of Worthing, but it wasn't really fit for purpose, and we wanted to be nearer our son."
Commit!
John, a retired engineer and former aircraft engineer, has travelled all over the world during his career in the military and speaks seven different languages.
He said: "Once you make the decision to move, commit to it whole-heartedly. It's not just about buying a house and making it look nice, you have to make an effort to integrate into the community.
"Many people stay put in their retirement, and that might be the right thing for them. But just because others stay in one place, doesn't mean you have to. Moving to a new place can be daunting and you might think that people our age already have all the friends they need – but wherever we've been, we've always found that it isn't the case."
It takes time to settle
Branch Secretary for the Derbyshire Peak Branch of the Oddfellows, Meryl Caunt, said: "Settling into a new home or community takes time. The pandemic and social distancing restrictions have really set people back from getting to know other people, discovering their local area and feeling more settled.
"We're now restarting some of our usual social events and we're always ready to welcome new members. Just get in touch."
John also added: "Whether you join a local group like the Oddfellows, go to Church, or just sit and chat with people at the local café you'll find your tribe. There are always going to be people who have known each other since being teenagers and are very familiar with each other, but there's a role for you as someone new coming in too!"
Oddfellows friendship groups
We're always ready to welcome new members to our local Oddfellows friendship groups. You can find your nearest by using our Branch Finder, or use our Events Finder to search for social events and activities happening near to where you live.
Give the Oddfellows a try. There's no obligation to join. Contact us to request your free information pack and local events diary.
Read more advice on making friends and building social confidence in our friendship guides section.