Branches raise over £145,000 for good causes in 2020
Updated: 12 Mar 2021
A big part of the Oddfellows is about giving back. We're run by our members, for our members, and that means providing them with the support they, their friends, family and communities may need.

Help was never more needed in 2020
The societal impact of the worldwide pandemic and nationwide lockdowns truly showed us the importance of coming together as a community. And despite many facing funding and resource crises themselves, charitable organisations stepped up to play a huge part in helping people to get through the struggles of last year.
To show our continued support, our UK Branches raised £145,742.59 for good causes in 2020.
Jane Nelson, CEO of the Oddfellows, says: "In one way or another, we've all needed somebody to lean on at various points during the pandemic, so it's wonderful to see how our Branches and members have been helping their local communities and good causes."
Oddfellows Branches and members also made significant contributions to Society fundraising initiatives during the past year, such as our Coronavirus Emergency Appeal, in which £19,210 was raised to split between The Silver Line and the National Emergencies Trust.
Local support
Our 115 UK Branches regularly donate to a long list of local organisations and charities. From supporting homeless shelters through to funding public defibrillators, they work tirelessly to help make their towns great places to live for people of all ages, from all walks of life. Here are a few examples...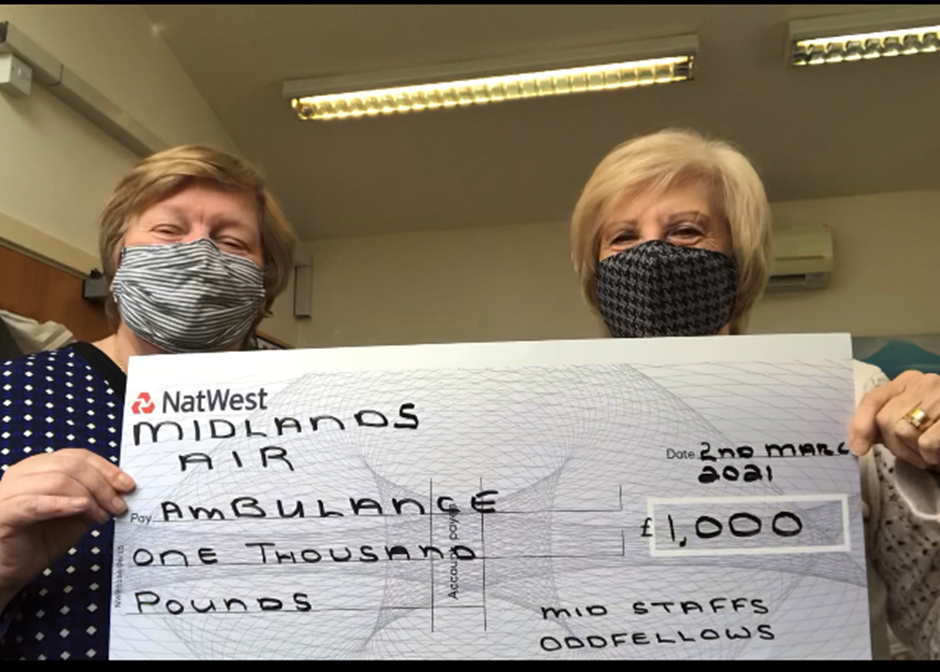 Secretaries at Mid-Staffordshire Oddfellows, Janet Lewis and Christine Elliott with the big cheque.
Mid-Staffordshire Oddfellows
Mid-Staffordshire Oddfellows, based in Stafford, presented Midlands Air Ambulance Charity with a cash boost of £1,000. With air bases in Staffordshire, Shropshire and Worcestershire, Midlands Air Ambulance Charity (MAAC) provides emergency care in hard-to-reach places. Without government or lottery-funded support, the charity relies heavily on donations from the public and local businesses to cover running costs.
Great Berkhampstead District of the Oddfellows
The Great Berkhampstead District of the Oddfellows gave £2,000 to a local school which runs a scheme called No Child Without. During the pandemic, many children were left at a disadvantage following school closures, due to a lack of access to tablets and laptops at home. No Child Without makes sure that every child has the basic necessities to learn, no matter their background.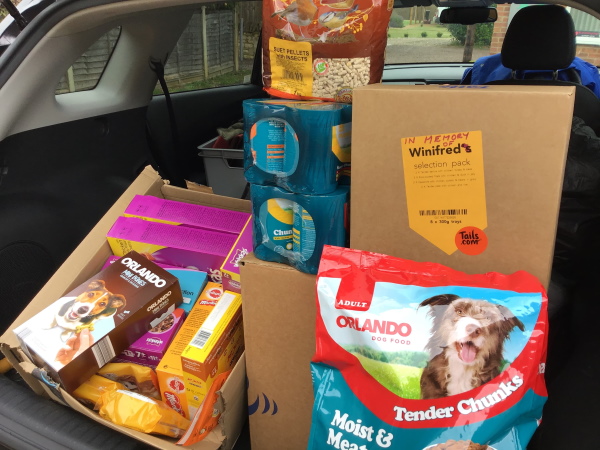 A car boot full of pet supplies for the Exotic pet Refuge in Deeping St James.
Nene and Welland Oddfellows
Nene and Welland Oddfellows donated £1,000 and a car boot full of essential donations worth £400 to the Exotic Pet Refuge charity in Deeping St. James. The Exotic Pet Refuge is home to over 250 unwanted, abandoned or neglected exotic animals and rescued British wildlife. Unable to run their regular open days and fundraising activities throughout the pandemic, the Refuge has struggled on a reduced income, and relied heavily on donations from the public to cover running costs.
Leigh and Bolton Oddfellows

The hospice costs £4 million per year to provide its specialist care, through inpatient care, their wellness hub, and at-home care. The team not only looks after patients' physical needs, they consider their emotional, spiritual and social needs too. There is also support available for families and close friends, both during illness and in bereavement.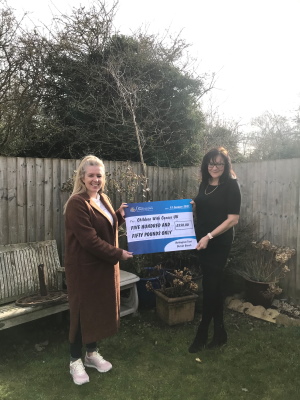 Nottingham Trent's Branch Secretary Karen (right) with Joni, a local mum who ran a marathon around town in aid of Children With Cancer.
Nottingham Trent Oddfellows
Nottingham Trent Oddfellows sponsored a local mum with £550 who was raising money for the Children with Cancer charity by running a marathon across town. Every day, 12 families are given the heartbreaking news that their child has cancer and CWC funds over 60 research projects which all work towards giving children the very best chance of survival.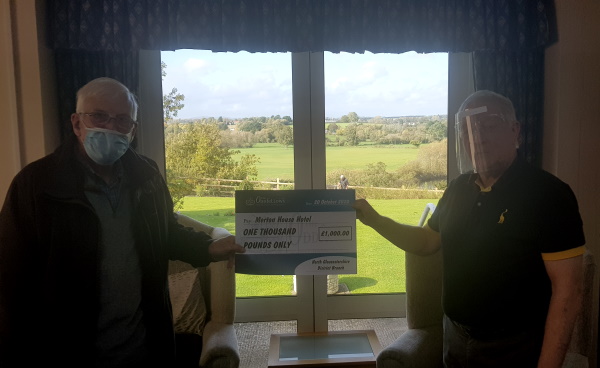 North Gloucestershire Oddfellows presented Merton House Hotel with a cheque for £1,000 to provide support after lockdown closures.
North Gloucestershire Oddfellows
North Gloucestershire Oddfellows donated £6,000 to Merton House Hotel to get it back on its feet after early closures in 2020 due to government restrictions. Merton House Hotel is one of the Oddfellows' chosen providers for respite breaks, as it provides support to members following an illness, operation, accident, bereavement or traumatic experience. 
Caring about people since 1810
To find out more about how we give back to our communities, visit our giving back section.
To find out more about how we care and support our members, visit our care, advice and support section.
To find out what's happening at a Branch near you, use our Branch Finder or Events Finder. To receive a free Oddfellows membership information pack and local events diary, please contact our Membership Team.