A truly special Oddfellows family
Updated: 04 Dec 2020
Coming together, helping each other and keeping spirits lifted. Society CEO, Jane Nelson reflects on how 2020 should also be remembered for its incredible examples of kindness and compassion in her end-of-year message...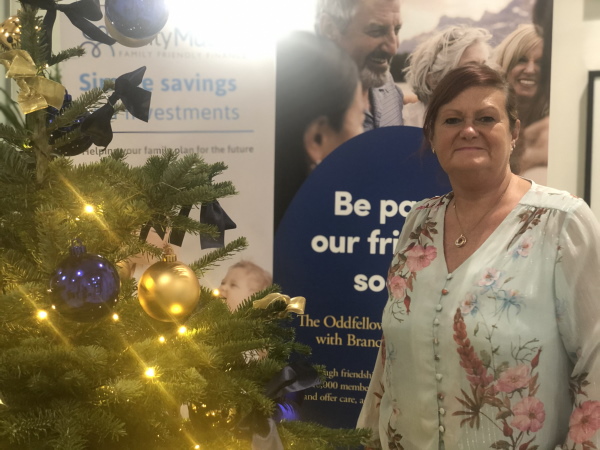 2020 has been a year unlike any I've experienced before. In March, we entered our first lockdown. Among many others, it placed restrictions on how we could spend time with friends and family, make visits to loved ones in hospitals and care homes, and even how we all earn our living.
Most devastatingly, many people were held back from saying a proper, supported farewell to those friends and family members who passed. My heart goes out to anyone who has lost someone special in the recent months. I know from personal experience how difficult it is, so if you need any comfort or help please remember to lean on us.
Coming together
It's human nature to come together in a time of crisis – to squeeze a hand, to offer a shoulder to cry on, to hug, or to simply sit side-by-side.
However, despite it all, we are finding ways around things, as best we can. Nothing will ever stop us resourceful Oddfellows from giving comfort and support to each other and those in desperate need. This year, I've witnessed compassion and human kindness on a scale I've never known within the Society before, and this has really lifted me on my difficult days.
Being there for each other
I hope that if you needed help this year, you received it. I know that the staff and volunteers in our Branches have worked flat out to make sure members know they have someone to turn to. They've made thousands of calls and sent thousands of emails to check in with members and see if any help is needed. This has meant that many members were able to access critical food and medical supplies, as well as financial and emotional support. So, if anything is troubling you, please make sure you get in touch.
Keeping spirits lifted
I've seen some incredible innovation to keep spirits lifted and people connected. We'd only hosted a few online events here and there before 2020, but we're now broadcasting talks, quizzes, and even fitness sessions, straight into people's front rooms almost daily. I know online events won't ever replace getting together in person, but they're a wonderful way to make sure we can still keep in touch, safely. I do hope you try one if you haven't already.
I've also been kept in the loop on so many unexpected acts of kindness from members and Branches, such as quizzes and puzzles being posted through letterboxes, and afternoon tea hampers and flowers being dropped off on members' doorsteps. Such small gestures make a huge difference to people, so if there is anything you can do to keep this going, then please do. Kindness is infectious.
Helping others
Oddfellows have always looked further than their own front door when it comes to charitable giving, and this year was no exception. In spring, a nationwide appeal to raise critical funds for The Silver Line and the National Emergencies Trust resulted in a donation of £19,210. It helped some of those hardest hit by the coronavirus pandemic. £7,600 was also raised and sent overseas to help Australian people to rebuild their lives following the 2019/2020 bushfires.
We know there have been countless other examples of charitable giving made by members and Branches this year, so thank you for helping where you can, and being wonderful ambassadors for our Society.
I would also like to give a special mention to this year's four Making a Difference Award winners, members Margaret Wells, Barry Bedford, Bruce Nicole and our youngest to date, seven-year-old Effie Bowman. Our Society is powered by the hard work and selflessness of such wonderful members. Huge congratulations to them and all who were nominated. Shortlisting these awards is such a difficult task, but it's an absolute joy to know that we have so many members out there living and breathing our motto of friendship, love and truth.
A truly special family
Looking forward to 2021, please try and stay positive. We have news of a vaccine, and therefore hope that we can be back together again, and that we can resume our daily lives with less fear, difficulty and uncertainly.
I've always known this, but the events of 2020 have confirmed just how caring, supportive, generous, friendly, and resourceful our Oddfellows family is.
I am immensely proud to be a member of something so incredibly special and purposeful. I do hope you feel the same.
Please accept my very warmest wishes for a happy and healthy Christmas and New Year. Until we're all able to meet together freely again, let's stay in touch. We're always here if you need us.
Take care, stay safe and stay well.
Yours always in friendship,
Jane Nelson
CEO, the Oddfellows