Every event, every fundraiser and every brew made is powered by our wonderful network of fantastic members, and they mean the world to us.
There are some who go far beyond the call of duty and we feel it's important they're recognised. Our national Making a Difference Awards are designed to celebrate and say thank you to these extraordinary people.
Each winner is presented with a personally-engraved award by the Grand Master, our Chairman of the Society, in a special ceremony at our annual conference.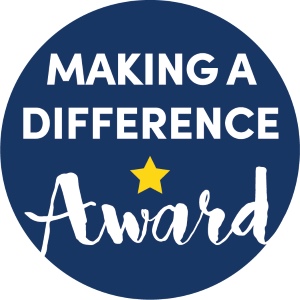 Meet our winners for 2022!
Enriching lives socially
2022 winner
Congratulations to Julie Webster from St Helens and Warrington Oddfellows.
Giving something back
2022 winner
Congratulations to Shirley Walton from South East Lancashire Oddfellows.
Achieving together
2022 winners
Congratulations to Doug and Phyllis Austin from Leeds Oddfellows.
Giving a helping hand
2022 winner
Congratulations to Sylvia Alcorn from Pride of Woolwich Oddfellows.
Nominate now for 2023!
Who deserves to win a 2023 Making a Difference Award at your local Branch? Any member can nominate another member. Download a nomination form today and give them the national recognition they deserve. 
Our five Making a Difference Awards...
1. Achieving Together Award: For teams of two/couples only.
Working as a team, these members work together to achieve so much more than they could alone. They significantly improve the lives of members or help to make their Branch and Society the best they can be. Together their efforts make a significant difference and their dedication deserves equal recognition.
2. Enriching Lives Socially Award: For individuals only.
This member loves contributing to social activity, whether as a frontline organiser or backroom support. Whatever they do, they can always be relied on to get everything together for the get-togethers and without their input your events just wouldn't be as good as they are.
3. Giving Something Back Award: For individuals only.
The focus of this member is to raise as much money as possible for worthy causes. They may be involved in organising or participating in fundraising activities or events and will use every opportunity to help raise money or 'in kind' charitable support.
4. Working in the Spirit of Mutuality Award: For individuals only.
This member's passion lies in the running of the Branch and Society as a whole. Typically they will have held one or a number of formal roles and worked collaboratively with their management committee to make positive things happen.
5. Giving a Helping Hand Award: For individuals only.
Looking after other members is what this member loves best. They are likely to be a Welfare Visitor or other caring volunteer who goes out of their way to look after the wellbeing of members – whether phoning, writing or visiting, they can always be counted on when it matters or in times of need.