Walking Football: score fitness and friendship goals
Updated: 15 Dec 2020
There's a new sport sweeping the country – Walking Football. It's exactly as the name suggests – you play football, but walking instead of running. Not only does it have considerable health benefits, but it's great fun and a fantastic way of making new friends on and off the pitch.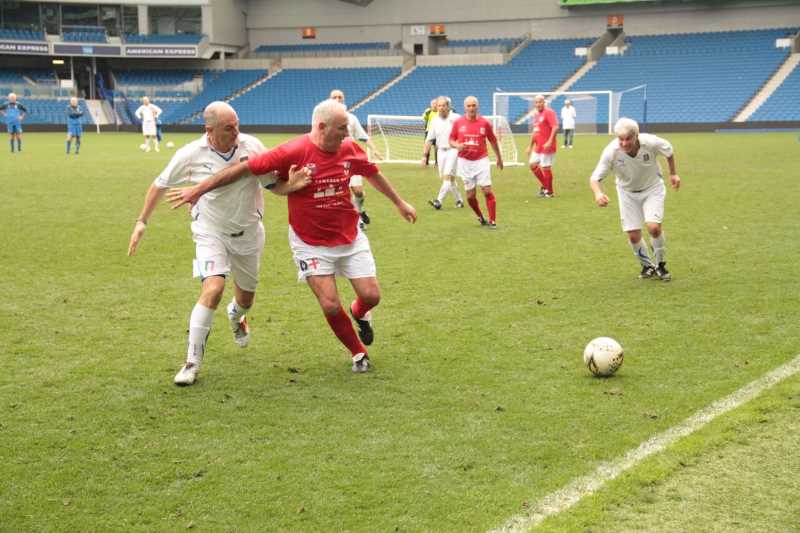 Although played at a slower pace, the game still requires physical exertion. (Credit: thewfa.co.uk)
Thousands of people are now enjoying the joys of the beautiful game again, thanks to this slowed-down version. In the UK there are more than a thousand places to play Walking Football and about 40,000 people take part, with training sessions, weekly matches and tournaments, with most players over-50.

Paul Carr, 63, first went along to try out the sport at his local club, the Wigan Walkers, four years ago, with his cousin: "I have type 2 diabetes and my doctor told me I needed to lose weight. My cousin is seven years older than me and he had had prostate cancer and was recovering from a serious throat cancer so we went along to see what Walking Football was all about.

"We thoroughly enjoyed it! I've now lost two stone, stamina-wise I'm fitter and the sport also really benefits your mental health – plus I've made lots of friends. My cousin says the training sessions are the highlight of his week and it's what makes him get up in the morning."

Paul, who is now the chief executive and founder of the Walking Football Association (www.thewfa.co.uk), added: "Walking Football's motto is fun, fitness and friendship, and I would say out of all of those fitness is the least important. We have a good banter, a cup of tea or two and a biscuit too. Each club will have someone to look after newcomers – so there's no need to worry about going along to try it on your own."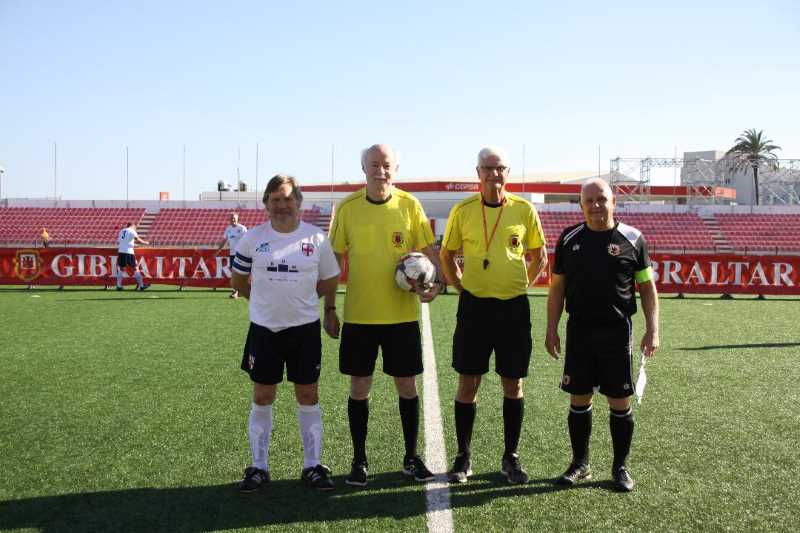 Paul Carr (pictured centre left), flying the flag for Walking Football in Gibraltar. (Credit: thewfa.co.uk)
Rules can vary slightly but the obvious rule is: no running. It's down to the ref to decide when quick walking becomes running, but in general it means one foot should be on the ground at all times. Teams can field up to six players in a match at any time, slide tackling is banned, as is all physical contact and the ball is not allowed to go above head height – so no headers.

Although played at a slower pace, the game still requires physical exertion and can reach quite a pace. In fact the sport is thought to be so good for older players that GPs and health workers have referred patients who need help with their overall fitness to clubs. And it's not just physical benefits – the game can boost mental health and certainly thinking about tactics and strategy gives players' brains a thorough workout as well as their bodies!

The game has grown and grown since the first Walking Football match in 2011 at the Chesterfield FC Community Trust. It is now played in 39 countries and in June eight countries will take part in the first European Nations tournament at Chesterfield Football Club.
I've now lost two stone, stamina-wise I'm fitter and the sport also really benefits your mental health – plus I've made lots of friends. Paul Carr
Although the game has been targeted at the over 50s, the brilliant thing about Walking Football is that age doesn't matter. Some regular players are into their 80s and tournaments are split into age categories up to 70 plus. What's even better is that Walking Football is a great intergenerational game – levelling out the physical aspect of the game means that players of all ages and physical ability can have an exciting and fun experience.

Whether you used to fancy yourself as Gary Lineker or you've never set foot on a pitch before, Walking Football is open to all. Clubs are springing up across the UK and most are on the lookout for new players and welcome people who just want to come along and find out what the game's all about.
Ask at your local sports centre or library for contact details or have a look on the Walking Football website (www.walkingfootball.com) to find a club. Who knows, you could find yourself having a ball.
DISCLAIMER: Links to third-party sites do not constitute an endorsement by the Oddfellows and use of the advertised products and services is entirely at your risk. The Oddfellows does not accept any liability or responsibility for any third party material on other websites.