The support of a ready-made set of friends
Updated: 03 Jun 2021
Member, Christine Prime, jumped at the opportunity to relocate from Dartford to Norfolk when her son invited her to move in with him and his family. She said she's now found her forever home and friendships to hold on to.
Christine, 73, who lives in Kings Lynn, said: "I'd had itchy feet for a while. I've always liked the idea of trying out somewhere new, meeting new friends and exploring new places. So, when my son asked if I'd like to move with them to Norfolk, I saw it as the perfect opportunity.
"My biggest pull to staying in Kent was that my other son and sister live there, but I decided I needed to do this for myself. I miss them of course, but I am very happy and settled here now."
Christine credits much of her new-found comfort to her local Oddfellows group, which provided her with a ready-made set of friends who helped her explore the area.
It was important to me to make my own group of friends and a life for myself. Christine Prime
Christine, who joined the King's Lynn Branch after spotting an advert in a local supermarket, said: "It was important to me to make my own group of friends and a life for myself – I don't think I could have done that quite so quickly and effortlessly without the Oddfellows.
"Before lockdown I would go along to coffee mornings, lunches and exercise classes and we'd have a good laugh. Not to mention the coach trips across Norfolk, which helped me to explore and get to know this County.
"I've made some wonderful friends who have lived in this area for many years, so it's been really interesting visiting them and enjoying their company. I feel like I'm permanently on holiday with a group of adventurous pals!"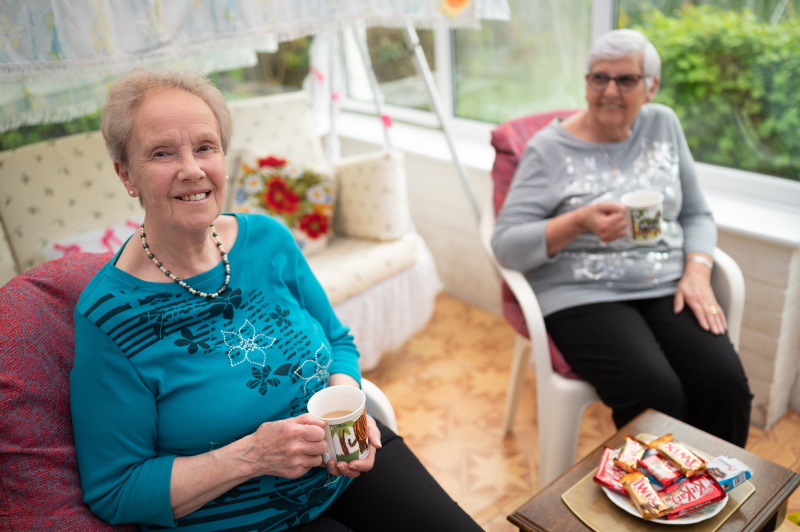 Christine Prime, left, says her Oddfellows friends helped her to settle and feel supported.
Christine, who is originally from London, moved to Dartford in Kent in 2005 to downsize to a bungalow following the death of her husband, but says this move to Norfolk will be her last.
She said: "I was made to feel at home right away – I don't plan on going anywhere else now!"
...you'll definitely have some friendly faces to welcome you and help you feel like you've lived there all your life. Christine Prime
Christine enjoyed the Oddfellows so much she felt like she needed to give something back. She has now become a volunteer welfare officer at the Branch, meaning she provides other members with support such as welfare visits and transport.
She added: "Moving 'just because' isn't for everyone, but you can be sure that if there's an Oddfellows Branch near to your new home, you'll definitely have some friendly faces to welcome you and help you feel like you've lived there all your life.
"I would definitely recommend giving your local Oddfellows group a try. I didn't know much about them before I moved but it has been an absolutely perfect introduction to the area. Since I joined, I've become more confident and know there's a supportive group of people there for me if I need them. Being on your own can affect your mental health, so knowing people are there if you need a chat or a coffee is really reassuring."
Branch Secretary for the King's Lynn Branch of the Oddfellows, Alison Schultz, says: "Settling into a new home or community takes time. The pandemic and social distancing restrictions have really set people back from getting to know other people, discovering their local area and feeling more settled.
"We're now restarting some of our usual social events and we're always ready to welcome new members. Just get in touch."
Christine also added: "Home is more than just bricks and mortar, it's the community you surround yourself with, and the people who make you feel happy – wherever that may be. Of course, you don't have to go to a new place to find it, but you also don't have to stay somewhere that's not right for you anymore."
Oddfellows friendship groups
We're always ready to welcome new members to our local Oddfellows friendship groups. You can find your nearest by using our Branch Finder, or use our Events Finder to search for social events and activities happening near to where you live.
Give the Oddfellows a try. There's no obligation to join. Contact us to request your free information pack and local events diary.
Read more advice on making friends and building social confidence in our friendship guides section.