Make volunteering your top resolution for 2022
Updated: 21 Jan 2022
If you've put volunteering on your New Year resolution list, why not take a look at what's on offer at your local Branch?
With around 2,500 member volunteers regularly supporting the work of the Oddfellows nationally and locally, the Society is a huge advocate for volunteering and the reward it brings to both the organisation and the individual.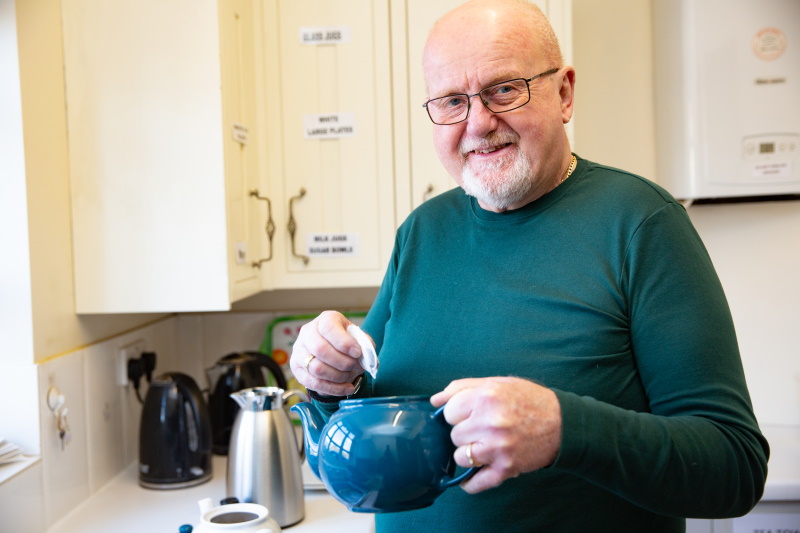 Lending a hand at Branch social events is a simple way to help out and make a difference. 
Sharing skills
Oddfellows Branch Development Manager, Dawn Walters, agrees and shares how she regularly witnesses the renewed spring in a member's step after they've devoted a bit of free time to help others.
"We're so grateful to our member volunteers," said Dawn. "They make such a difference to so many people's lives. However, we also see how time and time again, giving back changes their lives, too.
"Many of our member volunteers are retired, so they feel a renewed sense of purpose to their day – doing something they love, on their terms. We, as do they, also benefit from the sharing of their life or professional skills.
"What's best, however, is seeing some lovely friendships flourish along the way. You can't put a price on that!"
Impact on happiness
The most recent 'Time Well Spent' report from the NCVO, a body that champions the voluntary sector and volunteering, and of which the Oddfellows is a member, found that while most people sign up predominantly for altruistic reasons, 77% said the activity improved their mental health and wellbeing, 89% met new people, and 90% felt a sense of achievement.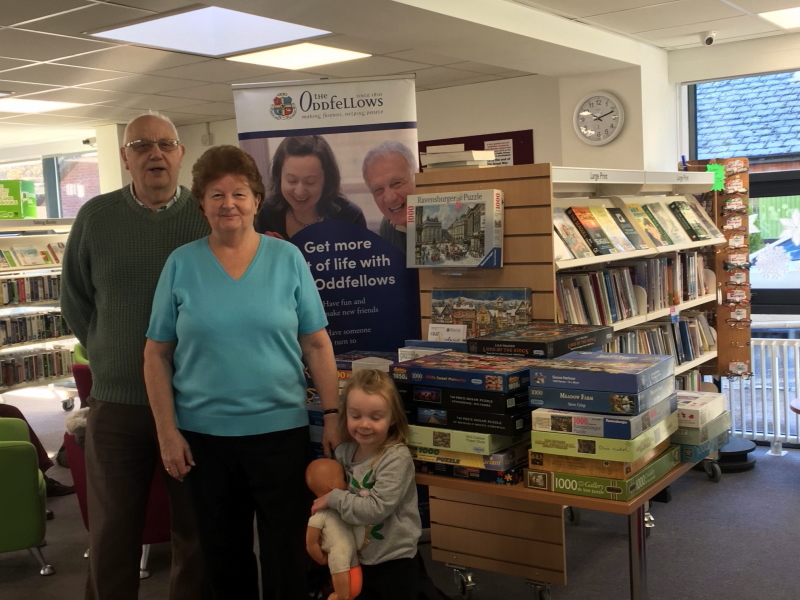 The team at Grenville Branch is thrilled to have the support of member volunteers such as David and Christine Saunders and little helper, Daisy.
Grenville Branch member volunteers, David and Christine Saunders agree that there are benefits to be had for all sides. They've regularly volunteered their time to support the Branch's monthly Jigsaw Bring, Buy and Swop mornings at Buckingham Library.
They said: "For us, it's a win-win situation.
"We have met many lovely local people who regularly support the event and have raised nearly £400 since the events began in December 2018."
Doreen Sams, Secretary of the Oddfellows' Grenville Branch added: "It's wonderful to have members such as David and Christine as part of our volunteering family here. You can't underestimate the difference it makes to have extra hands to help and a variety of skills to draw on. It means we can do so much more for our members and community."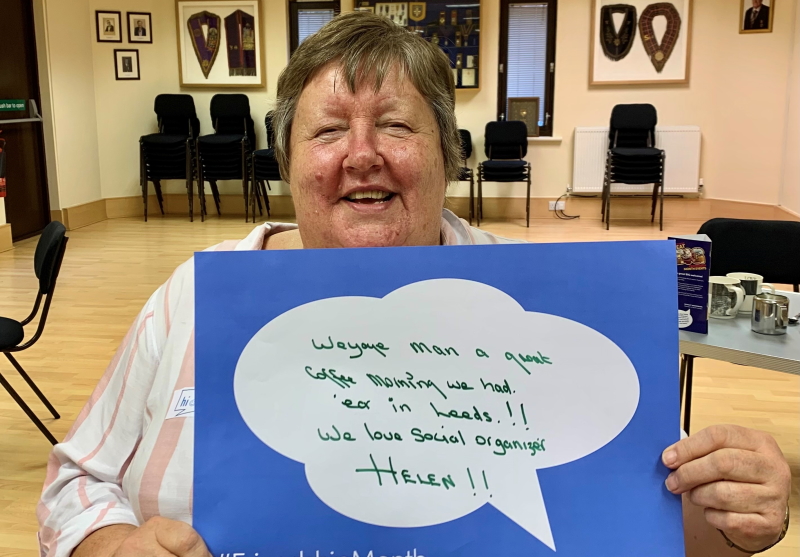 Member Anne Fleming (pictured) has enjoyed volunteering at her local Oddfellows Leeds Branch since 2018, and is a hugely valued member of the team. Anne shared: "I like to keep busy, and volunteering at our events also helps to keep our District going. No matter what event we're doing, we always have a giggle."
Range of roles
There are many volunteering roles available to members, such as helping out with local social events, marketing or fundraising activities, or making welfare visits or calls.
The activities and business of our local branches are also coordinated and delivered by a number of elected volunteer member roles, such as our Branch Chairman, Deputy Chairman, Trustees and Committee members. There are also opportunities on national committees.
"There are many ways to volunteer with us, which can work around your availability and interests. Whether you've an hour a week to spare, or a day or two each year – we'd love to hear from you," added Dawn.
Find out more
If you're interested in finding out more about volunteering with the Oddfellows, visit our website page on volunteering, or speak with your Branch Secretary about opportunities locally.
DISCLAIMER: Throughout this article, we reference third-party websites and contact details. These references do not constitute an endorsement by the Oddfellows and the use of their services is entirely at your own risk. The Oddfellows does not accept any liability or responsibility for any third-party material on other websites.