How to make your garden cat friendly
There's nothing nicer than hanging out in your garden with your feline friend. Whether your garden is big or small, unkempt or pristine, there are a number of ways that you can make the area more cat-friendly so that it becomes a place of fun – and sanctuary – for your pet.
6 ways to create the purr-fect outdoor place

1. Some plants are a cat's best friend
Plant your garden with your cat in mind. Catnip (Nepeta cataria) sends most cats crazy – this is the stuff used to stuff kitty toys. Felines love the leaves, rolling wildly around on them and then lying around as if spaced out. It's easily raised from seed and, once established, will produce self-sown seedlings. It's a fairly attractive plant in itself – and you can harvest it to make your own catnip toys.
Also popular with felines are grasses that are specifically cat-friendly. There are a few varieties of these which your pet can enjoy snacking on safely. Look for the most commonly available Avena sativa. This is often sold as seed or in pots, sprouting.

Bear in mind that these plants are attractive to all cats – so you might be inviting neighbouring furries into your garden as well. One solution is to plant these cat favourites in pots which can be brought in and outdoors easily for your cat's sole use.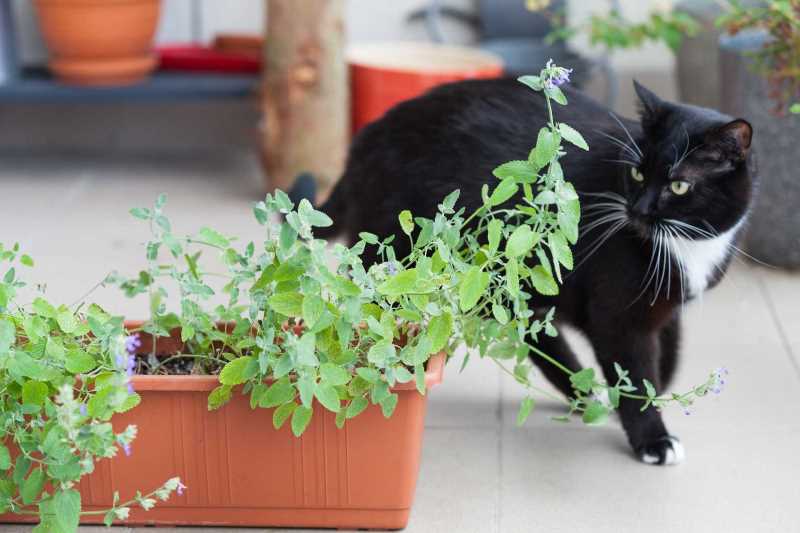 2. But some plants are enemies to cats
Be careful when buying a new green addition for your garden. Many plants are actually poisonous to cats and can make them very sick or, in some cases, they can be fatal. Rubbing against some plants can also irritate your cat's skin. While you're out weeding or watering, it's also important to check that any wildflowers or self-sown seedlings that have appeared in your garden are not a danger.

One well-known plant that is a no-go for cat-friendly gardens is the lily. Any part of the plant is dangerous, but if you cat eats a leaf it can be fatal. Other plants to avoid include daffodil, foxglove, rhododendron and tomato. A comprehensive list of plants that can be harmful to cats can be found on the international cat care's website (https://icatcare.org/advice/poisonous-plants)

3. Walk on the wild side
Cats seem to prefer a garden that is not finely manicured. Set aside an area where grass is left to grow long, to bring out the lion ancestor in your pet, and insect-attracting wildflowers are allowed to flourish, for your cat to show off his natural instincts. If you have a nervous cat, then this will help with confidence. The area will be a hidey-hole from which your pet can survey the garden without being seen. Think of this area as your cat's den where he can hide away for a snooze or run amok like a kitten again.

4. Remember light and shade
British weather is so unpredictable – it's key to cater for rain or shine! Make sure your cat can enjoy the sun when it's out, but also have somewhere to go to cool off in the heat and shade to protect them from the sun's harmful rays, particularly for pets vulnerable to skin cancer such as white cats.

Planting large shrubs or trees are the perfect answer, but if that's not possible then something simple like a garden umbrella or a table is perfect. A good sheltering area will also keep your pet out of the rain.


5. Make your garden into a playground
Cat toys are not just for indoors – and they can be home-made. Dig vertical logs or pieces of wood of varying heights next to each other to create a jumping, scratching, snoozing garden feature. If your cat likes to climb high, then create an easily-accessible perch – perhaps on a fence – where your pet can survey its territory.

Bring the catnip toys outside. Attached on string to lower branches or the washing line, these can provide hours of amusement. Some specifically outdoor cat toys, like a tunnel or a cat house, can also be a good investment.

6. Try an indoor 'garden' solution
If you're not happy with letting your cat outside, for a number of reasons, then consider a catio. These cat patios can allow your pet to enjoy fresh air and the experience of being outdoors while in an enclosed space. These range from lavish extensions to simple DIY creations.
If you're an Oddfellows member and need to buy some cat-friendly varieties of seeds or shrubs, don't forget that you get 10% off all online orders through Suttons Seeds. T&Cs apply.