Destination dinner table
Updated: 06 Oct 2021
If you pressed pause on a trip away this year, there's no reason to stop your taste buds from travelling. We invited our resident foodie, Michele Boustead, to put the latest trend in mail order, restaurant-quality meal boxes to the test, and 'sent her off' to Cornwall, France and India.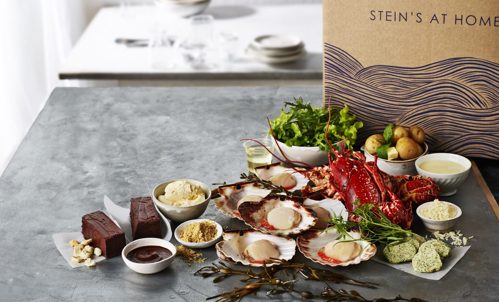 Stein's at Home's Lobster Box. Copyright: James Murphy
Cornwall calling
If there's one chef qualified to transport you to the sandy beaches, sheltered coves and bustling fishing villages of Cornwall, then it's Padstow-based chef, Rick Stein.
I indulged in a Rick Stein Lobster Box – a perfect three-course meal for two. If you're a little out of your comfort zone with cooking shellfish, don't worry. The beauty of the box is that there are step-by-step instructions on how to prepare the meal. There's even a YouTube video showing you what to do.
A simple assembly job
Preparation is quick and easy. The starter of six plump scallops require the addition of butter and a quick grilling. The lobster for main is added to a pre-prepared sauce that you warm through. The meat is then added back to the shell and grilled with a generous helping of Parmesan for a delicious crunchy topping. The chocolate pavé for dessert is a simple assembly job.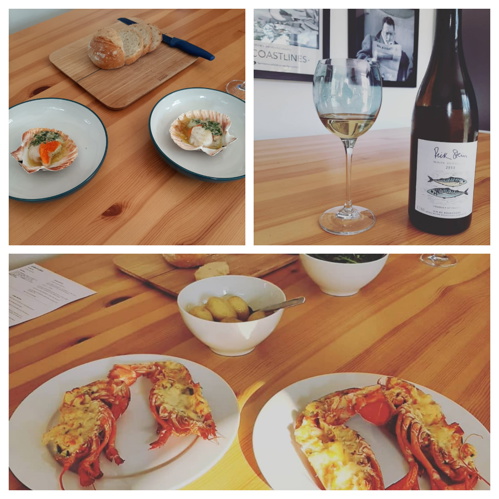 All prepared and ready to enjoy.
This box is a bit of an indulgence at £100, but it's perfect for a special occasion. Rick's son, Charlie, also recommends a wine to match the dishes. I took his advice and chose a classic, crisp French Burgundy.
The Stein's at Home range offers 11 foodie treats which includes The Dover Sole Box and Afternoon Tea Box. Find out more by visiting www.rickstein.com/steinsathome
Bon appetite!
One thing the French are known for is effortless chic. So how much more effortless could it be than to call on the help of restaurant chain, Côte Brasserie. They'll be there tout de suite with stylish dishes inspired by the brasseries and bistros of Paris.
They offer a collection of luxury meals for you to bake straight away or freeze. You can push the boat out and opt for The Luxury Steak Menu, a three-course tour de force of indulgence featuring Smoked Salmon Rillettes, Filet au Truffes with gratin potatoes and Provençal beans, and wonderfully completed with Profiteroles. The menu serves two and costs £49.95. If you choose to add a bottle of Merlot, the price goes up to £59.95. Definitely a special treat.
Côte at Home also offers a more cost-effective way of dining in style with its chilled bistro meals which you simply heat up. Options range from the Poulet Breton Set Menu at £16.95 which serves one. With this, you'll receive a Baguette and Butter with Chicken Liver Parfait, Poulet Breton and Frites and for dessert, Chocolate Mousse. Then there's the French favourite, Beef Bourgingnon at £14.95 for two. This unctuous, ready-to-bake classic is served with bacon lardons, chestnut mushrooms and smooth potato purée.
To top it all off, Côte at Home has its very own cellar giving you an extensive selection of Champagnes, wines and cocktails to add that 'Je ne sais pas' to your home dining experience. Find out more by visiting www.coteathome.co.uk
A taste of India
Most of us only ever dream of setting foot in India, but the country's curries have been enjoyed on our shores for over two centuries now – about the same length of time the Oddfellows has been around!
Our nation loves an Indian takeaway, but this one really is quite special. It comes courtesy of Michelin-starred chef, Aktar Islam with his Aktar @ Home range of restaurant boxes. There are a number available and all are delivered by 6pm on a Thursday, so the perfect treat for the weekend.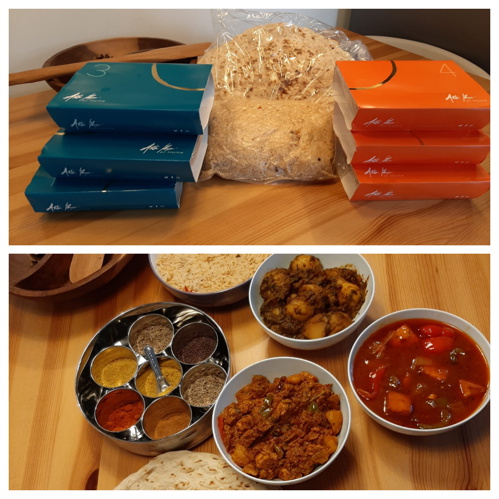 Some of the dishes from the Aktar @ Home Vegetarian Curry Box.
The Vegetarian Curry Box contains no less than 10 courses, including eight traditional curries plus pilau rice and naan bread. The food is designed to be eaten as a banquet for four, several meals for two or a whole week as a meal for one, so it's great value at £65. All curries are suitable for home freezing, so can be tucked in to whenever you desire. Alternatively, they can last up to three days in the fridge. It all depends on how hungry you are!
Restaurant-standard food in a flash
The menus are developed every fortnight ensuring fresh, seasonal ingredients each and every time you order. They're super easy to prepare. Simply add the curry of your choice to a pan on the hob and reheat gently until hot. The rice is cooked for a couple of minutes in the microwave and the naan is warmed through in the oven. Quick and delicious restaurant-standard food in a flash.
When it comes to ingredients, Aktar knows a thing or two. He takes the humble potato to new heights in his Aloo Methi dish by enveloping them in a rich bhuna sauce spiced with toasted chilli, cumin and coriander. Other vegetables get the same treatment, from chick peas and mung beans to aubergine and butternut squash. Each is wonderfully flavoured with a vast array of familiar spices, such as fresh ginger, tamarind and mustard seeds.
Other boxes available in the Aktar @ Home range include Tandoori BBQ Box and Traditional Home-cooked Curry Box featuring a mouth-watering selection of both vegetarian and meat curries. Find out more by visiting www.aktarathome.co.uk
DISCLAIMER: Prices correct as of September 2021. Links to third-party sites do not constitute an endorsement by the Oddfellows and use of the advertised products and services is entirely at your risk. The Oddfellows does not accept any liability or responsibility for any third party material on other websites.