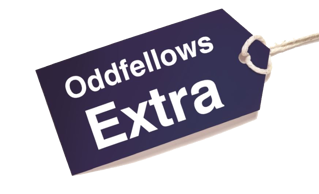 From cinema tickets, holidays and new cars to grocery shopping, health spas and home insurance – Oddfellows Extra* can help you save big on life's little extras or necessities.
Exclusive offers for Oddfellows members
Oddfellows Extra is an online collection of money-saving discounts and offers from many well-known brands and major retailers.
With around 50 deals to choose from across the categories of lifestyle, motoring, travel and insurance, and with new offers added regularly, it's worth taking a look at how you can turn your Oddfellows membership into great savings.
All Oddfellows Extra deals are open to Standard members and members with Extra Benefits from day one. There's no sign-up process or extra charge. 
If you're a Life, Associate or Widow member, you can add Oddfellows Extra to your membership for an annual £10 fee by contacting Membership. If you are an Archive member, we're sorry, but you're unable to access Oddfellows Extra.
Here are two deals available right now...
Access Oddfellows Extra
If you're a member, sign in to the Member's Area and return to this page. If you have not yet registered to access the Member's Area, register here.
*Terms and conditions apply to all benefits – visit www.oddfellowsextra.co.uk for details.
Offers and prices subject to change without notice.

All insurance is subject to underwriting.

Some benefits are not available in Northern Ireland or outside the United Kingdom.

Oddfellows Extra is managed on behalf of the Oddfellows by Parliament Hill Ltd of 3rd Floor, 127 Cheapside, London, EC2V 6BT with the exception of non-investment insurance benefits, where Parliament Hill manage these on behalf of Oddfellows Support Services Limited.




Parliament Hill and the Oddfellows are not part of the same group as any of the product/service providers which together form the benefits scheme. Oddfellows Support Services Limited is an Introducer Appointed Representative of Parliament Hill, who is authorised and regulated by the Financial Conduct Authority for insurance mediation in respect of non-investment insurance contracts. You can check this out on the Financial Services register by searching the Financial Services Register under register number 308448. Parliament Hill operates as an introducer only; their introduction should not be seen as a recommendation or endorsement.
iSubscribe: Please note that the promotion code and the 10% discount are only applicable to debit card, credit card and PayPal orders and cannot be used against Direct Debit orders. In some cases, the price per issue may be cheaper if you pay by Direct Debit. Some newspapers are only available via Direct Debit. For magazines, 80% of isubscribe's customers prefer not to pay by Direct Debit.
Offers displayed are available to members of the Oddfellows at time of publication. If you're not yet a member and would like more information on T&Cs, please contact our Membership team.