Valuable Oddfellows artefact rescued "just in time"!
Members Harold and Jackie Houghton weren't quite sure what they'd stumbled upon when they "clocked" a valuable piece of Oddfellows history in a pile of old belongings due to be sent to the tip.
Clearing out a loved one's home after they have passed away is never an enjoyable experience, but it does often unearth some interesting items, as Harold found when he was collecting a pile of discarded items from his uncle's home in Gorton.
"It was all due to be tipped, so we just had a quick run-through to make sure there wasn't anything important accidently left in there, when my wife, Jackie, spotted that there was a watch in one of the boxes. I collect all sorts of watches, so she knew I would be interested in taking a look and keeping hold of it," explained Harold.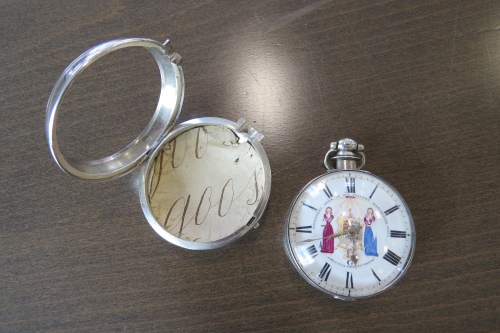 Taking a closer look at the watch, Harold and Jackie realised that it was unlike any they'd seen before. Decorating the face was an image of two women, a crest and inscription which read: 'The Independent Order of the Oddfellows Manchester Unity'.
Having realised they might have an interesting (time)piece of history on their hands, Harold and Jackie visited a trusted horologist (a clock maker), to service the watch and clean it up, ready to be inspected by the Oddfellows.  
Harold said: "It wasn't until we moved to Llandudno from Ancoats that I had heard any mention of the Oddfellows again. I spotted an advert for a local meeting in Deganwy, so thought I would go along to find out what it was all about and if anybody knew any more about the pocket watch. I actually joined the Oddfellows with my wife too whilst we were there."
Our resident Oddfellows historian, Paul Eyre, commented: "The watch is an example of the type of presentation made to a past officer or secretary, usually to mark long service, in the first half of the 19th century. These would have been individually produced and painted by a local craftsman of the time, so this pocket watch is truly a unique piece."
The Oddfellows held its first meeting in 1810, so this pocket watch would have been a very special gift to a well-respected board or committee member.
Also due be thrown out was a large, hand painted certificate, which confirmed the status of one William Swinfield as an Oddfellows member back in 1845.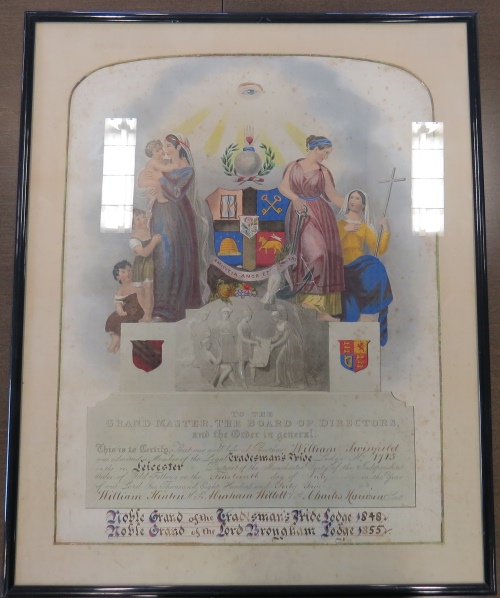 Regarding the certificate, Paul commented, "These certificates were provided by Unity Office for Lodges to purchase and fill in the details right up until the 1990s, although by then, they were rarely used. I can see here that the Lodge has also added details of past offices held by the member in the bottom margin. There were separate certificates available for this, but it appears the Lodge is likely to have been economising!" 
As a Mancunian himself, having lived in Ancoats for most of his life, Harold was keen to ensure the watch was returned to its roots, so visited Manchester's central office to hand-deliver the items to the CEO and Secretary of the Order, Jane Nelson.
Jane said, "It's wonderful that the discovery of this watch has brought Harold and his wife to the Oddfellows and inspired him to join. We always appreciate when our members share their history with us, and we'll be displaying Harold's fantastic donation with a specially engraved plaque to thank him, alongside some of our other important historical artefacts."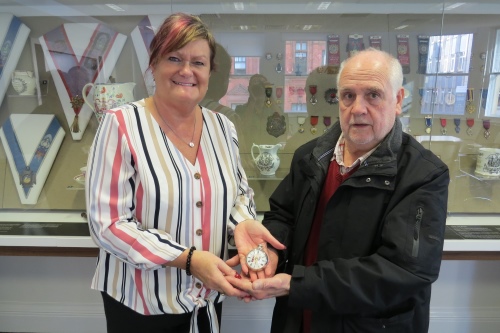 If you'd like to learn more about the Oddfellows and our history, take a look at our History page.