Midwife Margaret is a social star!
Updated: 29 Oct 2020
Hartlepool resident and Cleveland and Durham Branch member, Margaret Wells has been singled out by the Society's Fraternal Board as a social mover and shaker and shining example to others.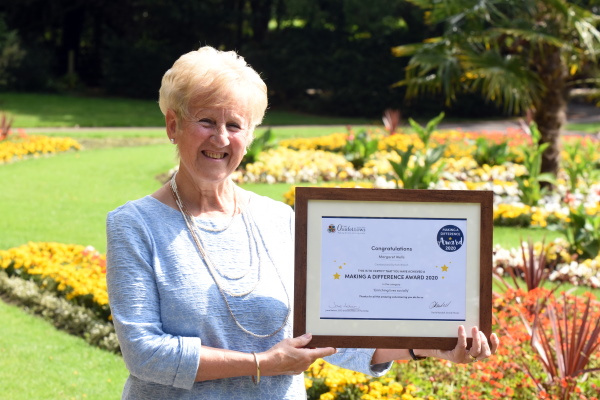 73-year-old Margaret (pictured), has been presented with the prestigious Oddfellows Making a Difference Award for 'Enriching lives socially'. The national award celebrates individuals who stand out in their ability to put on social events that help local communities to thrive.
A member for over 12 years and social organiser for Cleveland and Durham Oddfellows, Margaret helps to plan, arrange and run events for the local friendship group, of which many of its members are over 60.
I truly believe the Oddfellows should be available on prescription!
Speaking about her award win, Margaret says: "I was so pleased to be chosen, but the thing I love most about the Oddfellows is that it gives me the opportunity to help people. If I can help people when they are feeling sad, that's what makes me feel I have made a difference, which in turn enriches my life.
"I truly believe the Oddfellows should be available on prescription, as it helps to eradicate loneliness, and being part of such a wonderful Society can bring so much light into people's lives."
David Smith, Branch Secretary for the Cleveland and Durham Oddfellows, comments: "Margaret's kind and caring nature means that our members feel at ease at every social event. Her past career in midwifery makes her a fantastic listener who has lots of empathy for everybody she meets. We couldn't be more proud of her."
Oddfellows CEO Jane Nelson joins in her praise of Margaret, saying: "She is a much-loved member of the team and has such a fantastic way with people. She's a wonderful ambassador for our Society, and her community spirit is a shining example to others."
The winners of the Making a Difference Awards have been invited to the Oddfellows Annual Moveable Conference in May 2021 to be formally presented with their award, after this year's event was cancelled due to the COVID-19 pandemic.
Meet Faye, from Huddersfield Oddfellows, our 2019 Making a Difference Award winner for enriching lives socially.