£500 donation to Happisburgh's lifeboat station
The Oddfellows' Trafalgar Branch made a special visit to RNLI Happisburgh's Lifeboat Day event on 4 August to present the life-saving coastal charity with a £500 fundraising boost.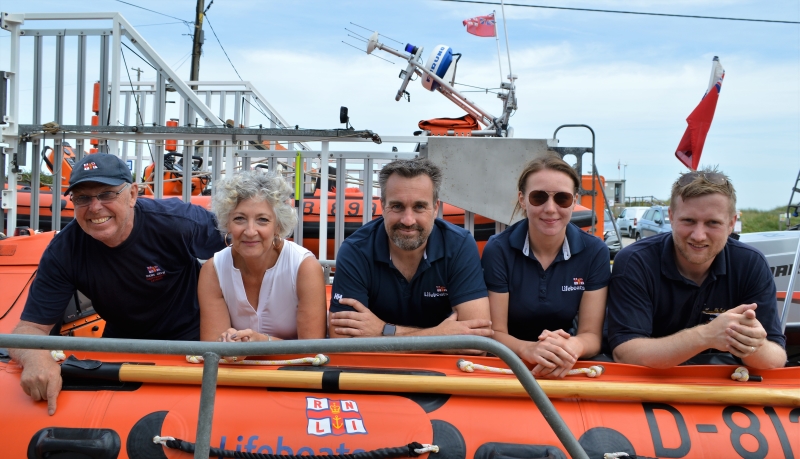 Angie Batson (second left) from the Oddfellows with members of the Happisburgh Lifeboat crew after presenting them with a £500 donation.
The North Walsham-based friendship group is a regular supporter of the RNLI, and its stations based at Happisburgh and Sheringham in Norfolk.
Philip Smith, RNLI Happisburgh's Press Officer, thanked the Oddfellows for its gift, which he says is a valuable contribution towards local running costs of the station which runs two rescue boats.

Branch Development Officer, Angie Batson, said: "The Oddfellows are big supporters of the lifeboat service. As well as providing benefits to help improve the quality of members' lives, we like to make donations to worthy local causes like the lifeboats who save lives."
95 per cent of the RNLI's total income comes from donations and legacies, which is depended on by its volunteers and supporters to deliver their life-saving services.

To make a donation or to find out more about how you can volunteer or support the work of RNLI Happisburgh, contact the lifeboat station on 01692 583269 or email happisburgh@rnli.org.uk.

The Oddfellows' Trafalgar Branch arranges regular social events and fundraising activities in the North Walsham area. To find out more about the group's upcoming events, or to give one a try, call Angie Batson on 01692 407852, or email angela.batson@oddfellows.co.uk.

The Oddfellows is a proud supporter of the RNLI, and a recipient of the charity's Lifetime Achievement Award. To find out more, visit our Giving Back pages, which charts our support from 1868 to present day.