What to expect at an Oddfellows social event
Fancy giving one of our social events a try but want to know more about them first? Here's answers to our most commonly asked questions...
Our local Branches host a huge range of social events for members to get together at, as well as activity or interest-based sessions for those looking to try something new, or meet people with similar hobbies.
Around 500 social events are held nationally each month, and we try to offer our members four things:
Regularity – so you've always got something to look forward to, and for Oddfellows events to give you plenty of opportunity to socialise regularly
Variety – so you can try lots of new things, with different types of people, and at different times of the day
Security – so you know, that if you come along to something hosted by the Oddfellows, you'll be in a friendly, welcoming and safe environment
Affordability – so having fun with friends won't cost you a lot of money. Some events are free to members, or discounted against guest prices, but most have a charge just to cover costs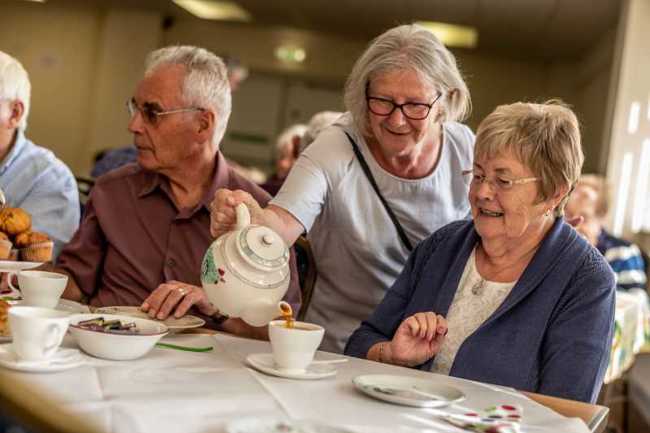 Tea and warm company at King's Lynn and West Norfolk District Branch.
Can you try an event before becoming a member?
If you'd like to try a social event or activity before making a decision about becoming a member, then that's absolutely fine.
Where are social events held?
Oddfellows events are held in a variety of places. Many of our Branches have halls, or their own regular meeting spaces, so quite a few of their events are held there. However, our members love getting out and about (and we also like to make sure we run as many events in as many locations as possible) so we'll often meet up at local cafes and restaurants, shopping centres, garden centres, museums or places of interest… The list is endless!

To see the sorts of places in which your local Branch holds regular events, use our online Events Finder. Just enter your postcode or location to search.
Do you have to pay to go to an event?
Being a member enables you to enjoy any Branch social event. Basically, we try and make each event as affordable as possible. Some events are free, or discounted against guest prices, but most have a charge just to cover costs. We're always transparent about the price of events. Nothing's hidden.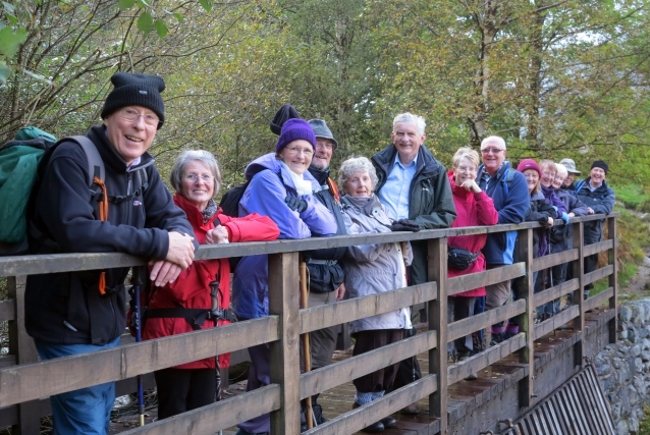 Derby District members get together for regular walks, whatever the weather!
What types of events are on offer?
There are so many different types of social events on offer across the country, and they vary from Branch to Branch. You can use our online Events Finder to take a look, or we can send you a copy of your local events diary.
Our most regular type of social event is a simple coffee morning – where you can enjoy a cup of tea and a slice of something nice in good company. These events are often free for members to attend, or Branches just ask for a very small amount of money to cover catering costs. You can be a chatterbox, or someone who just likes to sit back and listen – it doesn't matter at this type of event. The focus is on easy-going company and community. Quite often these social events are run really regularly, so they are hosted every week, or the first Thursday of each month, for example.
Another popular Branch social event is a 'Dine Around' or 'Lunch with Friends'. This is where we book a big table in a nice restaurant or pub and enjoy lunch or dinner together. These events usually just cost what you eat or drink. For some Branches, they're tacked on to the end of a gentle walk or ramble, so you don't have to feel guilty about having a pudding AND a starter!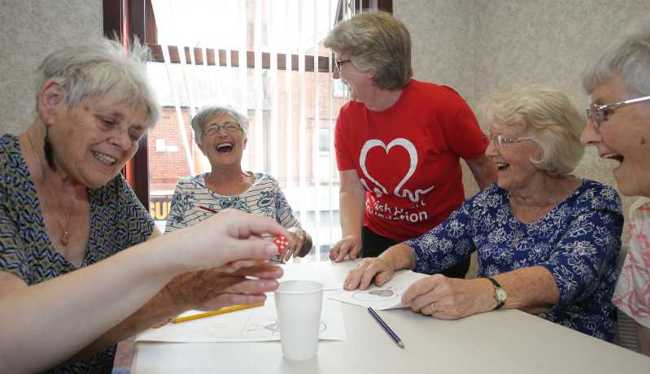 Members at St Helens and Warrington District Branch came together to raise money for the BHF at one of their games afternoons.
Games afternoons/evenings or guest talks are also staple Branch social events. Opportunities to take part in a quiz or play bingo, Beetle Drive or Bridge with other members often feature on our Branches' social calendars. Guest talks cover a huge range of interesting topics, such as history, entertainment, health, or nature. You name a subject, and it's likely we've had a presentation on it! These social events are often very affordable to attend, as they're held at our own Branch halls or meeting places.
Other typical social events include craft sessions, walks or rambles, gentle exercise classes, trips to the theatre, outings to places of interest, afternoon teas or pudding clubs, shopping trips and film nights. We try our best to have something for everyone.
How do you find out about upcoming events?
The best way to find out about forthcoming events is to either:
Use our online Events Finder. You can enter your postcode, location or Branch name to find a list of scheduled events. You can then filter events by date and type.
Refer to your local events diary. When you're a member, you'll automatically receive a copy of this in the post. They're usually published every six months, so you can plan ahead. If for some reason you don't get one or you lose yours, then you can always call your Branch Secretary or our central Membership team for a new copy. They're also available to download and print from your Branch's page on our website. Just use our online Branch Finder to locate this.
If you're not yet a member, you can always request a free information pack from our Membership team which will contain a copy of your nearest Branch's events diary.
I'm nervous about coming along to an event on my own. Can you help?
First of all, it's perfectly normal to feel that way. It's intimidating to walk into a room full of new faces, even for the most confident of people. Why not ring ahead of the event and let us know that you'd like to come along? If we know you're coming, we could arrange for someone to meet you at the door and introduce you to a friendly regular. Feel free to bring a friend or family member along if you need extra support. They'll be more than welcome.
Is there any help to get to events if I have no transport available?
Quite often, if you let your Branch know that you'd like to attend, a fellow member may be able to help out with a lift. There are no formal transport support arrangements in place at our Branches, but when and if we can help, we most certainly will.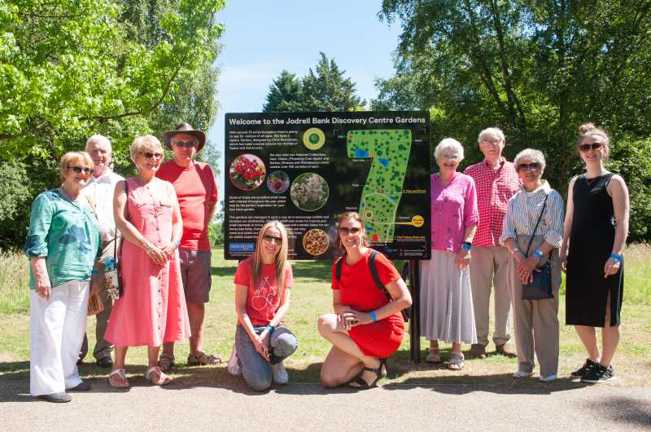 Members came from all around for Handforth and Altrincham District Branch's special day out to Jodrell Bank Discovery Centre.
Can you go to other Branches' social events?
You most certainly can go to any Branch's events, not just the ones run by the Branch your membership's linked to. We encourage people to pop into other Branches as it helps build our sense of Oddfellows family!

If you're away visiting friends or family, or spending time in another part of the country, it's worth checking out what's going on in that area. The easiest way to do this is by putting a location name into our online Events Finder. If you'd like to receive a copy of another Branch's Events Diary, then just call Membership and they'll email or put one in the post to you at no cost.
If we haven't answered all your questions or queries about what to expect at an Oddfellows event, please give your local Branch a call or speak with our Membership team. We'd be happy to help.
Why not take a look at what events are coming up in your area right now?