On your marks, get set, parkrun
There aren't many things left in life that are free, but one growing phenomenon that is completely gratis is parkrun. The 5km community events take place in parks each Saturday morning, but parkrun is more than a way of keeping fit, it's a way of making friends, being part of a community, and even inspiration to travel the world.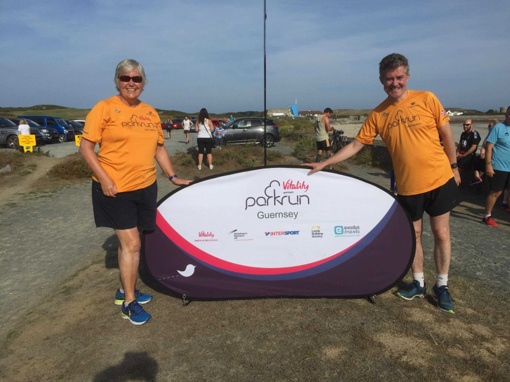 parkrun fanatics: Tina Hearn, 60 and Danny Hearn, 54 at parkrun in Guernsey.
Parkrun was the brainchild of Paul Sinton-Hewitt CBE who wanted to find a way of getting friends together to have a fun, friendly 5k event for free. Crucially, parkrun isn't a race. There are no winners, volunteer Tail Walkers ensure that nobody finishes last, and the emphasis is on regular participation rather than performance. Paul organised the first parkrun in October 2004, and now there are more than 550 5k courses in the UK and 1,600 across the world, with more than 235,000 adults and juniors taking part on a good weekend globally. Additionally, there are 250 junior parkruns on Sunday mornings for 4-14 year-olds and their families that are 2k in distance.
But there's no need to be a top athlete to take part. At any event you will find parents with pushchairs, dog walkers and people who have never taken part in organised physical activity before in their life. The main ethos of the events is to enjoy taking part, and it doesn't matter whether you're sprinting or walking. If you use a wheelchair, then you're also welcome, but it's probably worth checking the individual course you fancy doing is accessible with the organisers before setting off.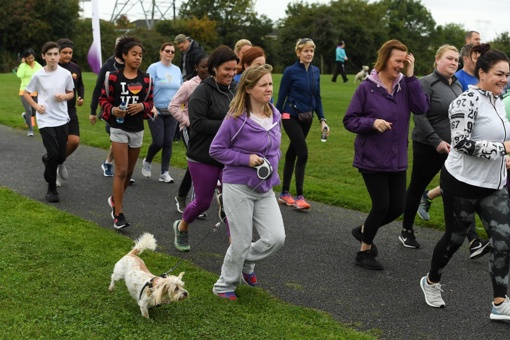 People of all ages enjoying parkrun. Photo credit: Bruce Li, parkrun volunteer photographer.
The events have a great reputation for being friendly and often there's a catch-up after the event at a local café over tea – and perhaps cake or a bacon sandwich. There's always someone who fancies a chat and some great friendships have been forged through parkrun.
It's easy to get started. Register on the website www.parkrun.org.uk and you will be given an individual barcode. Print this out and turn up at the event you fancy taking part in. The events all start at 9am in the UK, except for in Scotland and Northern Ireland where they kick off at 9.30am. There's no need to feel nervous. Each event will have a special briefing for newcomers before it kicks off, which will explain everything you need to know.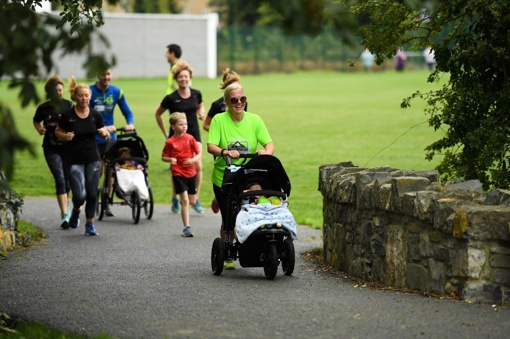 Keeping them active early - parents and children enter parkrun. Photo credit: Bruce Li, parkrun volunteer photographer.
If you don't fancy walking or running, then volunteering at the events is a brilliant way to meet people and give back to the community. Each event is self-organising and has its own team of volunteers who would be very pleased to have an extra pair of hands, whether this is marshalling on the course, cheering people on or helping with the results at the end. Get in touch with your local parkrun to find out how you can volunteer www.parkrun.org.uk/events/events
Danny and Tina Hearn are big fans of parkrun and try to never miss a week. Their local event is in Abingdon, but they have been to courses all over the UK and further afield - including Germany and Australia!
"We've never been to a parkrun where we haven't found a warm welcome and had a chat with someone," said Tina. "There's usually a get-together afterwards where we have a coffee and a natter. People are always friendly and there's just a nice atmosphere."
The 60-year-old says what she enjoys is that there's no pressure to be fast. She walks around the course, often enjoying a conversation with the tail runner. "I love the fact that I get some exercise and some fresh air at the same time. I take my time and it usually takes me about 55 minutes. I put some effort into walking and might even jog a little at the end, but I really enjoy the scenery – often the courses can be quite beautiful."  
Danny, 54, has been to more than 120 different courses and taken part in more than 300 events. His favourite course was in Portrush, Northern Ireland, the first beach parkrun in the world which is run entirely on the sand. "parkrun is amazing. It's something I really look forward to doing each week. Before I started it seven years ago I had given up running but now I feel so much healthier. I always try to better my time but mainly I just enjoy a weekly run."
The couple urge others to give it a go. "It's such a friendly, welcoming event," said Danny. "If you can't walk or run then you can always volunteer to help. It's really changed our lives for the better."