Oddfellows shine for charity
Erewash Valley Oddfellows have set a shining example of how we are 'making friends and helping people' by working together to raise £2,585 for a charity supporting individuals and families living with spinal and cognitive conditions.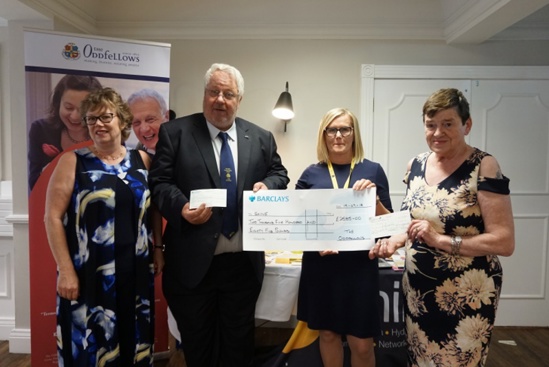 Presenting their donation to Shine (L-R) Erewash Valley Branch Secretary Melanie Archer, Oddfellows' Past Chairman Tony Luckett, Shine representative Charlotte Griggs and Past Chairman of Nottingham Trent Oddfellows Ann Kight. 
Throughout the year, the local friendship group has held social events and activities, including dinner dances, garden parties and quiz nights, with all proceeds going towards supporting the life-changing work of the national charity, Shine.
At a special Friendship Month Afternoon Tea event, Erewash Valley District Branch presented Shine representative Charlotte Griggs with their donation.
Oddfellows Branch Secretary, Melanie Archer, said: "We want to help others where we can. Our local events aren't just a great way for members to make new friends, but it's also a way of us to extend a hand of friendship to the wider community.
Shine (www.shinecharity.org.uk) provides specialist support and advice throughout the lifetime of anyone living with Spina Bifida and Hydrocephalus across England, Wales and Northern Ireland. Their support also extends to parents, families, carers and professional support staff. The charity has received support over the years from both Erewash Valley and Nottingham Trent District Branches.
Said Charlotte Griggs, Specialist Community and SME Fundraiser at Shine: "I felt privileged to attend the cheque presentation on behalf of Shine. It was a pleasure meeting all the lovely people from the Oddfellows who kindly raised money to help our charity. The donation will go towards continuing our work supporting families from parents at antenatal stage and throughout the life of anyone living with Spina Bifida and Hydrocephalus."
The Oddfellows' Erewash Valley District Branch members meet regularly to enjoy a wide variety of social events and activities in the area, as well as to fundraise for good causes. To find out more visit their Branch page, or contact Melanie Archer on 0115 963 8766 or email melanie.archer@oddfellows.co.uk
To find out more about events in your local area, visit our events finder page.
To find out more about how the Oddfellows and its Branches support charities, visit our giving back page.