No going back for member Julie
Updated: 03 Jun 2021
A Southport member who swapped her city life for the coast says discovering a great set of local friends is the key to finding your forever home.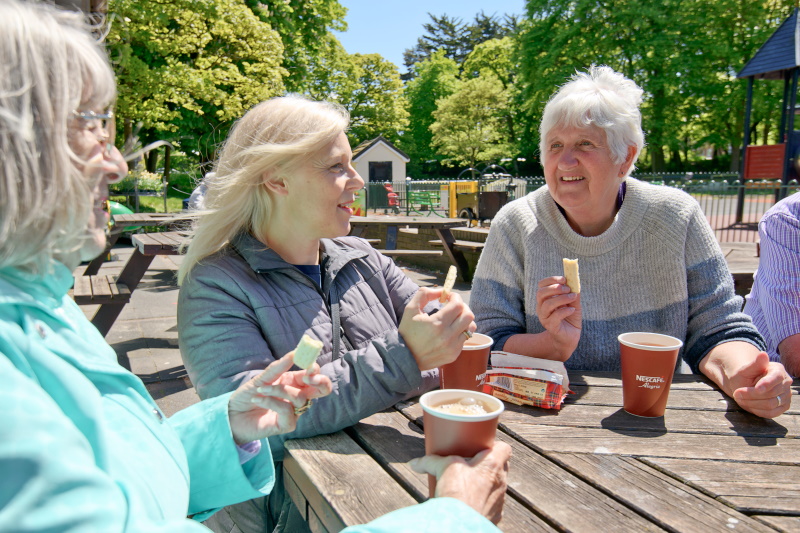 Julie Rudge, 69, moved from Birmingham to Southport after falling in love with the seaside town during her visits to her daughter Rachel. Keen to stay independent and to not over-depend on her family, she took to trying out as many different activities as she could.
Julie, who has joined numerous volunteering groups and organisations, says she is busier than ever.
She said: "In Birmingham the only group I was a part of was the quiz team at my local pub. When I moved to Southport, I wanted to make sure I had a good mix of friends in different places, so my daughter wouldn't be the only member of my support group. She's got her own friends and family, plus I wanted to make the most of my retirement and find interesting people my own age."
A sense of belonging
She added that the friends she has made at her local Oddfellows friendship group in Southport has helped her to feel like she belongs in her new community.
She said: "Through the Oddfellows I've made a wonderful group of friends. We do so many things together. It's a bit like the pub, you meet interesting characters and friendly faces, but there are a few more "regulars" and it tends to be coffee morning, lunches and coach trips rather than a drink at the bar.
"I've joined a lot of groups here in Southport and I've made wonderful friends in all of them. The Oddfellows is the one which actively encourages you to make friends. I have also volunteered to help look after the local public gardens, but you're not going to make loads of friends doing it as it's pretty solitary most of the time," she added.
"The Oddfellows is about spending time with other people – formal and casual meet ups, quiz nights, dances, dinners, learning sessions, or going for days out as a group rather than focusing on having one thing in common. There's lots of choice, so you can always find something you're into and someone who's into it too."

Happy with the friends she's made at her local Oddfellows group in Southport.
Julie, who is a grandmother of seven, added: "My daughter moved back to Birmingham 18 months after I moved here but I'm too happy and have so much to do here – I'm not going back!"
Julie's go-getting attitude also sees her volunteering with the Kings Gardens Volunteers Group, attending u3a classes and painting scenery for a local amateur dramatics group.
She added: "I found it easy to make friends because I made a point of joining groups to keep me busy. I hit the ground running with the Oddfellows – it would have been so much harder without their support, especially during lockdown. We've been able to move a lot of the meet ups online, though I'm looking forward to getting back and meeting people in person again!"
I do believe there's a group out there for everyone, you just have to give a go... Julie Rudge
Julie, who is a retired special needs teacher, is now a Branch Welfare Visitor at the Oddfellows, which means she helps out some of the other members by offering advice and support.
She added: "I do believe there's a group out there for everyone, you just have to give some a go – and the Oddfellows is a great place to start!"
Bonita Hesketh, Branch Secretary for the Ormskirk and Southport Branch of the Oddfellows, said: "Settling into a new home or community takes time. The pandemic and social distancing restrictions have really set people back from getting to know other people, discovering their local area and feeling more settled.
"We're now restarting some of our usual social events and we're always ready to welcome new members. Just get in touch."
Oddfellows friendship groups
We're always ready to welcome new members to our local Oddfellows friendship groups. You can find your nearest by using our Branch Finder, or use our Events Finder to search for social events and activities happening near to where you live.
Give the Oddfellows a try. There's no obligation to join. Contact us to request your free information pack and local events diary.
Read more advice on making friends and building social confidence in our friendship guides section.