Lifelong Oddfellow takes top Society role
Updated: 28 Jul 2021
An Ormskirk and Southport Branch member who has been an Oddfellow for more than 70 years has been installed as the Society's new Grand Master (Chairman).
Due to historical family connections, David Ogden, 72, from Southport, became a member of the friendly society the day he was born.
Now, 170 years after his great-great-grandfather James Scott was Secretary of the Southport District, he's presiding over more than a hundred branches across the country.
David has made history by following in the footsteps of his elder brother Eric, who held the position from 2000 to 2001. They are the first blood brothers to hold the post.
He said: "It's an honour to be Grand Master, and it's even more of an honour to follow my brother.
"It's an office, it's not me, and I take that very seriously, but it's something I'm very honoured to do."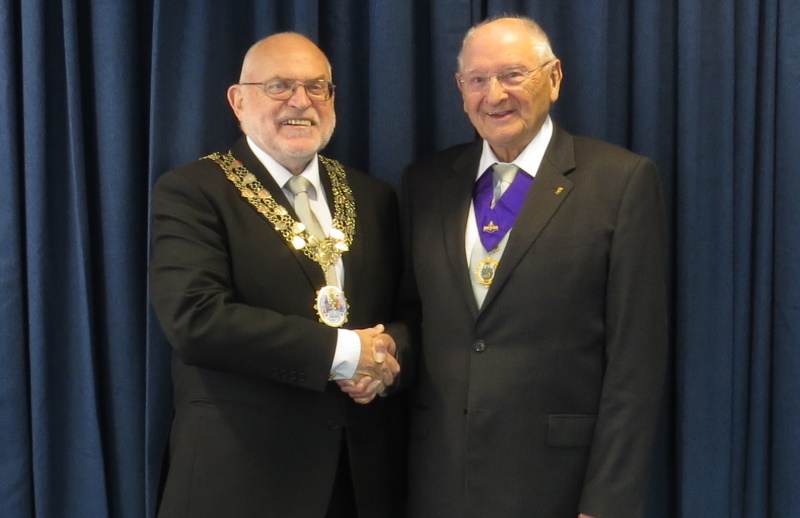 A family celebration – David and his brother, Eric, who was Grand Master in 2000.
Considerable change
David, who was elected by Branch Deputies, was due to be in installed at the Annual Movable Conference (annual conference) in Southport, but this was replaced by an online event due to lockdown restrictions.
He said: "I'm all for a bit of pomp and ceremony but it wasn't to be. It's a sign of the times, but it's also a positive because this is our new normal.
"We have gone through considerable change over the years and none more so than in the last 18 months. Not only has the governance changed but the way the Oddfellows operates, and I think it's important.
"We are definitely going to go back to 'normal' as our members see it, but we are also going to combine some of the new things we've introduced during the pandemic. It would be good to continue to make things available online for those who cannot attend meetings – we hope next year's conference will be face-to-face but it would be good if we could stream that again."
Family traditions
Dad-of-two David, who has lived in Southport his whole life, has been married to Diane for 42 years, and has seven grandchildren.
His great-great-grandfather James Scott, who worked for the Southport Visiter newspaper, was the first in the family to be invited to join the Oddfellows, working as Secretary of the Southport District for 15 years.
Membership passed through the generations to David, who hopes one of his grandchildren may continue the tradition one day.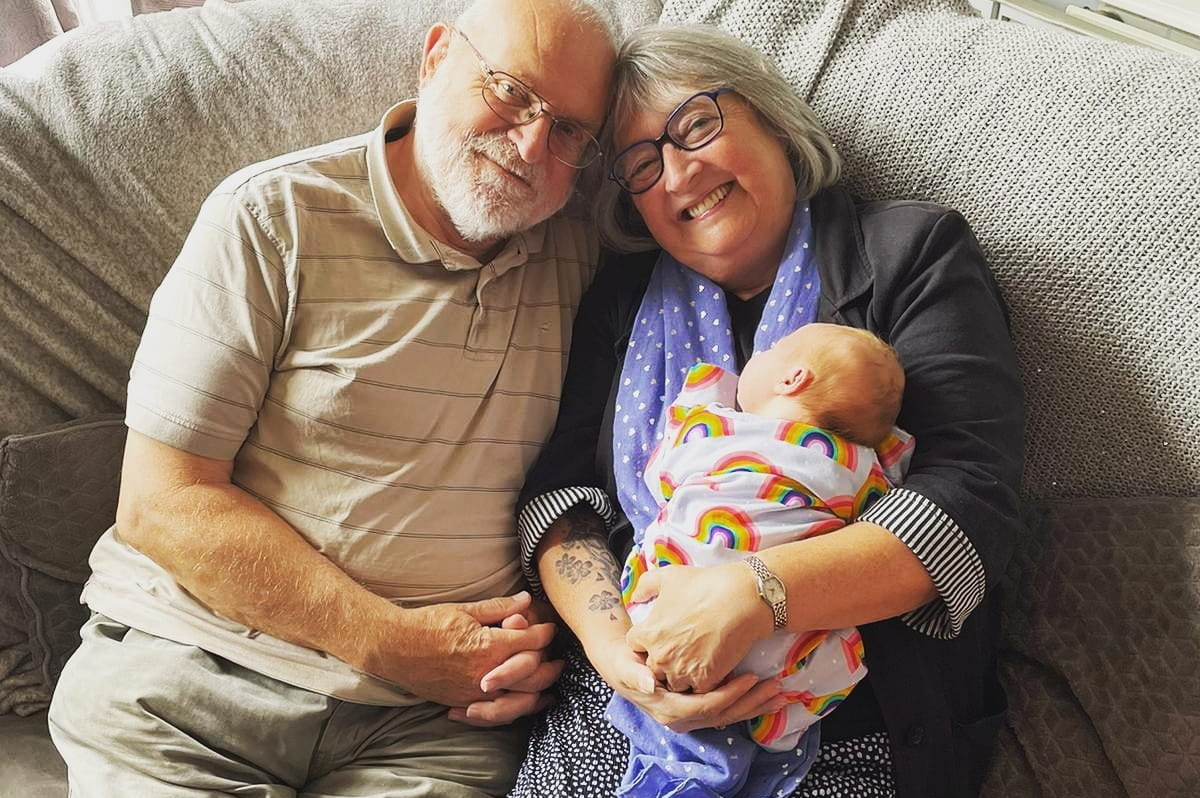 Proud grandparents, David and Diane Ogden, giving their newest granddaughter, Delphine, a cuddle. 
David, whose newest granddaughter Delphine was born on June 12, said: "I'd love to think one of my grandchildren will continue the tradition and be part of even more changes to come."
The Oddfellows' roots are as a Fraternal Society, providing financial support to members when they needed it, whether that was through funeral grants, warrants for travel, financial help in times of need, or ensuring members had somewhere to stay when they were travelling the country looking for work.
Changing perceptions
David says that the principles of supporting others remain today. He said: "Oddfellows has a place in society today as much as it did when it was founded.
"The original motto is Friendship, Love and Truth, and that's what is important to me. It's all about building on those things and looking after other members. You have that personal contact, the fascinating social history, and all the financial benefits that come with being a member.
"I'd like to change people's perception of the Oddfellows. Too often people associate us with the Masons or some secret society, but we are totally different. We are steeped in tradition, but there's also this huge part of Oddfellows which is around 'Making Friends and Helping People', and providing social, care or financial benefits."
David, who has worked as a domestic banker and Business Support Manager for the local authority, brings more than family tradition to the role, and is keen to introduce more benefits for members.
He said: "I joined because my big brother was there and I enjoyed going along, but I am really passionate about everything the Oddfellows has to offer and I like to be come up with solutions for the future and member benefits.
"It's a challenge to think about how can I make a difference and how can I bring it to fruition, but that's what I've always thrived on throughout my career, so hopefully I can make it work. Some people might say I'm a stickler for the rules – and I am – but I also like a challenge, so if there's something that needs to be done, I will try my hardest to make it happen one way or another."
Find out more about opportunities to progress through the Society and its Officer roles.
Have you listened to our Oddfellows in Conversation interview with David Ogden?