Hello to new Grand Master, David Randall
We're delighted to welcome David Randall to the position of Grand Master, Chairman of the Society for 2019-2020. He's a gentle, quick-off-the-mark convivial character, who sells the Oddfellows at every possible opportunity. What's not to love? We stole a bit of his time to find out more about the kind-hearted Gipping Branch Secretary from Colchester.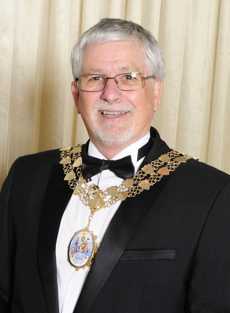 First of all, where's Gipping?
Don't worry, I get asked that a lot. Gipping's a river in Suffolk, which runs around and through Stowmarket. My Branch was formed in 1842, and it seems appropriate that they called the Branch 'Gipping' as its members come from around the river.
And secondly, congratulations on becoming Grand Master. How did it feel being installed in front of such a large crowd at the annual conference?
It was such a proud moment and one I will cherish forever. My involvement in the Oddfellows is something I take very seriously, and I'm pleased to be able to use my time as Grand Master to help raise awareness of the benefits of becoming a member with the general public, as well as doing my best to meet as many members as possible around the country.
So what's your Oddfellows background?
I became a member in 1992. However, I had been attending the local Branch's social events for about 20 years prior. So recruiters… never give up on a possible new member!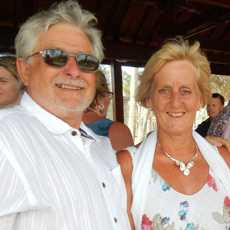 My father-in-law was a long-serving Castle Branch (Colchester) officer and trustee, so he encouraged me to finally sign up. I guess I was always going to join once I married his daughter! We've been husband and wife for near on 47 years now. For those of you who don't know, my partner's Diana Randall (pictured), Secretary of Castle Branch. There's a little bit of healthy Branch competition there!
Do you have a standout memory from your 47 years of being involved with the Society?
Yes – the pride I felt when attending my District's Provincial Grand Master Dinner in 2010. We were celebrating 200 years of Oddfellowship, my wife was the Provincial Grand Master and the then Grand Master, Alan Cole, was our guest of honour. I was Deputy Provincial Grand Master and I couldn't have felt happier to be part of such a meaningful Society.
Do you have a favourite type of Oddfellows social event?
I wouldn't say that I have a particular favourite, as I enjoy most of them. But I am happiest when others are enjoying themselves. This gives me a great deal of satisfaction. 
What are you most looking forward to in your role?
Meeting as many members as possible, learning from and sharing their experiences.   
Is there a particular Society issue you're keen to champion?
For members to get the most out of their membership and for the general public to experience and get a taste of the rewards of being an Oddfellow.   
What would you say to someone thinking about becoming a member, then?
We're a caring and sharing group that will look out for you through the ups and downs of life. Our aim is to help you get more from life through friendship and understanding.
Can you sum up the Oddfellows in six words?
Friendship that just keeps giving more.
And now for the less serious stuff…
What's your favourite chocolate bar?
I don't have a favourite. I like most Chocolate bars. Feel free to send me a selection!
Where's your favourite place in the world?
That would have to be the Amalfi Coast in Italy.
What's your favourite book of all time?
Reading's not something that I do much of, but my most-read author is John Grisham. I've read every one of his fiction books and his one non-fiction book.
If you were making a movie of your life, who would you cast as yourself?
Matt Damon, AKA the action man Jason Bourne.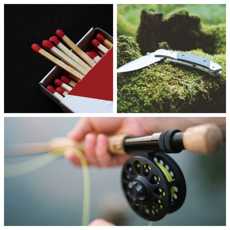 And finally... You're stranded on a desert island. What three items would you take with you?
Matches, a sharp knife and the woman I love, if she'd come with me! If she wouldn't, then I'd probably take a fishing line.
We're looking forward to following your year as Grand Master. We know it will be an enjoyable one!
Could you be a future Grand Master? We're always on the lookout for our next generation of Officers. We're run by members, for our members, so this means there's a wealth of opportunity to get involved in shaping the development and direction of the Oddfellows locally and nationally. Find out more about how you could contribute.