Gardens that give back
There's a growing movement to make your garden much more than just a pretty space. Instead, the push is to turn it into an area that gives something back, to the local community or to the earth. It doesn't matter how big your garden is or how much time you have to spare. Oddfellows reporter, Kathryn Donachie, has five 'blooming great' ideas to get you started.
1. Food for thought
There's nothing as satisfying as putting your own produce on the table. If you're lucky enough to have a surplus of spuds or spare sprouts, then why not help others by donating to a local food bank? These schemes have become vital lifelines to many people. Fresh produce would be a welcome change from many tinned options that are given out – and if you're a nifty cook then jars of home-made jam, chutney or marmalade would be equally appreciated. If you're not sure where to find your nearest food bank, try the Trussell Trust's searchable map (https://www.trusselltrust.org/get-help/find-a-foodbank/).
Alternatively, why not surprise your neighbours with a gift? That's a sure way of creating a neighbourly spirit and fostering community! There's no need to think that you need to have a big garden either to grow your own: planting a couple of containers with tomato plants can yield great results or a compact herb garden growing tasty delights works just as well.
 
Gift any excess veggies.
2. Don't hog your garden
It's not just humans who use your garden. Think about how to encourage and nurture wildlife. For instance, the number of hedgehogs in the UK is plummeting but by creating access spaces between your garden and your neighbours', you can help these prickly animals prosper. Simply cut a hole, about 12cm x 12xm, in the bottom of your fence and the job is done! To further help hedgehogs, make sure the slug pellets you use are wildlife friendly to ensure a steady supply of food for them and you could even leave out extra food (they like meat-based dog or cat food). Of course it's not just hedgehogs that need help. Other visitors such as toads, frogs, bats and squirrels could all do with a helping hand. The RSPB has an excellent personal planner to help you make your garden more wildlife-friendly (https://www.rspb.org.uk/get-involved/activities/give-nature-a-home-in-your-garden/)
 
Create a hedgehog highway!
3. Join the Community Garden movement
It's a win, win situation. A gain for wildlife, and a gain for us humans. Community gardens are thriving across the UK. From connecting people with each other, to growing fresh food to enjoy, there are huge benefits to such green-fingered collaboration. Community Roots, run by mental health charity, Mind, is one such great example, and has recently received help from our North Walsham Branch to keep its wellbeing activities going.

The BBC has a handy online Community Garden Guide, which can help you to find your nearest established project. However, if you're interested in starting one up, then the RHS has a great page on how to set up a community garden and outlines the steps you need to take, such as getting insurance, fundraising and risk assessments.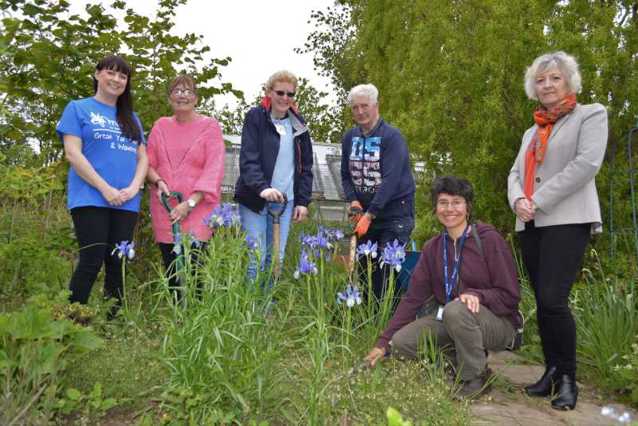 The Oddfellows' North Walsham Branch helps its local Mind community garden, Community Roots, to flourish.
4. Plant to provide
When you're deciding which plants to include in your garden, have a mind to the benefits of different varieties. Maybe leave a patch of your garden covered with fast-growing annuals such as poppies which quickly create a mass of flowers, providing food for bees and birds, and much-needed cover for other creatures. Some plants are the favourites of butterflies and other pollinators, such as lavender and buddleia. Don't ignore moths, which are a vital part of the food chain and thought to be in decline in the UK. Choose flowers that release scent in the evenings, like evening primrose, for these nocturnal garden visitors.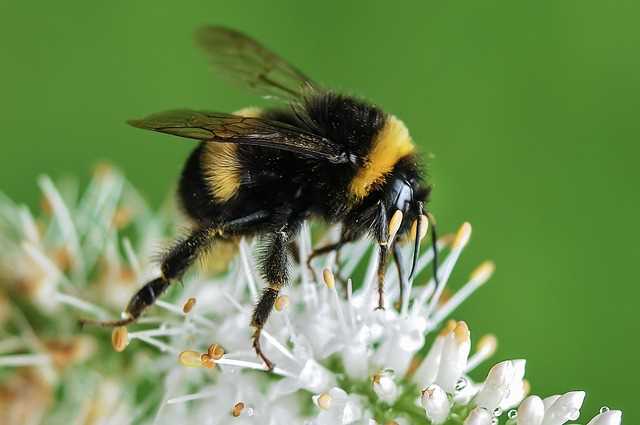 Plant bee-friendly blooms.
5. Open your garden up
Host a simple open garden event. Ask friends and neighbours to visit – perhaps adding in some tea and cake – to soak up the atmosphere of your garden (and hopefully some good weather too). This could be the chance to show off your magnificent blooms, tell your neighbours about your hedgehog highway or simply get together for a chat. This event could inspire friendships, improve the local community spirit and would be fun for all involved. Perhaps use the event to raise money for charity by asking for a small donation? You could choose a local charity from your neighbourhood and provide some information about them to encourage local people to get involved – or you might aptly choose a charity that works to help people in need through gardening.

Open up your garden like Nene and Welland District Oddfellows. They recently threw a garden party to foster friendship and community.
It can sometimes feel like gardens are just there to be mowed and pruned. So instead, give back to yourself by taking a moment to really appreciate your garden – and enjoy being able to give back through it.
DISCLAIMER: Links to third-party sites do not constitute an endorsement by the Oddfellows and use of the advertised products and services is entirely at your risk. The Oddfellows does not accept any liability or responsibility for any third party material on other websites.