Dorothy's olympic approach to ending loneliness
Updated: 09 Jul 2019
After representing Team GB at the 1960s Rome Olympics, Dorothy Shirley-Emerson travelled the world and enjoyed a long and happy marriage with her soulmate. But for stoic Dorothy – who dedicated much of her life to athletics after winning silver for the high jump – nothing could prepare her for the loneliness that came with going home to an empty house after her husband Jack died.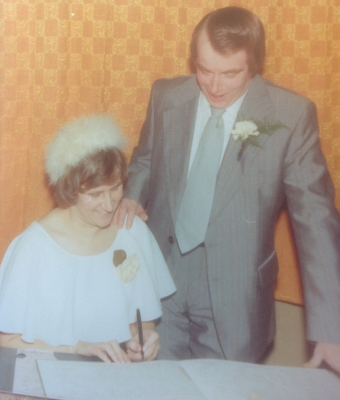 Dorothy's husband Jack was a comedian and entertainer, rubbing shoulders with the likes of Ken Dodd during his performing days. Sadly, he died aged 70 in 1999, after suffering renal failure.
Dorothy, 79, said: "I've achieved so much in my life, but at the end of the day, I was Jack's wife and we were very much in love. When I lost him, a huge part of my role changed forever. Suddenly household decision-making was all down to me. In my generation that was often left to the men to sort out, and that's how we split it. Now all the decisions, bills and household jobs are my responsibility, and that's very scary."
"Lots of people know me as this bright and positive person, and it's how I am determined to be, but there are moments when I still feel alone." Dorothy
However, taking charge of the house wasn't the biggest adjustment for Dorothy: "After 28 years of being part of a winning team of two, I was suddenly all on my own. Even though we had a lot of separate interests I still felt very alone, which I wasn't prepared for. I thought I'd adjust easily as I have loads of hobbies, but actually I would feel very lonely, even in social situations. For example, one of the hardest things was going out with other couples; I'd feel a bit of a spare part."
"Lots of people know me as this bright and positive person, and it's how I am determined to be, but there are moments when I still feel alone," she admitted.
Changing times
More than nine million people say they are lonely either often or always, according to the British Red Cross.
Loneliness can affect people of all ages and from all walks of life. We're especially vulnerable when undergoing major life changes, such as retirement, relocation, long-term health or mobility issues, becoming an unpaid carer, bereavement and divorce or separation.
Dorothy added: "It's not just the loss of husbands and wives. As you get older you start losing friends you've had for years too, so your social circle gets smaller and smaller.
"People will often just tell you to go out and meet people, but they don't realise that for the older generation that can be very hard – especially if you're used to socialising with your other half. For women of my generation it can be especially hard. I'm of an age where I wouldn't just pop into the pub for a pint and see who's around. As an older woman I'd never dream of going into the pub on my own, it just isn't our culture."
It wasn't just the loss of her husband that saw Dorothy's social circle shrink: "During my life I've always been involved with sport, and once I'd finished competing it was important for me to give back as a volunteer. 
"However, times change, and where once lots of coaches were volunteers, it's a professional job now. There are less opportunities out there. The interest that had consumed me for so many years was no longer there."
Determined to succeed
Dorothy, who now lives in New Moston, has always been determined to succeed. When she was just seven-years-old she was inspired to become an athlete by the Dutch sprinter Franny Blankers-Koen, who she'd read about in a sports magazine 'borrowed' from her parents' newsagents.
Growing up in Failsworth, Oldham, she honed her skills by jumping over gateposts on her paper round and practised leaping over the washing line in the back garden.
She attended New Moston Secondary School where she developed her talent for athletics, and was soon chosen to represent her school, city and county in the field.
Aged 19 she was selected to represent England at the Empire games in Cardiff. Just two years later she was one of only eight British medallists at the 1960s Olympics in Rome. She also claimed an Empire Games Silver Medal, European Bronze Medal, six British titles, two indoor championships and was the undefeated Northern champion for 14 years.
Fighting spirit
It's this fighting spirit that led Dorothy to address her own loneliness, and that of others in the community.
Dorothy, who became a teacher following her athletic success, said: "Life is what you make it, you have to make yourself go out. It's hard, but the first steps always are.
"I heard a news item on the radio for a friendship group called the Oddfellows. I thought it might help with the loneliness. Going to my first meeting was hard, but I haven't looked back since. In fact, I'm social organiser for my local Branch and I've just been made Deputy District Chairman. It's official now, and I'm going to ensure that no one feels lonely under my watch.
Life is what you make it, you have to make yourself go out. It's hard, but the first steps always are. Dorothy
"I was worried when I first joined that it would all be old people, but the group was much younger than I thought. I also found there were quite a few widows and people on their own, who understood exactly what I was going through and made me feel very welcome. My circle of friends has grown hugely since I joined."
Dorothy uses her can-do attitude and life experiences to make sure her fellow Oddfellows, and especially those on their own, keep independent as they age.
"We plan everything we do at the Oddfellows to be as inclusive and accessible as possible. At my Branch, we use public transport where possible, because I want everyone who comes along to build their confidence in travelling about on their own, if they're unable to drive or catch a lift. If they're at home feeling low then they can go out to somewhere we've been before, as I'll have given them the skills and confidence to do that.
"We have lots of members who have lost their partners and lose their independence, because their other halves used to do the driving and they haven't been on public transport for a long time. This is especially the case for our female widows."
She added: "We rally around together. No one has to walk in somewhere on their own if they don't want to, and we are all there to talk to if you need it. It's about travelling together, learning together, and getting lost together!
We plan everything we do at the Oddfellows to be as inclusive and accessible as possible. Dorothy
"This sounds very cheesy, and I don't mean it to be, but our family always used to say: 'If I can help somebody as I pass along, then my living will not be in vain'.
"I know what it's like to feel lonely, and I know there are lots of people out there who are feeling this way now. I want to use my life's experiences to help others, so they don't have to feel lonely like I did."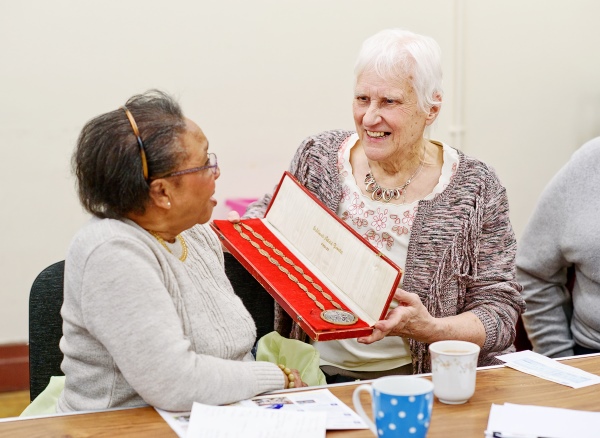 Dorothy's six tips for fighting loneliness as we get older (and at any age!):
The first steps are hard – you might not feel like you want to get out and socialise, but you have to take a brave first step.
Give it a try – trying something new is daunting, but I always say you need to make that effort. My mantra is 'I'm glad I tried,'. Repeating this to myself has helped make me go out, speak to people and try new things, even when I didn't feel like it.
Buddy up – if you want to go somewhere new, why not ask a friend to come with you if you're feeling unsure? If there's no one available to come with you, ring ahead. Most groups are very welcoming and can pair you up with someone understanding.
Talk about it – there's no shame in feeling lonely. Sharing your feelings and worries with others can help. If you don't feel you can talk to friends or family, you can ring a befriending service like The Silver Line.
Use your skills – I used my love of sports to volunteer after my sporting career, and I've used my organisational skills to find a role at my local Oddfellows. Think about what you once enjoyed doing or would like to try.
Believe in yourself – loneliness can eat away at your confidence, but you're an amazing person who people will love to meet. You just need to go out and find them!
As one of the UK's largest and oldest friendly societies, we have connected people with their communities since we were established in 1810. There are over 310,000 members and 124 local Branches which helping people across the UK get more out of life – bringing them together to enjoy social events, as well as being there in times of need through the support of care, welfare and financial benefits.
If you'd like some advice on socialising again after loss, or you'd live to know how you can help a friend who is going through something similar, visit our First Steps page, where you will find all sorts of information and support to guide you. 
You can use our Branch Finder to see which of our Branches is closest to you, or take a look at our Events page to see if there are any group activities or coffee mornings you can come along to! Everyone's welcome at the Oddfellows, and you can be sure of a warm welcome. 
You can also request a free membership pack by visiting our Contact Us page, or calling the Membership Team on 0800 028 1810.