Close-knit friends get crafty to support local hospital
When Warrington and Halton Hospitals Charity (WHH) sent out a plea to knitters, eager 'Crafternooners' from local friendship group the Oddfellows swung into action and casted on to create 80 glove puppets, known as 'Hals', for poorly children.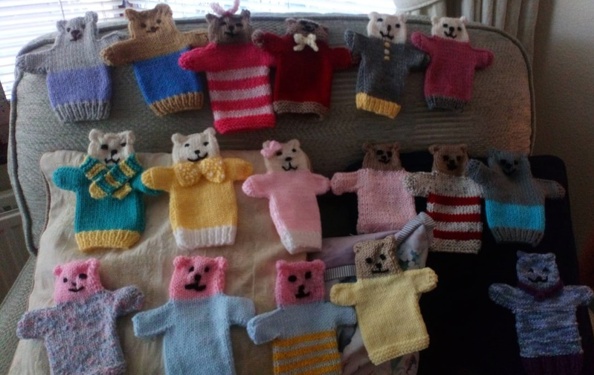 Fruits of their labour – the first batch of knitted hand puppets from St Helens & Warrington Oddfellows Crafternoon group.
Warrington and Halton Hospitals Charity holds a vision to be able to hand every child in need of their care a knitted glove puppet. It began its 'Knit4Hal appeal' in 2017 with one mascot puppet called 'Hal', and a call out for keen knitters to help create 29,999 more.
Members of the Oddfellows' St Helens and Warrington Crafternoon group say that the 80 are just their first batch, with an aim to knit 120 more in time for Christmas.
Barbara Grundy, Crafternoon Organiser, said: "Supporting local charities is something that is at the heart of our knitting group. In the past, we've knitted baby blankets, jackets and hats for premature babies and twiddle muffs for the dementia unit at Whiston Hospital. We love to help where we can.
"After seeing the appeal, the ladies knew it was something we wanted to help with. Each member has worked hard to lovingly craft these unique hand puppets in their spare time, hoping to put huge smiles on the faces of every child in need at Warrington and Halton Hospital."
Helen Higginson, WHH Charity Manager, said: "We have over 30,000 children walk through our doors every year. Being able to hand some of the young patients a knitted puppet while within our care has created a really positive experience for them and their families, as well as providing endless fun. It can also help staff engage with the children. Therefore, having the support of knitters, such as those at the Oddfellows, means so very much to us."
The Oddfellows' St Helens and Warrington Branch members meet regularly to enjoy a wide variety of social events and activities in the area. Their Crafternoon group meets every month and welcomes new members of all abilities along. To find out more visit their Branch page or contact Julie Webster on 01744 895 536, or email Julie.webster@oddfellows.co.uk
To find out more about events in your local area, visit our events finder page.
To find out more about the Knit4Hal appeal, visit www.whhcharity.org.uk/call-action-need-knitters