Maybe you think they'd love our social events, or that they'd feel reassured knowing there are people around them who care? Whatever the reason, when someone joins us and it's because of you, we want to say thanks.
One way we show our appreciation is to send you Love2shop vouchers and a special membership card. You can also choose to donate your voucher's value to a charity of your choice once you've referred five or more people.
*There are terms and conditions to how the offer works, listed below, which we recommend you read before making a referral.
How do you refer someone?
Option 1:  Your friend tells us your details
When your friend fills in any of our membership application forms, online, over the phone or by post, they need to provide us with your details.

With online applications, there is a box for them to include your membership number:



For postal applications, there is a section to fill in:





Option 2:  You tell us your friend's details
You can let us know their details by using our online form, which you can get to by logging in to the Members' Area, or you can call or email the Membership team. We'll send them a membership information pack and, if they choose to join, we'll know they've been introduced by you.
If you'd prefer a paper version of this form, your Branch Secretary can provide you with one.
What are the Refer a Friend reward levels?


Move through the reward levels, from Bronze to Platinum
On your 1st referral – Bronze
Just one referral and you'll receive your Bronze membership card. We'll also send you a £10 Love2shop voucher.
On your 5th referral – Silver
As soon as you've referred five friends in total, you'll get your Silver membership card and £60 in Love2shop vouchers. Or, if you'd prefer, you can donate the £60 to a charity of your choice.
On your 20th referral – Gold
Once you hit 20 referrals, you can look forward to receiving your Gold membership card and £120 in Love2shop vouchers. Or, if you'd prefer, you can donate the £120 to a charity of your choice.
On your 40th referral – Platinum
This is the big one. On your 40th referral, we'll send you your Platinum membership card and £250 in Love2shop vouchers for all your hard work in making our friendly society even bigger and better. Or, if you'd prefer, you can donate the £250 to a charity of your choice.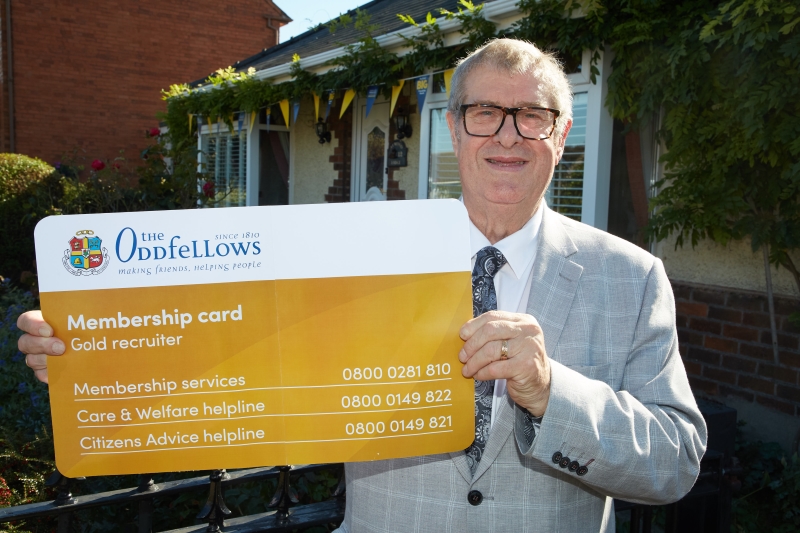 Barry Bedford from Nene and Welland Branch was our first Gold recruiter, but he's now recruited so many new members that we've had to create a special Platinum Plus category in his honour!
Could you be a super-recruiter?
If you refer 20-49 new members within one calendar year, you'll be presented with the Oddfellows' prestigious Silver Gilt Recruitment Jewel. This award is only to be upstaged by the Grand Master's Jewel for those members who have referred upward of 50 people. Now that's something to display with pride!
*Terms and conditions: The Love2shop gift card offer applies to new members only, not to existing members renewing their membership. Friends or family members that you introduce must be 18 years old or over. There is no upper age limit. Your reward will be sent once your friend's membership fee has been accepted. If choosing a charitable donation as your reward, you will receive a cheque payable to the nominated charity. This is not transferrable and there is no cash alternative. Each person nominated must give their consent for their details to be submitted; their contact details will not be shared with any third parties. This offer is subject to change and can be withdrawn at any time.