Sending retirement woes packing
Updated: 29 Jun 2020
Barbara, whose retirement came earlier than planned, says the support of her local Oddfellows group makes every day feel like a holiday.

Barbara and Brian now have a whole list of excursions planned for 2020 and beyond.
Barbara Spencer, 65, from Bourne, Lincolnshire, was forced into early retirement after an accident at work two years ago.
While her husband Brian, 75, had been retired for some time and settled into a quiet routine pottering at home, Barbara felt she was 'far too young' to join the retirement club.
Now, thanks to the support of the Oddfellows, a national friendship society with local branches across the country, Barbara says she doesn't miss the strict timetables and pressures of her working life – and says she wishes she retired sooner.
Barbara explained: "When you are working full time your life is completely planned out, everything is set to a schedule and it's a constant battle to get things done.
"Now we can set our own timetable – it's like being on a permanent holiday."
As Barbara was born in 1954, she is among nearly 4 million women who have been told they can't collect their pension until they are 66, rather than the 60 they had been working towards.
But despite this, Barbara still didn't feel ready when her husband suggested she didn't go back to work after she broke her shoulder and kneecap in a fall.
She explained: "After the accident I was devastated, I loved my job and although I was 63, I wasn't one for sitting about.
"When I realised I couldn't go back to work I felt as if my life had ended. I couldn't walk and I still struggle to lift things now. I used to sit and cry and think what are we going to do?
"I didn't want to be one of those couples that woke up every morning, had a coffee and just filled our time with mundane day-to-day tasks every day."
She added: "My husband was quite content pottering around but I can't busy myself like he can and was really worried."
Friendship societies such as the Oddfellows are a great way to stay active, keep learning and get involved with the community. Barbara Spencer, Oddfellows member
Barbara and Brian heard about the Oddfellows after meeting someone on holiday who was also a member. Barbara put in an enquiry and received a telephone call from her nearest branch inviting them both along.
She said: "When the Oddfellows was first suggested I wasn't convinced it was for me. But one day I was just sat around and I thought I'd just give them a Google to see what they were about. Next thing I knew we were chatting to the secretary on the phone and arranging to come along to the next event."
Barbara, who is grandmother to Jacob, Evie and Lottie Rose, with a fourth grandchild due in May, added: "Everyone made us feel very welcome. I'm a very friendly person but I'm not the sort to hang around if I don't like somewhere. As soon as we walked in we felt at home, there was no awkwardness, we just got on with it like we'd been there for years."
Barbara added that even Brian, who is naturally shy, enjoys going to the events. She said: "It's all about the social side for me. Brian is happy in his own company, but he enjoys coming with me. He surprised me because he's really come out of his shell – he even volunteers to make the teas and coffees and do the washing up at our events."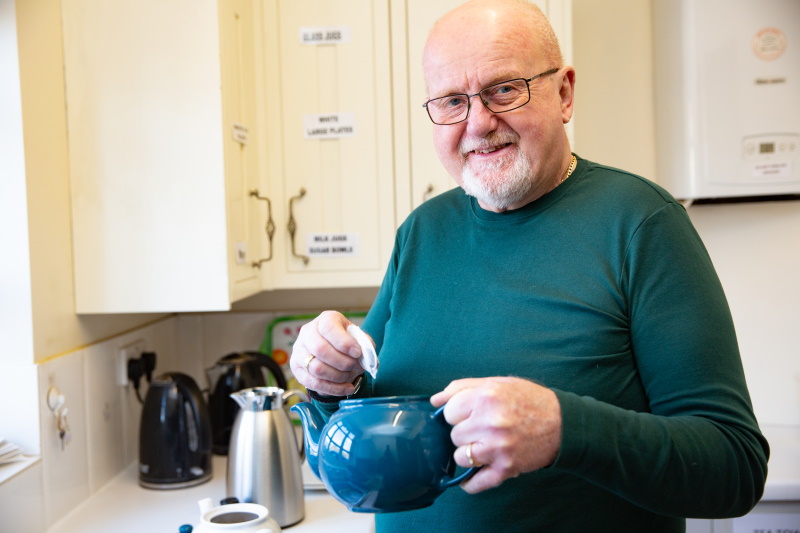 Brian keeps busy lending a hand at the events.
Brian added: "I'm not a good mixer, but you can't help but join in when you go to the Oddfellows.
"There is always something to be done. You don't have to sit and chat or play bingo, you can make the teas and just take part."
For the couple, who met on holiday at a caravan park in Skegness, it has come full circle, with a whole list of excursions planned for 2020 and beyond.
Barbara added: "Life's too short to be sat doing nothing, whether you are retired or not.
"I never thought I'd say this but being retired is great. You don't have to answer to anyone, you can just wake up and decide to have a pyjama day, do your shopping, or get out and about with friends!"
The Oddfellows is the UK's largest and oldest friendly society and has been connecting people with their communities since 1810. As a non-profit it has 309,000 members and 121 local Branches who are helping people across the UK get more out of life – bringing them together to enjoy social events, as well as being there in times of need through the support of care, welfare and financial benefits.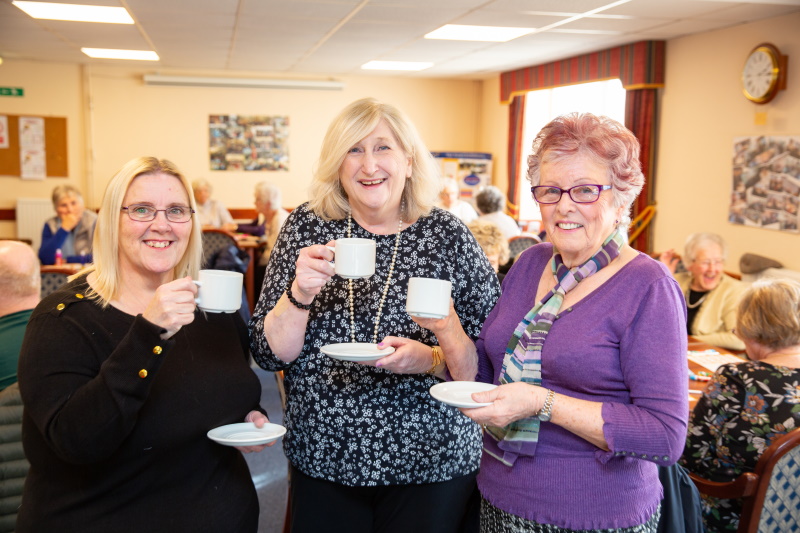 Barbara's making the most of her retirement with the support of friends, Miriam (centre) and Wendy (right) at Nene and Welland Oddfellows.
Karen Earth, Nene and Welland Oddfellows Branch Secretary, said: "Barbara's story is very typical of many of our members. "For those who are newly retired or facing retirement, suddenly having no responsibilities or timetable can feel quite daunting.
"Friendship societies such as the Oddfellows are a great way to stay active, keep learning and get involved with the community – you can do as much or as little as you want!"
To find your nearest Oddfellows friendship group, use our Branch Finder.