National award honour for dedicated Barry
Updated: 29 Oct 2020
Baston resident, and member of Nene and Welland Oddfellows, Barry Bedford has been singled out by the Society's Fraternal Board as an inspirational team worker and shining example to other members.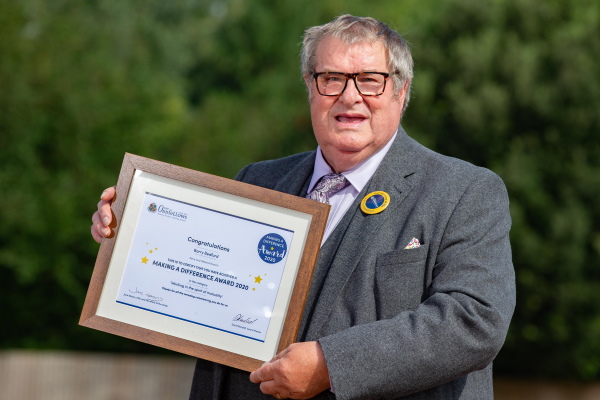 77-year-old Barry was selected as the winner of the award's 'working in the spirit of mutuality' category from a shortlist made up of Oddfellows members across the UK. The Oddfellows' Making A Difference Awards recognise and celebrate the individual contributions of members nationwide to their local Branch and the Society as a whole.
Speaking about his award win, Barry says: "I was initially very shocked when I heard I had won, but I'm very proud, too. There are over 100 Branches across the UK, so to be chosen is a great honour. I've been a member since I was 21, and love the Oddfellows ethos of making friends and helping people."
I just love how we all help each other whenever and however we can. It's a life-saver for many.
Barry joined the Nene and Welland Branch of the Oddfellows in his youth, and has supported his Branch in a variety of roles over the years, from Grand Master (Chairman) of the District and Trustee, to Welfare Visitor and Committee Member.
He adds, "I'm like a stick of rock, if you split me down the middle, I'd have Oddfellows running all the way through! I just love how we all help each other whenever and however we can. It's a life-saver for many."
Branch Secretary for the Nene and Welland Oddfellows, Karen Earth, says of Barry, "As a Trustee, Barry's is a major strength behind the success of the Branch. He's so welcoming and supportive of all members, and dedicates his spare time to helping the Branch succeed. We're so proud to have him on our team, he truly deserves this award."
Jane Nelson, CEO for the Oddfellows, adds: "As a Society, we are run by members, for members, and it is people like Barry who help to keep the wheels turning. His hard work and dedication is hugely appreciated, so this award is very much deserved."
The winners of the Making a Difference Awards have been invited to the Oddfellows Annual Moveable Conference in May 2021 to be formally presented with their award, after this year's event was cancelled due to the COVID-19 pandemic.
Want to meet 2019's winner for working in the spirit of mutuality? Read Bill's story and see how he helped reshape the North West Kent Branch!