Words from the heart – a poem of friendship
Oddfellows member, Tony Gable, has penned a special poem about friendship in the hope that it will inspire others in his situation to be brave, get out there and make new friends.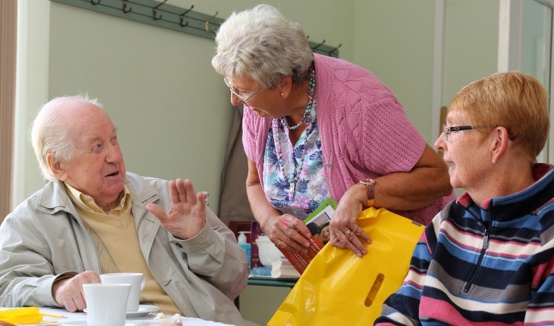 Poet, Tony, with fellow members and friends at his local Oddfellows Branch.

Following the loss of his wife, Tony decided to give his local friendship group, Pride of Bournemouth Oddfellows, a try. He realised that he was beginning to feel isolated and was looking to connect with more people.
He explained: "I had known of the Oddfellows for years, but after my wife passed away, I knew I didn't want to be on my own. I saw an advertisement about a special Friendship Month event and decided to pop along to see what they were all about."
Fast forward a year later and Tony shows that every dark cloud has a silver lining, feeling right at home in the company of his local Oddfellow members.
"Everyone from Flo and Margaret to Andrew have made me feel so welcome. I've never once felt out of place. I now attend regular events and they're never short of a friendly face.
"I've always loved poetry, both reading and writing it. As a form of self-expression it allows me to share my personal life experiences and reflect. I have written about feelings of loneliness and now of course, friendship. I hope it encourages anyone is in a similar situation to myself to come along and give the Oddfellows a try," added Tony
Friendship Month, by Tony Goble
I went to this meeting,
Feeling all alone.
Should I have gone out,
Or just stayed at home?
The folk they were friendly
And made a fuss of me.
Have a cake and a cup of tea.
I thought this is nice, just for me.
So the meeting went well
And new friends I found/made
They really cared for this lonely old man
I was given a book with meetings for me to plan.                                          
Over to Ferndown, not far to go
Everybody's sweetheart, is dear Flo.
Then to Tuckton, Margaret is host
Andrew, in Poole, just up the coast.
I now feel part of the friendly scene
In old age, not a has been!
At Oddfellows I am not out of place
Everyone has such a friendly face.         
                                    
Oddfellows Pride of Bournemouth Branch friendship group's members meet regularly to enjoy a wide variety of social events and activities. During this September Great Big Friendship Month, the Branch is holding a Tea and Coffee Morning on Monday September 3rd and Bingo & Fish & Chip Supper on Saturday 22 September. Everyone is welcome.
To find out more, visit their Branch page or contact Margaret White on 01202 775122, or margaret.white@oddfellows.co.uk.