We're now Carbon Neutral
Updated: 02 Dec 2021
For the first time, we calculated and offset our annual carbon footprint. Now Carbon Neutral, it marks the start of the Society's ambitions to become Net Zero Carbon.
Achieving Carbon Neutral status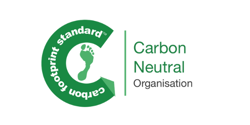 Between 1 April 2020 and 31 March 2021, 82.93 tonnes of CO2e was recorded as being produced through the operations of the Oddfellows' Liverpool and Manchester offices, and its associated transport activities, which includes our financial services brand, Unity Mutual.
The amount, calculated by Carbon Footprint Ltd, is in relation to direct emissions – those that are within the organisation's control, such as fuel consumption and business travel.
To offset our carbon footprint, the Society has funded an equivalent carbon dioxide saving initiative and has planted 83 trees within the UK and the Amazon.
What is a carbon footprint?
Our carbon footprint is the total amount of greenhouse gases generated by our actions and measured in units of carbon dioxide equivalents (CO2e).

Reducing carbon emissions
The Oddfellows' CEO, Jane Nelson, said: "Being Carbon Neutral is just the start for us. We have our base line figure and we have committed to annual assessments, so we're now looking at the ways in which we can further reduce our greenhouse gas emissions, set targets and track the results of our actions."
One of the assessor's recommendations was to undertake a site energy audit to identify further electricity use reductions.
"This has already happened for our Manchester office and we're currently looking into the report findings to spot reduction opportunities," added Jane.
Another suggestion was to evaluate the effectiveness of using remote meetings and to redefine what the Society classifies as 'essential' business travel moving forward.
"The pandemic really opened our eyes up to the potential and possibilities of virtual meetings and has already shifted our behaviours," responded Jane.
"In the past, we probably wouldn't have thought twice about jumping on a train or in a car to meet face-to-face, but that's not the case now.
"Of course, some meetings do necessitate an in-person visit, however a lot don't. The environmental impact of business travel, and which mode you chose, is something we're soon to discuss at our team meetings," explained Jane.

Net Zero ambitions
The annual assessments and Carbon Neutral status are in relation to the Oddfellows' Liverpool and Manchester offices' operations, however in the future the Society's UK branch network will be encouraged to adopt similar approaches to measure, reduce and offset their carbon footprint.
Said Jane: "We've been adopting 'greener' ways of working for a while, but the assessment has pushed us further along the journey to our better understanding of climate crisis issues and how we can play our part to minimise future damage.
"We have Carbon Neutral status at present, where we aim to reduce our carbon emissions and offset any produced by investing in carbon reduction initiatives, such as planting trees.
"We have clear aspirations to move to a Carbon Neutral Plus status in the very near future. This is where we'll provide wider environment benefit beyond our measured footprint and continue to look at ways in which we can drive our greenhouse gas emissions right down.
"Ultimately, we want to be at Net Zero. This is where we reduce our carbon emissions to the lowest amount possible and offset as a last resort," added Jane.
The Society's next annual carbon footprint assessment will cover the period of 1 April 2021 to 31 March 2022.
Importance of taking action
"Climate change is real. It's the greatest environmental challenge we've ever faced. Our actions of the past have resulted in today's rapid levels of global warming," explained Jane. "But there is hope, because we can all do something about it."
A recent article by the BBC reported that unless further action is taken, the planet could still warm by more than 2 degrees Celsius by the end of this century.
The article continued to explain that if nothing is done, scientists think global warming could exceed 4 degrees Celsius in the future. This would lead to devastating heatwaves, millions losing their homes to rising sea levels and irreversible loss of plant and animal species.
Oddfellows employee, Phil Baker, who works in investments, is reassured that the Society is taking positive action. He said: "We've all seen the devastating effects that climate change is having around the world, and it highlights the need for us to modify our behaviours and be more conscious of our life choices if we are to leave the planet hospitable for our descendants.
"It's reassuring to see that, as a Society, we have embraced changes that need to be made to reduce our impact on the environment, and it feels good to be part of that. Such action raises the awareness for all of us in the Society and will hopefully have a positive impact on us individually to make changes in our personal lives."

Individual actions
While it's going to take a global effort to tackle the climate crisis, there are many simple things we can do as individuals to make a difference. Here's a few:
Rethink your eating and drinking habits. Eat a more seasonal, locally-sourced and plant-based diet, especially reducing the amount of meat and dairy you consume. Think about how you can throw away less food and reduce your use of single-use plastic.
Change the way you make tea. Choose a tea brand that uses biodegradable, plastic-free bags or, better still, switch to loose tea. Only boil the amount of water you need to use and drink more of your hot drinks without milk (dairy).
Dress more sustainably. Go for quality over quantity, repairing or getting clothes adjusted to extend their life. Seek out more eco-friendly designers and fabrics. Pass on, donate or recycle unwanted clothing depending on condition. Spot clean, or wash as part of a full load on 30 degrees Celsius or lower.
Consider your travel choices. Walk or cycle for short trips. If you have to use your car, run it efficiently by checking tyre pressure, reducing excess load, drive smoothly, only use your air con when necessary and service it regularly. If you have to fly, fly direct and opt of any carbon offset choices when purchasing your ticket.
Run a more sustainable home. Use more eco-friendly cleaning products, switch any old-style lightbulbs to low-energy ones, consider your water usage, recycle, check the energy performance of any new appliances you buy, and look into green energy tariffs when renewing utility service providers.
Further reading
View further information about how the Society is reducing its carbon footprint and managing the risks of climate change.
The BBC's What is climate change? A really simple guide
Gov.uk's Climate change explained 
United Nations' Climate action 
World Wildlife Fund's Climate change 
NASA's Climate Kids
DISCLAIMER: Links to third-party sites do not constitute an endorsement by the Oddfellows and use of the advertised products and services is entirely at your risk. The Oddfellows does not accept any liability or responsibility for any third party material on other websites.