Sunderland double donation
The Northumbria Branch of the Oddfellows has handed two Sunderland charities a cheque of £1000 each, to help them to continue their life-changing and saving work in the region.
The first donation went to the Sunderland Cardiac Support Group (www.sunderlandcardiac.org.uk), who provides help and rehabilitation to heart patients in the area, as well as their carers.
The Sunderland Volunteer Life Brigade (www.sunderlandvlb.com) received the second cheque, who operates a local search and rescue team and also a Coastwatch to monitor the shoreline, reporting dangers and people in distress.
Both charities welcomed the cash boost, as without public donations their services would struggle to continue.
Barry Cook, Secretary of the Sunderland Cardiac Support Group, said: "Our charity was set up in 1993 by a small group of patients who had completed their treatment at Sunderland Royal Hospital and who wanted to keep in touch with each other.
"They were provided with a room to meet up in each month and the group grew from around six to a membership of 135 today. We provide help and support to the people of Sunderland who have suffered some form of cardiac trauma. We are self-supported and rely on funding and donations to help us continue with our work, so the donation we received from the Oddfellows was gratefully received."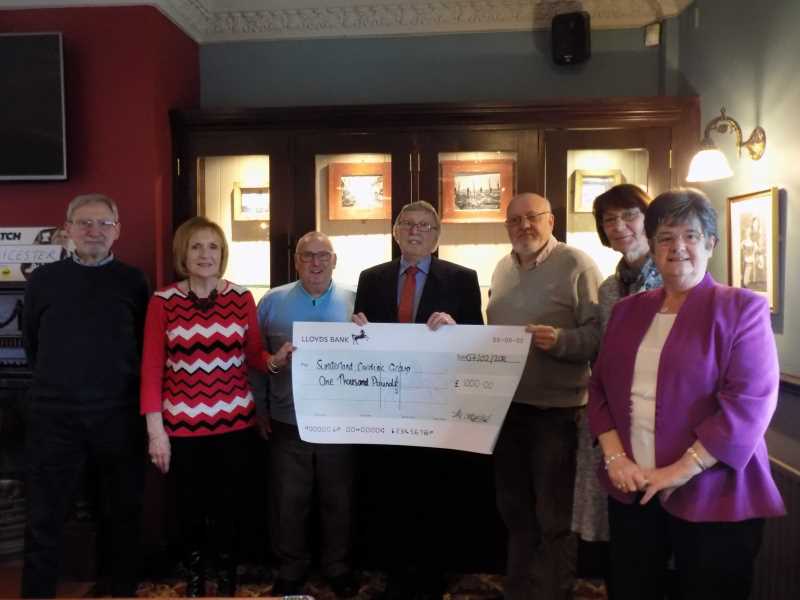 Receiving the donation from the Sunderland Cardiac Support Group – centre: Chairman James Baker, Secretary Barry Cook and Treasurer Paul McGough.
Secretary of Sunderland Volunteer Life Brigade, Rose Roberts, added: "We rely wholly on donations and fundraising to raise the £25,000 a year we need to operate. This is a massive boost and greatly appreciated and will go a long way to helping cover our overheads."
The £2000 total was raised by Northumbria Oddfellows' members at events throughout the year, with the then District Chairman, David Anderson, selecting the two charities to support. He explained: "I've been on the receiving end of the Cardiac Support Group's work as a heart patient, and they helped me through that difficult period in my life no end. I also give up my time to the Volunteer Life Brigade, so I know what a big difference this money will make – in their being able to save lives and help those in the area."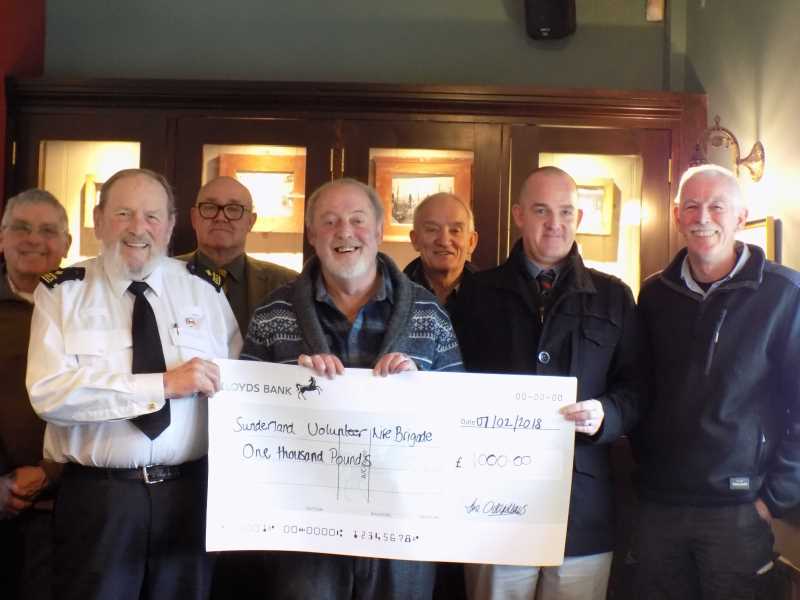 Receiving the donation from the Sunderland Volunteer Life Brigade – Brigade members, including front row (L-R) Jurek Majer (in uniform), David Anderson and Dave Nicholson.
The Oddfellows' Northumbria Branch members meet regularly to enjoy a wide variety of social events and activities in the area, as well as continually fundraise for good causes. Their next event, which is open to all to attend, is a Lunch with friends at the Marsden Inn, South Shields on Wednesday 8 August.
To find out more about forthcoming events and activities, use our Events Finder or contact David Anderson on 0191 549 2602, or on email at david.anderson@oddfellows.co.uk.