St Helens walks for healthy hearts
Oddfellows friends in St Helens and Warrington brave heavy rain in a town-wide walk to support the British Heart Foundation's life-saving research.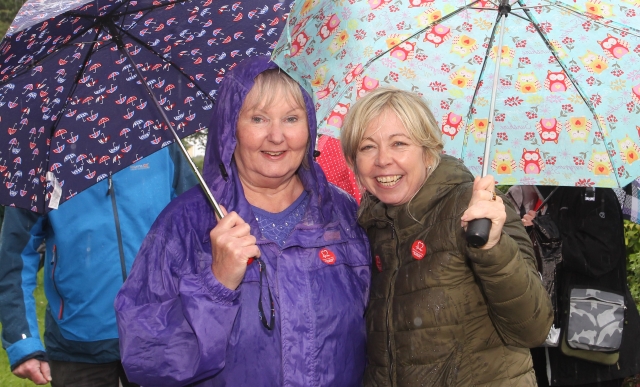 Supporting the British heart Foundation's (BHF) annual Wear It. Beat It campaign, the family-friendly stroll journeyed from St Helens Town Hall in Victoria Square to Fosters Park. Later on, there were a range of healthy lifestyle presentations for participants and passers-by to enjoy courtesy of event partners St Helens Healthy Living at the group's St Helens headquarters on North Road.
The rain did not stop the walkers, in fact it only added to the fun as red raincoats and umbrellas paraded down the streets. The participants were more than happy to brighten up the damp weather with smiles and cheers.
Julie Webster, Social Organiser for Oddfellows in St Helens and Warrington, said: "I'd like to thank everyone who braved the weather to join us on the day for our healthy heart walk. Though it was more like a swim at some points, we weren't going to let a spot of rain get our fun-loving bunch down!"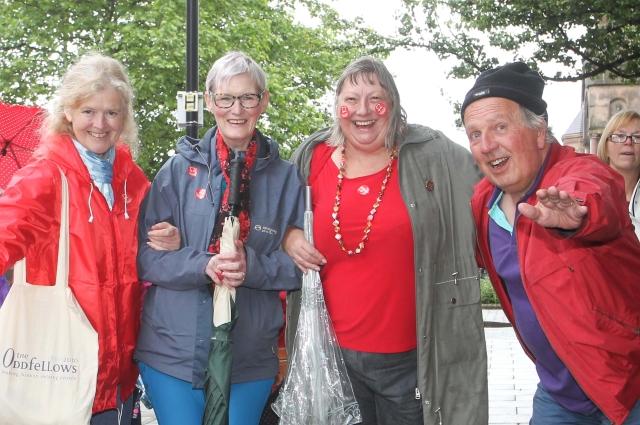 Rain, rain, go away: Friends, Rita, Janet, Karen and John put their best foot forward.  
Katherine Stybelski, Fundraising Manager for the BHF said: "The Oddfellows' activities are always a fun way to get people out and about to meet with others. We hope this event inspires people to take that all-important 10 minutes of activity each day – it really does make the difference in preventing and managing heart disease."
Julie added, "Meeting new people locally, getting more involved in the community through volunteering and fundraising and, most importantly, having reliable people to turn to in good times and bad, is what the Oddfellows is all about.
"We love welcoming new faces, why not give us a try and see how we could bring that extra bit of happiness into your life."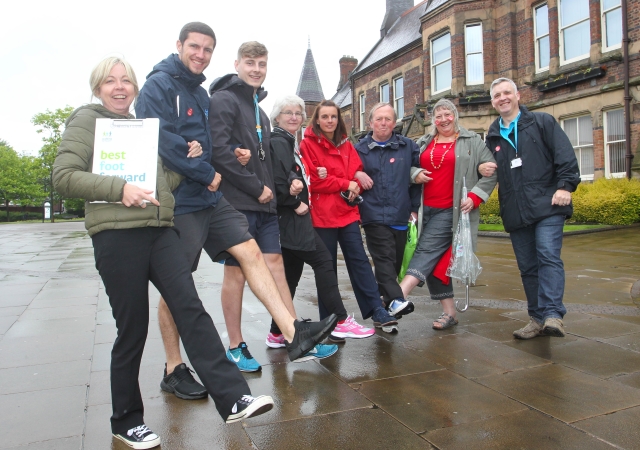 Event partners St Helens Healthy Living
Be part of a friendlier society
Based in St Helens and Warrington, the Society's members regularly get together to enjoy social events such as talks and trips out, lunches, craft sessions and coffee mornings.
Other events coming up include a regular craft afternoon on Monday 12 June from 2.00pm and Tea, Toast and Talk on Thursday 15 June from 10.30am. Open to all, both events are held at the branch headquarters on 17 North Road, St Helens.
To find out more about the Oddfellows, call Julie on 01744 895 536, email julie.webster@oddfellows.co.uk or visit www.oddfellows.co.uk.
As part of its programme, the Oddfellows is offering a free activity tracker to anyone becoming a member of the Society in June to promote the importance of keeping fit on the go.