Reading Oddfellows helps to fund "safe haven" for children with disabilities
Reading Oddfellows has raised a huge £2,300 to support Camp Mohawk - a children's day centre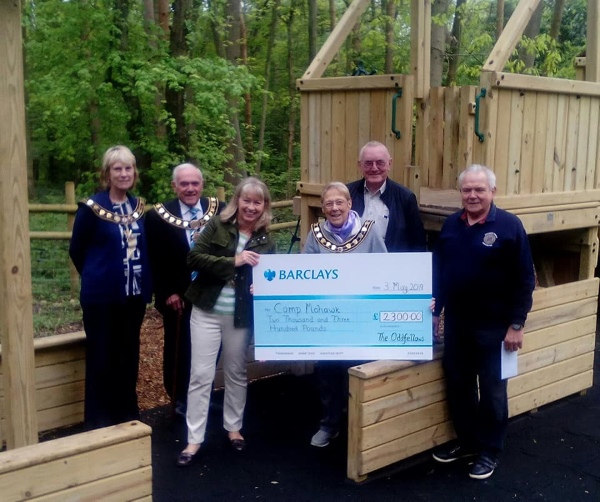 Pictured: Debbie Jex (District Secretary), Clive Tayler (Provincial Grand Master), Annabel Hill (Fundraiser for Camp Mohawk), and committee members Fiona Vince, Mike Scott and Russell Vince
The local friendship society named Camp Mohawk as their Chairman's charity of the year after learning how the day centre provides children with special needs a safe place to play, socialise and learn. This fantastic amount raised by Oddfellows members and the wider community over the past 12 months will contribute towards the running costs involved in providing a safe and welcoming space for young people with physical or developmental disabilities.
Debbie Jex, Secretary for the Reading District of the Oddfellows, said: "We live in a beautiful part of the UK, and Camp Mohawk provides both indoor and outdoor facilities which are accessible to children who may not otherwise have the help and support to get outdoors and play or socialise. When we heard about what Camp Mohawk offers, we knew that it would make a huge impact on the local community, and wanted to help however we could."
With over 200 years' experience of helping its community, the Reading District of the Oddfellows understands how important a safe place and a warm welcome is for people, no matter their age, needs, or abilities.
Debbie continued, "We hope this donation goes a long way in making Camp Mohawk a great place for children and their families to spend a day together without worrying about the available facilities." 
If you'd be interested in finding out a little more on how the Oddfellows gives back to local communites, visit our Giving Back page on the website. To find your local Oddfellows Branch and their contact details, you could also use our handy Branch Finder.
To join, or request a free information pack, please call membership on 0800 028 1810 or email enquiries@oddfellows.co.uk.