Quick guide to equipment and adaptations
Living independently and safely at home for as long as possible is important to all of us and some simple changes can make a big difference and help prevent accidents.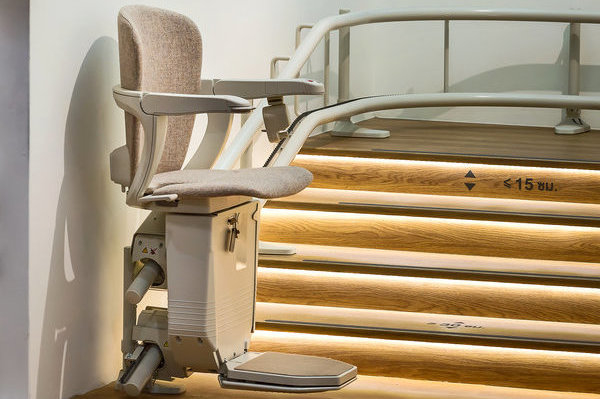 This is useful to know for people who are finding it harder to manage everyday tasks because of issues such as reduced mobility or sight/hearing loss. Help is available to assess what would be most suitable and some people may qualify for a grant or loan to cover the cost of home adaptations.
Types of equipment and adaptations
Small adaptations include, fitting a second bannister rail on a staircase, installing grab rails next to a toilet or bath, adding a bath seat or bath board or fitting blocks to adjust the height of an armchair. Small items of equipment can include, a perching stool for use in the kitchen or bathroom, trolleys to help transport items in the home and walking frames. Large adaptations include, installation of a wet room to replace a standard bathroom, fitting a stairlift, widening doorways or lowering kitchen units for a wheelchair user.
Getting an assessment
For people who need help, or family members who think it would be beneficial for a loved one to have equipment or adaptations, the first point of contact is the local adult social care department (social services) or GP. When making contact explain the difficulties, what would help and ask for an assessment with an occupational therapist (OT). An OT works with people who have health problems or a disability to identify what tasks the person can do and what they have difficulty doing, and can make recommendations for the equipment and/or adaptations that could help. While someone is in hospital, an assessment may be done and if adaptations are needed for them to return home safely these should be done or temporary measures put in place, before they are discharged.
Costs and help with funding
Equipment or adaptations that costs less than £1,000 to buy and install are provided free of charge by the local council, or by the NHS if the person needing the items is in hospital.
For people assessed as needing adaptations that cost more than £1,000, some may be eligible for a means-tested Disabled Facilities Grant (DFG) available from the local council. Homeowners, tenants or landlords with a disabled tenant can apply. Your income, and savings over £6,000, and those of a partner if there is one, are taken into account when deciding the amount of grant awarded. The maximum grant in England is £30,000.
The process of applying for a DFG can take a while. It can take up to six months to hear if it is awarded and the work should be done within a year of the application, but longer delays are possible. The council may also have other grants or loan schemes for housing adaptations, repairs or improvements. Contact the local housing department for details.
Things to 'Bear in Mind'
• Plan ahead as it takes time for an assessment to take place at home, often up to three months once a referral has been made, although urgent cases can be seen sooner.
• Some local areas have a Disabled Living Centre with equipment on show for anyone to drop in and view items. Sometimes there are OTs on site who can do assessments. Usually the waiting time is around four to six weeks so shorter than for a home visit.
• Most councils no longer provide some very small aids such as adapted cutlery, easy-open can openers and kettle tippers, so people need to buy their own items. Contact Disabled Living Foundation for details of suppliers.
• Walking aids such as walking sticks, frames and wheeled walkers are often available following assessment by a physiotherapist - speak to the GP for a referral.
Challenging decisions
If someone is not satisfied with the recommendations made by an OT, or feels that there has been unreasonable delay for an assessment or a decision, or a grant is refused, it is possible to complain. Start by asking the council for their appeals and complaints process. If their response is not satisfactory, take the complaint to the Local Government Ombudsman.
Useful links
For local council services, and to check if there is a Disabled Living Centre nearby, look online at www.gov.uk/find-local-council.
Disabled Living Foundation, for impartial information and advice on equipment look online at www.dlf.org.uk or telephone 0300 999 0004.
DISCLAIMER: Links to third-party sites do not constitute an endorsement by the Oddfellows and use of the advertised products and services is entirely at your risk. The Oddfellows does not accept any liability or responsibility for any third party material on other websites.