Our top tips to making friends
We know all too well how daunting those first steps to expand your social circle can be, check out our top tips for finding friendship in later life by downloading our 'Guide to Making Friends'.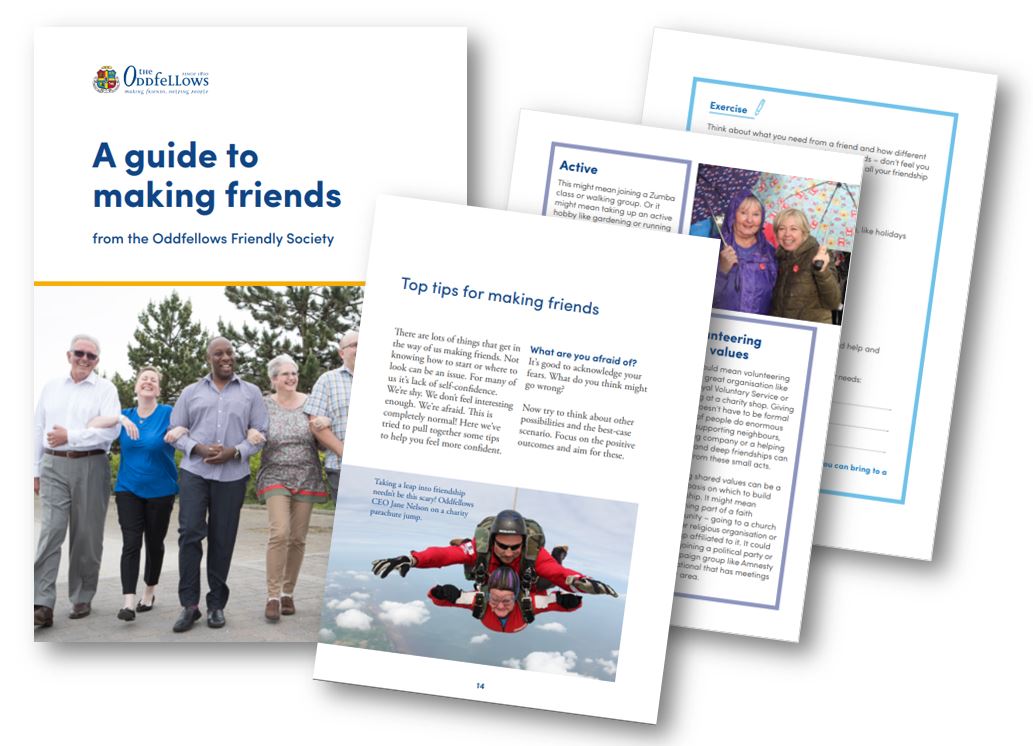 With growing recognition of the problem of loneliness in the UK, the Oddfellows has produced a 'Guide to Making Friends' – highlighting the benefits of friendship and is full of useful tips for making friends. The 36-page guide draws on the advice and experience of our members.
Nearly 8 million people now live on their own in the UK and one in 10 people experience feelings of loneliness. An overwhelming body of research suggests that having a network of family and friends can lead to longer, happier lives. 

Tips for making friends
The guide looks at what people seek from friendships and offers ideas on where to go to find friends. It recognises the importance of self-confidence and offers useful tips, such as:  
Acknowledge your fears but try to picture positive outcomes too
Focus on solutions rather than constantly thinking about problems
Set small achievable goals each day so you don't feel overwhelmed
Be kind and helpful – it makes you feel great and those who give lots tend to receive lots too
Exercise – modest exercise can make a big difference to your confidence and mood
Smile – it relaxes the facial muscles and sends "happy" signals to the brain.
Tips for making friends include:
Just be yourself. If you want to make genuine friends, there's no point pretending you're something you're not or faking interests that aren't real!
Be patient. It will take other people time to realise how marvellous you are, just like it will take you time to learn how lovely they are when you've just met.
Don't feel intimidated. Your opinions and enthusiasms are valid.
Smile and introduce yourself. It's a friendly way to start a conversation.
Maintain eye contact. Look people in the eye, smile, nod, show that you're listening.
Ask questions. It'll help you establish things you have in common.
Listen. It shows you're interested but don't get stressed about not remembering names. You can always ask again later.
Pay compliments. If you like how someone looks, let them know – it's a great way of showing you're a positive and supportive person.
For over 200 years, our Branches have provided opportunities for people to get together locally and spark new friendships. We have 126 Branches across the UK that host regular events and activities. To find events near you, use our Events Finder or call 0800 028 1810 - don't be shy, give us a try!