Our height of summer reads
Whether you're sitting in the garden or heading off for a holiday, there's nothing nicer than taking time out with a good book. But with so many new releases it can be hard to know which one to choose. If you're unsure of which book to get your nose into, take a look at our top five summer reads suggestions.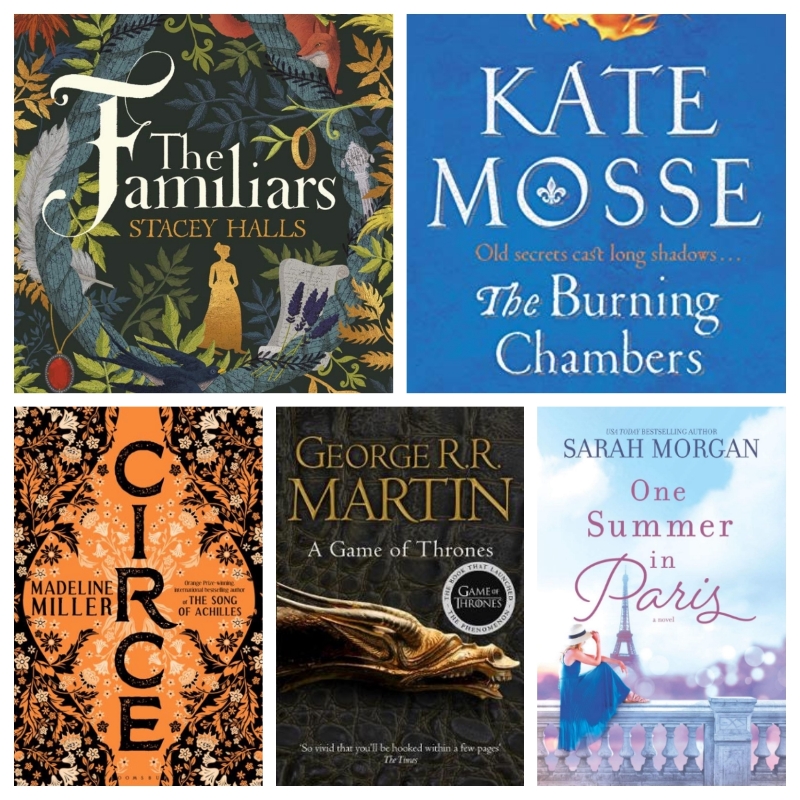 Remember, you don't need to buy these books new. If you want to save money most local libraries now have ordering services, charity shops have great selections – and there are lots of reputable websites selling second-hand books.
1) The Burning Chambers – Kate Mosse
You may already be a fan of the best-selling author Kate Mosse, who has penned the popular books Labyrinth and The Taxidermist's Daughter – and her new novel looks like it won't disappoint. The Burning Chambers is set in 1562 in Carcassonne, France, and is a gripping story of mysteries and secrets, love and betrayal. Teenager Minou Joubert receives an anonymous letter at her father's bookshop, which reads: SHE KNOWS THAT YOU LIVE. But before Minou can work out what this message means, her destiny is changed forever. If you like a thrilling adventure or a heart-breaking love story, then this historical novel promises to be right up your street.
2) Circe – Madeline Miller
This tale of family rivalry, love and loss has been longlisted for the Women's Prize for Fiction 2019 and is an electrifying take on one of the most misunderstood deities in Greek mythology. The book tells the story of Circe who, scorned and rejected, grows up in the shadows of her powerful father and her mercenary mother. But she has a dark power of her own: witchcraft. When her gift threatens the gods she is banished to an island – but among her island's guests is an unexpected visitor: the mortal Odysseus, for whom Circe will risk everything. This moving, exuberant novel provides a fresh take on mythology, changing the usual male-centred fantasies into something more feminine.
3) A Game of Thrones – George RR Martin
Whether you're a fan of the hit TV show or not, George RR Martin's books are worth reading for their own merits. This is the first volume in the bestselling series A Song Of Ice And Fire, often described as the greatest fantasy epic of the modern age. This book starts off the struggle for the Iron Throne in a world where summers span decades and winter can last a lifetime. Lord Eddard Stark is Warden of the North, his family is split and there is treachery at court. This is a gripping read and you'll soon forget how long the book is as you find yourself immersed in this intoxicating story. And, of course, if you like this then there are six more novels that follow on to keep you busy! Plus there are lots of dragons involved…
4) One Summer In Paris – Sarah Morgan
Sometimes it's good to read a feel-good book to lift the spirits and Sarah Morgan's latest offering delivers just that. Grace's husband doesn't want to join her on their anniversary trip to Paris – instead he wants a divorce! Grace decides to go it alone and in Paris she meets Audrey, who is also nursing heartache. The unlikely friends both find work in a bookshop – and have a summer that will change their lives forever. British author Sarah Morgan has written more than 80 romance novels and this uplifting, summery read looks as if it will make you both laugh and cry.
5) The Familiars – Stacey Halls
If you fancy trying something new then this is Stacey Halls' debut novel and reviewers have all given it glowing praise. It's based on the real-life Pendle witch trials of 1612 where 12 people from the area in east Lancashire were put on trial at Lancaster Castle. Two of the novel's characters are taken from history. One of those was Alice Gray. Little is known about the real Alice, but Stacey Halls has made her into a midwife who tries to help Fleetwood Shuttleworth (also based on a real person), mistress of Gawthorpe Hall, who at 17 is pregnant for the fourth time – but has no living child. Accusations of witchcraft follow and the two are caught up in the hysteria sweeping the north-west. But is there more to Alice than meets the eye? Soon the two women's lives will become inextricably bound together as time is running out – and both their lives are at stake.