Oddfellows member launches inspirational poetry book
If you're looking for something new to read, we could have just the thing for you. We take a look at a brand new poetry book, 'Shared Thoughts: Poems for Everyday Living' written by Oddfellows member, Lilleth Clarke.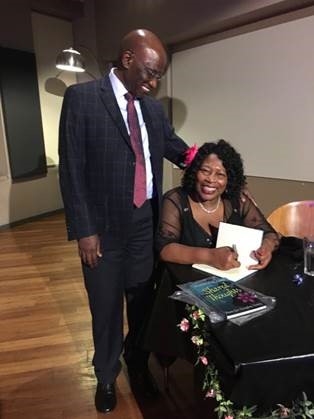 Photo: Lilleth signing copies of her book at the launch party 
Lilleth Clarke is a retired Registered General Nurse, not to mention a mother, a grandmother and a great-grandmother. Over the years she has developed a real love of poetry and of writing poems as a means of expressing her thoughts.
Having shared her work with her family and friends, Lilleth was encouraged to share her poems with a wider audience and the result is her aptly entitled new book, Shared Thoughts: Poems for Everyday Living.
This rich insight into Lilleth's innermost feelings on everyday issues features numerous poems grouped together in five thematic categories – love and relationships; praise and thanksgiving; events and occasions; and humour and nature.
The poems provide inspiration for those moments in life when we all find ourselves a little lost for words. There are poems that inspire, motivate, and nurture, and that offer comfort and solace as we all experience the ups and downs of life.
All the poems featured are as accessible as they are enjoyable, reflecting Lilleth's aim of compiling a collection of work that is suitable for people of all ages and backgrounds, and that can revive anyone's interest in poetry.
Don't be surprised if after reading this little treasure trove you feel inspired to start penning your own poetic verse!
Share a smile with someone - Poem by Lilleth Clarke
Share a smile with someone today
They might appreciate it but just don't say
Let someone's day be as happy as yours
Just one smile could open many closed doors
Shine some hope along someone's path
It might be the light to banish their dark
They in turn will shine their light
And causes someone's future to become bright
When you share a smile with someone
You can never tell what good it's done
Make someone happy as you journey along
And they will remember you long after you are gone
Smile with someone – let them smile back at you
And you will see just what your smile can do
You can get your own copy of 'Shared Thoughts: Poems for Everyday Living' by emailing: sharedthoughtsLC@hotmail.com. Copies are £10.