Oddfellows host charity concert to help struggling local families
A charity brass band concert is being held at the Parish Church of St. Hilda, Abbess of Hartlepool on Saturday 13 October to raise money for an initiative that helps people who are struggling to make ends meet in East Durham.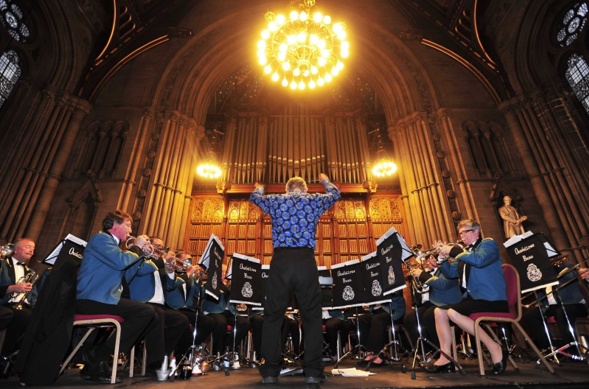 Starting at 2pm, the 'Last Night of the Headlands Proms' ticketed event will feature the full brass band, Oddfellows Brass, as it plays classical favourites and marks the final performance in a string of concerts held at the Church throughout the summer.
Proceeds from the concert, hosted by local friendship group Cleveland and Durham Oddfellows, is to be donated to the Hope and Grace Initiative, a project that supports struggling families in the East Durham area by providing basic necessities including clothing, bedding and food.
Honoured guests attending include Lord-Lieutenant of Durham, Sue Snowdon and Ceremonial Mayor of Hartlepool, Councillor Allan Barclay. Other special appearances will include local poet, Kirsten Luckins, who will recite 'The Peace Teas' to commemorate the end of The Great War, in addition to four solo performances from pupils of English Martyrs School and Sixth Form College.
David Smith, Oddfellows District Secretary said: "We're thrilled to be ending the Church's series of summer concerts on a high with some crowd-pleasing classics from Oddfellows Brass, alongside some unique solo performances.
"If you've never experienced a live brass band before, then this will be the perfect first concert to get your feet tapping. It promises to be fun-filled afternoon for the whole family, with the money raised going to help a great cause in the local area," he added.
Oddfellows Brass (oddfellowsbrass.co.uk), who are sponsored nationally by the Oddfellows, has made steady progress in National Brass Band rankings, qualifying for the National Finals on six occasions, including a performance at London's Royal Albert Hall. More information on the band can be found on Facebook @oddfellowsbrassband.
"Our band will play a variety of well-known pieces that will be sure to strike a chord with people of all ages. From the soaring high notes of the cornet, to the deep rotund sound of our tubas and euphoniums – our 27-piece full complement produces a rich, yet mellow sound which is just wonderful to experience live, "said, Rob Boulter, the band's founder and Musical Director of almost 40 years.
Tickets for 'The Last Night of the Headland Proms' brass band concert cost £9, which includes a glass of wine or soft drink during the interval. They are available to purchase from the Church, or Cornerstone Café, St George's Park Road. You can also book tickets through music@hartlepool-sthildag.org.uk or contact Margaret Wells on 01429 599323 or Ian Pounder on 01429 870310.