Oddfellows and proud
Celebrating our Society - we chat to longstanding Derby District members, Janet and Rex Oates.
As one of the UK's oldest friendly societies, the Oddfellows has a long and impressive history. The Society has been promoting friendship and mutual support amongst members for two hundred years and counting.
Like any organisation with a heritage that has evolved over centuries, the Oddfellows is rich in customs and traditions. Initially, these customs may seem a little eccentric or even bewildering but for long-term members like Ken and Janet Oates, they are traditions worth maintaining and an important part of the Society's appeal.
Ken (or Rex as he's known) and wife of 54 years, Janet, have been Oddfellows for over 20 years. They first joined the Society in 1996, becoming members of the Good Samaritan Branch in Derby.
The couple discovered the Oddfellows after being invited to a number of Society functions by their son-in law's parents who were both existing members
During their attendance at these events, they enjoyed the company of the people they met and they liked what the Society stood for.
"Joining the Oddfellows seemed liked the ideal way to complement our already busy lives," explains Rex.
"Despite being retired when we first became members, we were both highly active. For a start we have three children, seven grandchildren and one great grandchild.
"I'm also quite a hands-on person who enjoys woodworking, gardening and sports – including cricket, golf and football. Janet meanwhile is more craft-orientated. She loves her sewing and patchwork.
"The thing about the Oddfellows though was the fact that it was something we could do together.
"We also liked the way membership enables you to make a very real and positive difference to other people's lives."
The more you put in, the more you get out
Since joining the Oddfellows, Rex and Janet have never looked back. As firm believers that the more you put into something, the more you get out, they have continued to play a major part in the activities of their Branch, Derby District and the Society as a whole.
There's always something going on with the Oddfellows if you want to get involved. Janet Oates, Derby District member
Both have held a number of key roles including Branch Chairman (Noble Grand) and District Chairman (Provincial Grand Master). They have also repeatedly served on various district management and social committees as well as being regulars at the Midland Group Conference and Annual Oddfellows Conference.
In addition, Rex has acted as deputy at conference and, when the Derby District moved to new premises in 2004, his woodworking skills proved invaluable in building new shelving and more importantly, a new bar!
In recognition of their selflessness and outstanding service, both Rex and Janet have been awarded District Merit Jewels.
This award meant a lot to them. "The Oddfellows has changed a lot over our two decades of membership," comments Janet.
"The social aspect of membership is fantastic but it's just as important that we don't forget our ceremonies and regalia," she says.
"These traditions, such as the bestowing of District Merit Jewels, are an integral part of our heritage and our identity. They are what makes the Oddfellows, the Oddfellows."
She adds: "Each generation of members has a duty to maintain these customs and traditions, and to pass them on to the next generation to ensure they continue to endure for centuries to come."
Making a lasting impact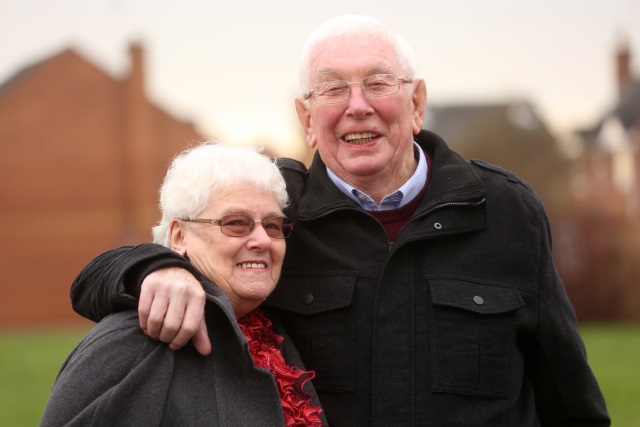 Of course, some degree of change is inevitable and both Rex and Janet have made positive contributions to the evolution of their Branch and the Oddfellows.
As an avid golf fan, Rex introduced a District Golf Tournament in 2004 during his tenure as Provincial Grand Master.
This event, which is held at nearby Broughton Heath Golf Course, continues to grow in popularity and is still played twice a year to this day.
Keen to ensure the ladies weren't left out, Janet also introduced a 'ladies only' putting competition which runs alongside the main tournament.
Janet also started a luncheon club to both bring members together and also ensure the building which houses the Good Samaritan Branch is more fully used.
Like the District Golf Tournament, the luncheon club also continues to this day and to grow in popularity.
Due to health conditions, Janet and Rex have had to take a step back from managerial roles in the Society recently but they continue to get involved in daytime activities when they can.
"There's always something going on with the Oddfellows if you want to get involved," says Janet.
"The challenge we face is that public transport in our part of rural Derbyshire is limited. Plus, Rex is now partially sighted and I'm less mobile than I used to be.
"That said overcoming these challenges has served to reinforce some of the reasons why we joined the Oddfellows to begin with. The help we've received from fellow members of the Derby District – such as Margaret and Bill Henchliff – has been outstanding. We genuinely can't say thank you enough."
It seems the Oddfellows' customs and traditions have endured for centuries – and so too has their spirit of support and friendship.
Janet and Rex were nominated for In Profile by fellow members of Derby District in recognition of their longstanding commitment and contribution to the Oddfellows.
To find out more about Derby Oddfellows and get involved call Lorraine on 01332 345697 or email lorraine.killa@oddfellows.co.uk.
Stay up to date with the latest news and events at www.facebook.com/DerbyOddfellows.