Oddfellow cracks Countdown Conundrum on air
While watching the filming of Channel 4 programme, Countdown, the spotlight turned on Ormskirk and Southport Oddfellow and audience member, Mabel Byrne, when she stepped in to crack the show's final round conundrum.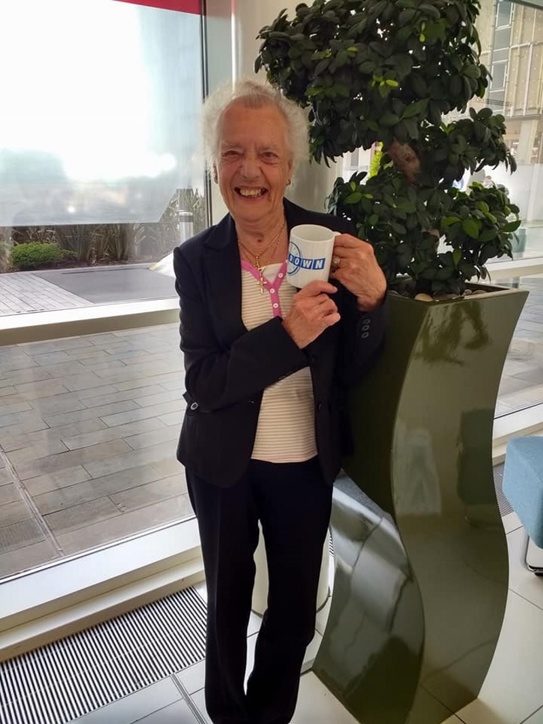 Celebrating after cracking the Countdown Conundrum. Pictured: Ormskirk and Southport Oddfellow member Mabel Byrne
When both contestants failed to crack the conundrum, Mabel piped up to provide host, Nick Hewer, with the correct nine-letter answer – Departure.
Her moment of fame happened on a trip to Salford's MediaCityUK in May, when she went to see the game show being filmed alongside her friends and fellow members from local friendship group – Ormskirk and Southport Oddfellows.
Said Mabel: "I've been watching Countdown since the days of Richard Whitely, when he hosted it alongside Carol Vorderman. Watching it being filmed in the studio was an amazing experience. When the host chose me to solve the Countdown Conundrum, I couldn't believe it! And, the fact that I got it right made it even more thrilling. It was definitely the highlight of my whole day."
The episode of Countdown featuring Mabel's conundrum success will air during the first week of September.
 
"When I told my daughter I would be on Countdown, she was over the moon. We both can't wait to watch the programme when it airs. I may even have a celebratory drink from my Countdown mug as I watch it."
Mabel's trip to MediaCityUK was organised by the Oddfellows' Ormskirk and Southport Branch, who meet regularly to enjoy a wide variety of social events and activities in the area. To find out more visit their Branch page or contact Judith Catton on 01704 545279 or email judith.catton@oddfellows.co.uk
To find out more about events in your local area, visit our events finder page.