No tattoo taboo: getting inked in later life
Dame Judi Dench got her first tattoo on her wrist at 81; the words 'carpe diem' – meaning 'seize the day'. At 75, David Dimbleby had a black scorpion inked on his shoulder. While at 77, Lord of the Rings actor Sir Ian McKellen had the number nine inscribed in Elvish on his upper arm.

And it seems that it's not just celebrities who are deciding to get inked for the first time at an older age, with national newspapers reporting a growing trend across the UK.
What could be behind this craze? One theory is that it simply reflects the general increase in the popularity of tattoos, with body art becoming more commonly accepted. Or could being inked be linked with retirement, when there's no longer the need to conform to appearances for work? Or could it simply be a form of rebellion and not wanting to fit in with age-related stereotypes.
...it doesn't bother me if not everyone likes it, because I love it.
Elena Clancy was 55 when she decided to have her first tattoo last year. "I'd always wanted one, but when I started out as a nurse it was really frowned upon. I knew in my current job it would be acceptable – so I did my research and went with my daughter to get a small but colourful rose on my shoulder. My mum, who had recently died, was called Rose and it's my daughter's middle name, and I love flowers so it was perfect."
Elena, of Watford, Hertfordshire, said not everyone had been positive about the tattoo, with some of her friends thinking she was crazy to have a permanent piece of body art. "I thought about getting a tattoo long and hard," she said. "So it doesn't bother me if not everyone likes it, because I love it."
Extreme body art: The Most Tattooed Senior Citizens
For some people though, one tattoo is not enough. American writer, Charlotte Guttenberg, got her first tattoo in 2006 as a gift to herself on her 57th birthday, following the death of her husband. And now at 69, she holds four Guinness World Records: Most Tattooed Senior Citizen (female), Most Feathers Tattooed On A Body, Most Tattooed Woman Living, and Most Tattooed Woman Ever.

Charlotte Guttenberg & Charles "Chuck" Helmke © 2018 Guinness World Records Limited.
"My first tattoo was a butterfly; I later had a peony placed beneath it," said Charlotte, who lives in Florida. "Together they are probably my favourite tattoos because they were the first." She admits other ink-lovers may have more tattoos than her, but they haven't been officially checked by the world-record organisation. "It is verified that 98.75% of my body is tattooed. All but portions of my face, my fingers and palms of my hands are tattooed."
Unsurprisingly she even met her partner Chuck Helmke in a tattoo parlour. Now 76, he holds the record for the Most Tattooed Senior Citizen (male) and a more unusual record: the Most Skulls Tattooed On The Body. And how many is the most? After 376 skulls were verified, he said, everyone stopped counting. Some 97.5% of his body is inked.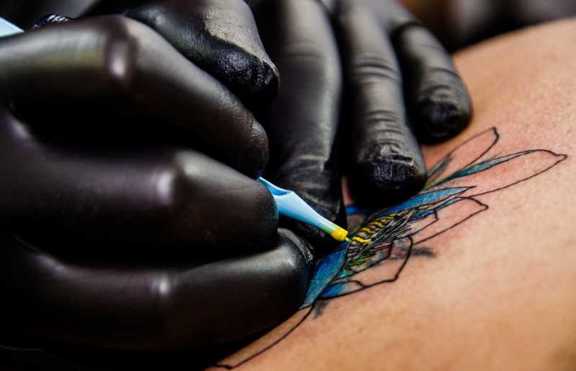 Thinking about getting a tattoo?
If you're considering a tattoo, here are some helpful pointers:
Whatever your age, if you're planning to go under the needle then make sure you go to a reputable parlour, one that is registered with the local authority and has an up-to-date certificate on display.
Think carefully before taking the plunge, there's no rush – as your tattoo will be with you permanently.
Research your design and get some feedback from friends and family. Spend some time considering where the inking will go on your body; whether to choose somewhere that's easy to cover up or a place that will always be on display.
When you go for your tattoo wear comfortable clothes, make sure you have a full stomach and drink lots of water (but stay away from the alcohol!)
Having the tattoo done can be painful so be prepared for that, and make sure that you follow all the advice given for aftercare of your piece of body art.