Neighbours unite to fund Saltney's first public defibrillator
Deeside Oddfellows and St Anthony's Catholic Primary School have been digging deep to fundraise for the town's first public-access defibrillator.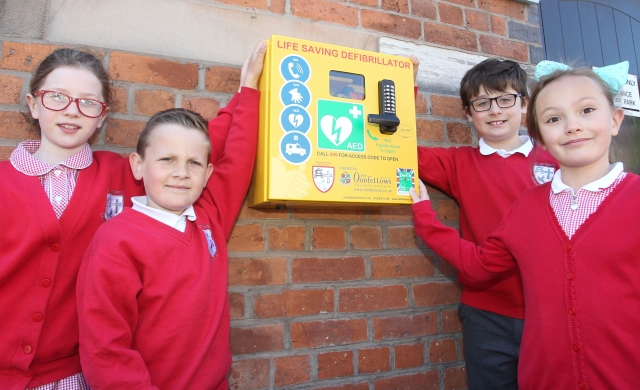 The two organisations, based next door to each other in the Flintshire town of Saltney, came together to raise a total of £1,714 funding the entire amount needed for both the secure box and defibrillator equipment inside.
Fundraising activities included pocket contributions to dozens of raffles, individual donations from Oddfellows members and partners and a donation of £1,000 from a Governor at St Anthony's Catholic Primary.
Mounted on the Oddfellows' building at 65 High Street, the lifesaving cabinet is just arms-length from one of the town's busiest roads.
Denise Turner, Deeside Oddfellows Secretary said: "With our regular Oddfellows social activities, two local schools, two churches and number of businesses in the vicinity, this part of Saltney has grown into a real community hub. We hope that in the unfortunate circumstance that it should be needed, this little yellow box will save someone's life one day."
"This is a wonderful opportunity for the school to help in the local community," added Mr Morgan, Headteacher of St Anthony's Catholic School.
Research from the British Heart Foundation (BHF) shows that Coronary Heart Disease – which can lead to heart attacks and strokes – is the single biggest killer in the UK, averaging at one death around every eight minutes.
Based in Saltney, Deeside Oddfellows' members regularly get together to enjoy social events such as talks and trips out, lunches, craft sessions and coffee mornings across Flintshire, Cheshire, North Wales and Wirral. 
To find out more, visit their Branch page by using our Branch Finder, search for their upcoming events using our Events Finder or contact Denise on 01244 675757, or at denise.turner@oddfellows.co.uk.