Mum on the run
An Oddfellow from the Beds and Bucks District is definitely going more than the extra mile to help raise funds for a new lifeboat for RNLI Sheringham Lifeboat Station.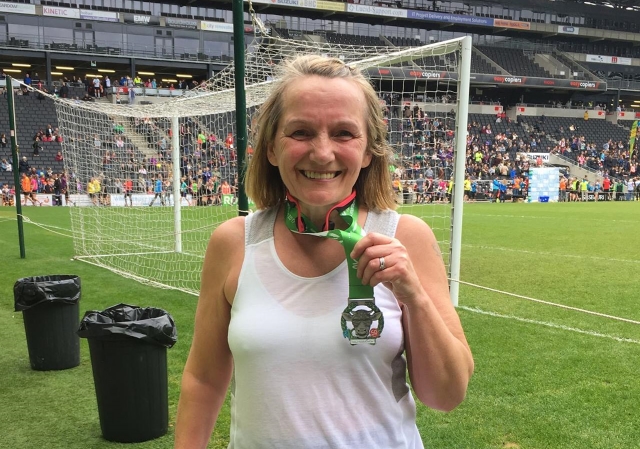 Mum on the run: Doreen Sams crosses the finishing line of one of her many half marathons at the MK Dons Stadium, Milton Keynes
54-year-old mum of three, Doreen Sams has set herself the challenge of running not one, but twelve sponsored half marathons in as many months!
Doreen's marathon effort will contribute to a campaign by the Oddfellows East Anglia Group Conference to raise £214,000 for a new Atlantic 85 boat. The new boat will replace RNLI Sheringham's existing Atlantic 85 class boat, which is nearing the end of its operational life.
Commenting, the 'mum on the run' said: "When I learnt about the drive to raise money for the new lifeboat at Sheringham, I wanted to do my part. As a charity, the RNLI relies heavily on donations and I'll be thinking about all the lives its crews continue to save to help me push one foot in front of the other towards the finish line."
Doreen is scheduled to complete her last half marathon in December.
If you would like to sponsor Doreen, please make a cheque payable to 'Beds and Bucks District Oddfellows' marked 'Mum on the run' and post to Kevin Macan-Lind, 69 High Street, Broom, SG18 9NA.