Knit and natter for neonatal unit
The craft club from St Helens and Warrington Oddfellows has been busy knitting and crocheting squares and baby clothes, as well as woolly breasts and nappies for the Special Care Baby Unit at Whiston Hospital in Prescot.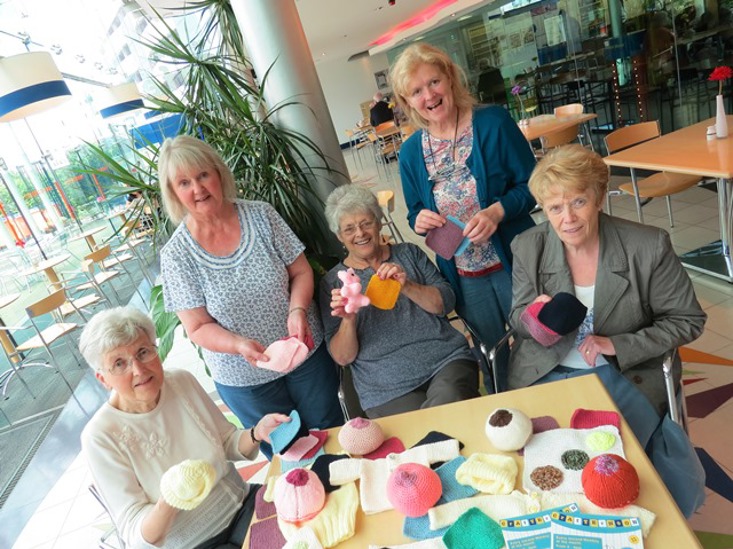 Above: (L-R) Dot Harrison, Chris Wetherill, Jen Kenny, Rita Owen and Kath Thomson show off their knitting.
"I heard about the project for knitted squares on Facebook, and although our local maternity hospital hadn't requested any, they knew about the project and were delighted to receive 156 squares," said Barbara Grundy who helps to organise the Oddfellows' crafty gatherings. 
Known as 'bonding squares', neonatal units encourage new mums to use them to help them bond with their baby by smell, especially in cases where they can't physically have contact. Each mum and baby is given a square to keep close to their skin, which are then swapped every 12 hours.
"We're a furious bunch of knitters so I asked the Matron if we could help out with anything else for the Unit. When she asked for knitted breasts and nappies with different coloured poo we initially thought it was a joke," laughed Barbara, "but were more than happy to oblige!"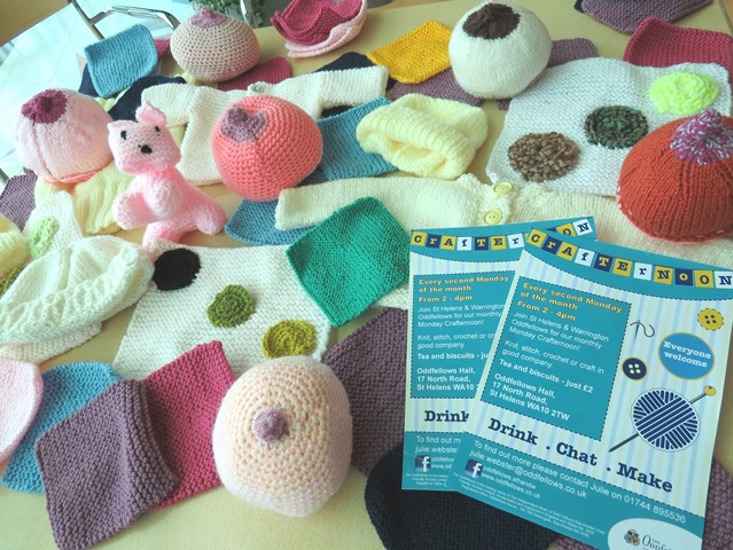 Used as teaching props for trainee midwives and new mums, the Branch's woolly contributions will save the Unit from buying more expensive plastic models.
"I hope having the knitted breasts will add a bit of humour too," added Barbara, "we've certainly had a good giggle at our monthly craft sessions making them."
Catherine Hargreaves, Ward Manager at Whiston Hospital's Special Care Baby Unit said: "We would like to thank Barbara and friends at the Oddfellows for their kind contributions – your generosity is greatly appreciated."
The group's sessions take place every second Monday of the month at 17 North Rd, St Helens WA10 2TW and are open to everyone. It offers the opportunity for keen crafters of all abilities the opportunity to brush up on their skills and share hints and tips in good company. Plus tea, biscuits and treats are on offer for just £2. 
To find out more and get involved with other events call Julie on 01744 895 536 or email julie.webster@oddfellows.co.uk.