How to find friends like you
Updated: 17 Jul 2019
Having friends is undoubtedly good for you. But how do you go around finding friends who are just like you, or who like doing the same things? We go back to basics.
Friends = happiness
Scientists around the world have come to the same conclusion – friendship is a lifesaver. It helps guard against depression and reduces stress. Those with close friends are nearly a third less likely to suffer heart disease or strokes. It even helps reduce physical pain. Good relationships – more than money or fame – are the key to happiness.
If we're connected with other people, the chances are that we're caring for other people and being cared for. There's more likelihood of us doing interesting things and being physically active (even in a gentle way). Friendship can help keep us mentally engaged with the world around us – so we chat together about what's on the news or what we've seen and heard. All of these things are important to our long-term wellbeing.
The older we get the more friends we need
American researchers have found that we change as we get older. In one respect older adults are like teenagers – what matters most is how many friends we have, whereas in middle age, when we are perhaps busiest, it's the quality of friendships that counts.
Remember, you're not alone in seeking friendship. You may be the new friend someone else is looking for too. Denise Turner, Deeside Branch
In Australia, scientists have shown that those who spend time with close friends live longer and those with the largest number of friends live the longest of all. That might be hard to believe if you've just lost a loved one – a husband, wife or best friend. The truth is, they're irreplaceable. But it's often possible to find some of the aspects of support they gave you in others.
It's worth spending a moment to think about what you want from a friendship, to find the people that are perfectly suited to you. You may find different types of friends help meet different needs. 
A helpful exercise in finding friends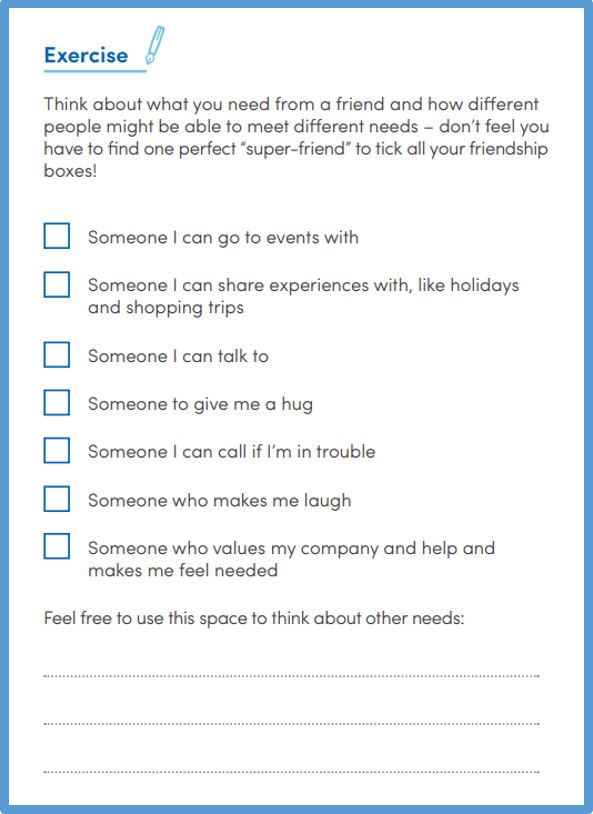 Five great ways to meet like-minded people
There are lots of places you might go to find friendship. Our advice is to try thinking about different types of friendship activity – here are five, based on our chats with Oddfellows members about how they've made friends.

1   Active
This might mean joining a Zumba class or walking group. Or it might mean taking up an active hobby like gardening or running or doing something fun like 10-pin bowling. The great thing about this is that you'll be looking after your physical, as well as your mental, health too!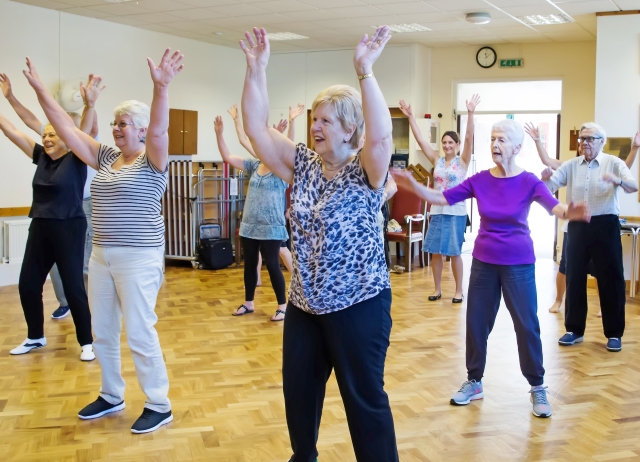 2   Learning
This might mean joining a singing group or learning a new language. It might be a life drawing night class or joining a special interest group. Search online for adult courses in your area or at your local college.
In anticipation of retiring, I knew I had to do something to replace my work mates with playmates. It was not easy at first and it took time, but it was worth it. Helen Carnson, South East Lancashire Branch
3   Volunteering and values
This could mean volunteering with a great organisation like the Royal Voluntary Service, helping at a charity shop or even volunteering with the Oddfellows! Giving time doesn't have to be formal – lots of people do enormous good supporting neighbours, offering company or a helping hand, and deep friendships can grow from these small acts.
Having shared values can be a good basis on which to build friendship. It might mean becoming part of a faith community – going to a church or other religious organisation or a group affiliated to it. It could mean joining a political party or a campaign group like Amnesty International that has meetings in your area.

4   Social
This is great if you're looking for something a little less involved, but still has the reward of meeting up with other friendly people in your local area. If going to a local 'coffee morning' or 'lunch with friends' event appeals, where you can sit and chat, and spend time in good company, then take a look at our events finder. Such events are the bedrock of the Oddfellows' social programmes.

Other popular groups include the Women's Institute, the Townswomen's Guild, Rotary Clubs and meetup.com.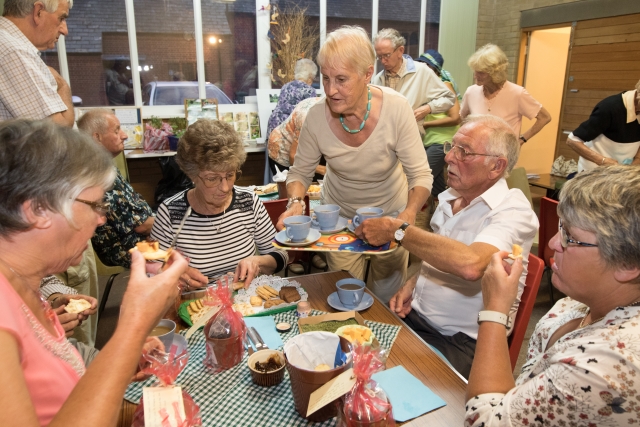 5   Interest
Though they say opposites attract, you're much more likely to get on with someone who you share common interests with. This might mean joining a book club, theatre group or a model railway society. There can be overlap between these groups. If you attend an Oddfellows group you might find yourself enjoying the social 'tea and chat' sessions and also taking part in activities like dances and attending interesting talks or getting involved in our care activities, helping others.
If you can find groups that are right for you there's a high chance that you'll find new friends because you'll have shared interests, values or needs. You'll have something in common with the other people there.
Meeting new people in your area
If you'd like to meet other friendly people in your local area and are interested in giving a new social group a try, find out more about your local Branch and who to contact, and the benefits of Oddfellows membership. You can also take a look at upcoming events and activities in your area.

If you'd like to give one of our social events a try, but feel nervous about attending, please don't be. Our guide on what to expect at an Oddfellows social event is a great read and includes advice on attending on your own.
Our guide to making friends
We've lots more helpful advice in our downloadable guide to making friends, which draws on the experiences of our members, such as our tip tips to making friends and our 10 tips on making great first conversation.