How the Orphan Gift Fund is helping Young Oddfellows
Since 1920, the Oddfellows has looked after its young members and members' children who have lost one or both parents. Over the years, it has formally developed into the Orphan Gift Fund*, which provides support to help them learn, achieve and thrive.
The Oddfellows is currently helping around 60 children and young people by funding the cost of items such as school uniforms, travel cards, books, musical instruments and school trips, as well as providing regular financial support.
The Orphan Gift Fund is made possible by donations from individuals and Branches and is open to children who have lost one or both parents through death or desertion. It is available right up until they finish full-time education, which includes further education and higher education, such as a first degree. It also supports young people with any items they may need to progress to an apprenticeship or first job.
Chris Mills and brothers, James and Tom Wilton are just three Young Oddfellows that have benefited from the Oddfellows Orphan Gift Fund, here are their stories. 
Chris Mills
With support from the Orphan Gift Fund, Chris Mills graduated with a first class honours degree in paramedic practice last year and is now working as a paramedic in Swindon, for the South Western Ambulance Service NHS Trust.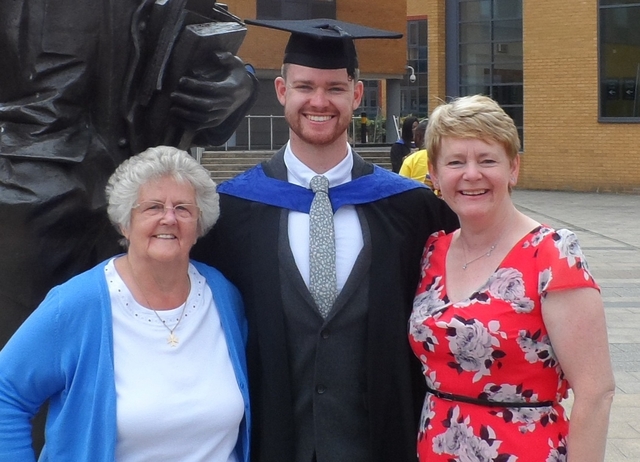 Photo: Chris Mills (centre) with Grandmother Nora (left) and Mother Caroline 
I cannot thank the Oddfellows enough for the support of the Orphan Gift Fund which helped me hugely to develop as a student practitioner, providing me with everything from a stethoscope to journals. Thank you so much. Chris Mills , Member of Burton on Trent District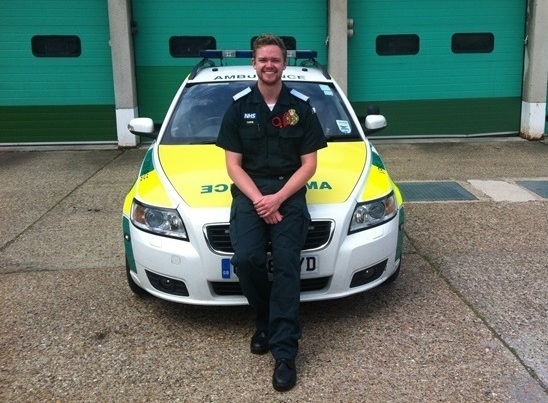 James and Thomas Wilton
Supported by the Orphan Gift Fund, athletic brothers James and Thomas Wilton, from Kent, have been competing at the highest level.
James won the National Tetrathlon Championships, National Pentathlon Championships and ranked third in Great Britain for under-19s. He was selected to represent his country in the Under- 19 World Tetrathlon Championships in Prague. He also won first place in the National Laser Run Championships in Bristol and qualified for the world championships in South Africa, though other commitments have prevented him from competing.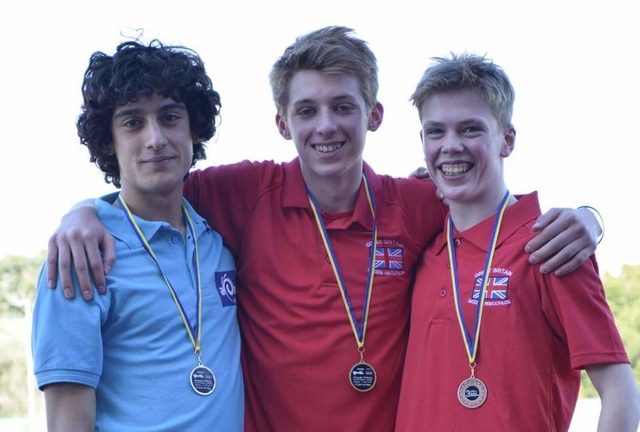 Photo: Tom Wilton (centre) receiving his gold medal at the Portuguese National U17 Modern Triathlon 
Financial support from the Oddfellows also allowed James to attend a week-long fencing training camp which he thoroughly enjoyed.
I definitely learnt a lot, which I hope to take forward when I fly out to Portugal as part of the GB team competing in the Under-19 European Tetrathlon Championships. Tom Wilton
Competing in the GB Under-17 team, his brother Tom earned gold in the Portuguese National Modern Triathlon at the end of March last year, finished third in the British Under-17 Tetrathlon Championships and qualified for the Under-17 European Modern Triathlon Championships in Bulgaria at the end of June. He also attended the fencing training camp.
Their sister Jess, another high flying sports person in the family, has just earned a sports scholarship!
How to apply 
To qualify for the Orphan Gift Fund, the child or one of the parents must have been a member at the time of loss or desertion, and it is a benefit of membership from day one. We define desertion as when the parent or parents cannot be traced and the whereabouts are unknown. And, in certain cases, grandparents may be considered as eligible if they are members and guardians of the children.
Jane Nelson, Chief Executive Officer of the Oddfellows, said: "The Oddfellows was founded just over 200 years ago by ordinary people banding together to provide mutual support. We're proud of that heritage and that we're still making a difference to people's lives today.
"The young people our members have helped through the Orphan Gift Fund have demonstrated that, with the right support, it's possible to overcome challenges in life and to go on to achieve remarkable things."
If you're a member, the first step is to speak with your Branch Secretary, who will discuss available support and how to make an application. You can search for their details by using the Branch Finder.
Not yet an Oddfellows member? Financial help during difficult times is just one of the many benefits of Oddfellows membership. Discover other ways in which we can help you get even more out of life – call us on 0800 028 1810. 
Would you like to donate to the Orphan Gift Fund?
We appreciate any financial support you can give. Contributions can be made by cheque payable to 'The Oddfellows' and sent to The Orphan Gift Fund c/o The Oddfellows, Oddfellows House, 184-186 Deansgate, Manchester M3 3WB.
*Terms and conditions apply to all financial benefits. All Oddfellows benefits are non-contractual and may be withdrawn at any time without notice. Read the full list of member benefit terms and conditions here: www.oddfellows.co.uk/member-tcs/.