Help catch our Society stars!
It's goodbye 'Portraits', but a huge hello to a fresher, more inclusive way to celebrate those members who selflessly go the extra mile. We welcome our new national member recognition scheme to the stage – the Oddfellows' Making A Difference Awards...
They're everywhere in the Oddfellows. The dependable ones. The ones who can always be relied on to organise things and get everything together for the get-togethers. The ones who are always there to lend a helping hand and a sympathetic ear in times of crisis. The ones who think nothing of putting others before themselves, and the ones that tick through the lists, under-the-radar, brilliantly.
Anyone spring to mind? Perfect. Because we need your help to track down and reward the people that make a difference to our Society and give them the recognition they deserve.
Making a Difference Awards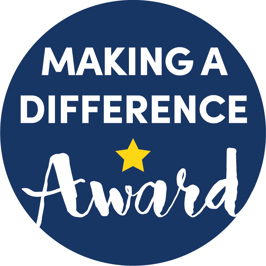 We asked Jane Nelson, our CEO, to walk us through the Making a Difference Award Scheme's major plus points. She explained: "We took a fresh look at our member recognition scheme and, as well as a name change, we introduced two big improvements. The first is that anyone can nominate another member. So, there really is no hiding place for these Society stars now! We're a mutual and wanted everyone to have a say in who gets put forward.
"And secondly, we've introduced four award categories. We know that people shine in different ways and we thought it was important to recognise this."
The four Making a Difference Award categories are:
1. Enriching lives socially. This member loves contributing to social activity, whether as a frontline organiser or backroom support. Whatever they do, they can always be relied on to get everything together for the get-togethers and without their input, events just wouldn't be as good as they are.
2. Giving something back. The focus of this member is to raise as much money as possible for worthy causes. They may be involved in organising or participating in fundraising activities or events and will use every opportunity to help raise money or 'in kind' charitable support.
3. Working in the spirit of mutuality. This member's passion lies in the running of the Branch and Society as a whole. Typically they will have held one or a number of formal roles and worked collaboratively with their management committee to make positive things happen.
4. A helping hand. Looking after other members is what this member loves best. They are likely to be a Welfare Visitor or other caring volunteer who goes out of their way to look after the wellbeing of members – whether phoning, writing or visiting, they can always be counted on when it matters or in times of need.
Nominations are open for any member, whether a paid employee or volunteer, in formal or informal role. They must, however, go over and above in what they do and be making a significant difference to people's lives or our Society.
...anyone can nominate another member. So, there really is no hiding place for these Society stars now!
Know any potential award-winners?
If you'd like to put another member forward for a Making a Difference Award, ask your Branch Secretary for a nomination form. You just need to fill it in and hand it back to them as soon as you can.
Don't delay!
District Committee of Managements have to submit their local nominations to Unity Office for final judging by 31 January 2019.

Each District Committee of Management will assess all local nominations, with up to four from each Branch (one from each category) moving forward to the final round. Final award winners will be selected by the Fraternal Board in February 2019. All four winners will receive an invitation to attend the AMC (annual conference) in May 2019 to receive their award, which will be presented by the Chairman (Grand Master). There will also be a professional photoshoot and a feature in a forthcoming edition of Society News.

"We can't wait to give those special people in our Society the national recognition they deserve. Any help members can give to bring them to our attention is very much appreciated," added Jane.