Hat's amazing, Leeds Oddfellows!
When Innocent Smoothies put a call out for people to send them woolly hats for the top of their bottles, Leeds District's Knit and Natter crew polished off their needles and got straight to work.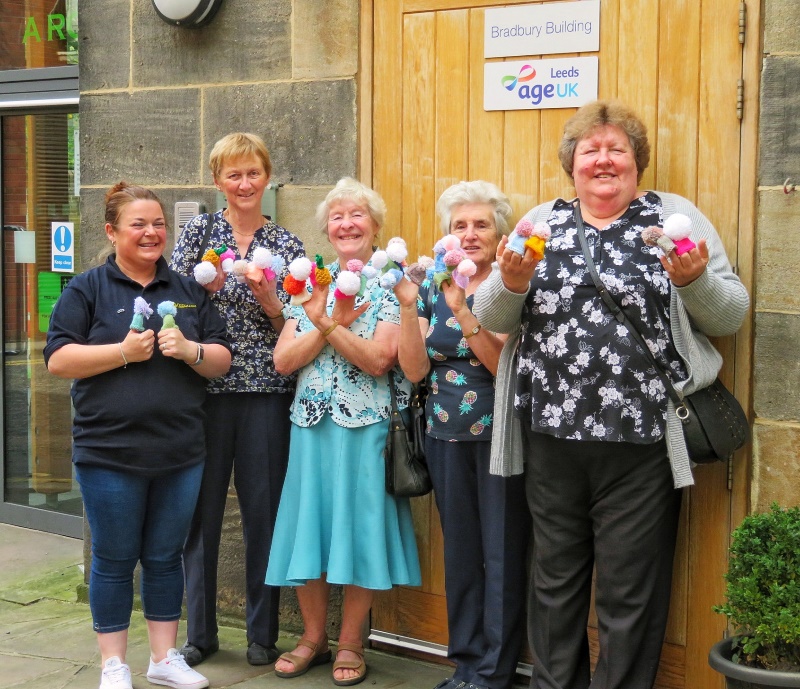 Delivering the bobble hats to Age UK Leeds. Pictured L-R: Leeds District Social Coordinator Helen Bullock, members Kath Child, Christine Bewell and Cynthia Ryston, and Social Organiser for Fox Lodge, Anne Fleming. Photo credit: Gavin Shoesmith.
554 miniature creations later and the crafty group of knitters set off to Age UK Leeds to deliver the fundraising fruits of their labour.
For every bobble hat-topped bottle sold by Innocent, the company donates 25p to Age UK. So far, over £2 million has been raised.
When they're sold, their work will generate £138.50 in funds.
According to Age UK, over one million older people have reported feeling lonely and, of those, 12% say that they feel cut off from society.* The proceeds of Innocent's Big Knit initiative go towards helping Age UK provide regular activities at their centres, such as lunches and dance classes, so that older people can stay connected in their local communities.
Said Helen Bullock, Leeds District Social Organiser: "It's great to see our members collaborating to play their part in supporting the work of Age UK. And, what better way to do this than pairing their love for knitting with their passion for giving back. We're very proud of them as a District.
"The ladies worked tirelessly over a number of months – lovingly crafting each and every one of the 554 unique hats in their spare time. When they're sold, their work will generate £138.50 in funds, "added Helen.
Oddfellows Leeds District meets regularly to enjoy a wide variety of social events and activities, as well as fundraise for good causes. To find out more, visit their Branch page or contact Helen Bullock on 0113 2424003 or email helen.bullock@oddfellows.co.uk.
To find out more about the work of Age UK, visit www.ageuk.org.uk
To get involved with The Innocent Big Knit, visit www.thebigknit.co.uk
*Data supplied by Age UK's Evidence Review: Loneliness in Later Life. Figures are from July 2015.