Guide to making a will
A well-drafted will gives you the peace of mind that your assets will be distributed according to your wishes and provides a great help to your loved ones at a difficult time.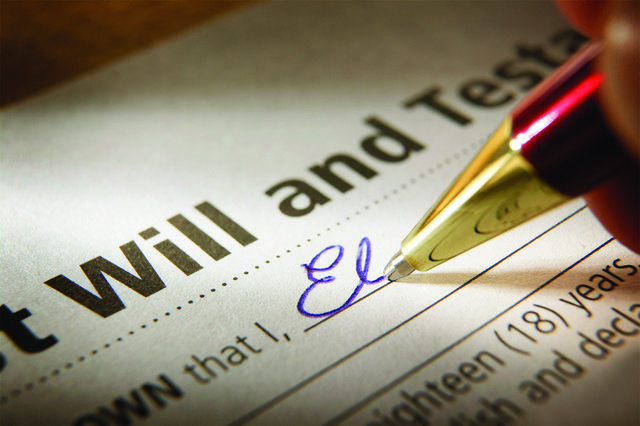 Why create a will
A will ensures that your final wishes are carried out and names those who you would like to deal with your estate, known as your executor(s) which prevents any potential future disputes. It can also include information about your wishes for your funeral, which can be a great help to your loved ones at a difficult time. Lastly, a carefully planned will may help you protect your assets and can reduce the Inheritance Tax bill payable on your estate after you are gone. If you do not make a will, your estate will be distributed according to strict intestacy rules to your spouse or children, if you have these, or other relatives in a pre-determined order. 'Common law' partners and their children do not have an automatic right to inherit and neither have friends or causes dear to you. Where no living relatives can be traced your estate may go to the government.
How to make a will
For very simple estates it is possible to make a legal will yourself while you are of sound mind and you can find will kits are on sale at many large stationary suppliers. However, if you make mistakes it can cause problems after your death which is why some people opt to use professional will-writers. They are not always qualified solicitors, but can be a cost effective option for simple wills – make enquiries about all charges before agreeing to use one. Choose a firm that is a member of either the Society of Will Writers or the Institute of Professional Will Writers as they will have professional indemnity insurance in case something goes wrong later.
Most people use solicitors specialising in 'wills and probate' as they can fully advise you on your options and ensure that the will accurately reflects your wishes. Use a solicitor that is licensed with the Law Society and shop around. Prices can vary and some solicitors offer a 'fixed fee' option.
WillAid and the Free Will Month campaign offer either free or low cost will-writing from a fully qualified solicitor with fees or voluntary bequests going to designated charities. These schemes run in March and October (Free Will Month) and November (WillAid). Some banks also offer free will writing and estate planning, but may expect you to keep the will with them.
Where to keep your will 
It is important that you do not attach anything to the original will with a staple or paperclip as this could cause confusion later. Keep the original will safe. You could lodge it with a solicitor, will writing service or a bank (but do not keep it in a bank deposit box, which will not be accessible straightaway). There may be a charge for storage, so make enquiries. For a fee of £20 a will can also be lodged at the Probate Registry. You may wish to keep a copy at home where it is accessible should you wish to check it. Wherever you keep your will, make sure that your executor knows where it is.
Changing a will 
Small changes to a will can be made with a codicil, which gives short additional instructions written on the original will that are signed and witnessed in the same way as the original will. The witnesses can be different from those used for the original will. For most changes, however, it is advisable to make a new will and revoke all previous ones.
Useful contacts
Solicitors for the Elderly (SFE)- provide independent legal advice for older and vulnerable people, their family and carers, visit www.solicitorsfortheelderly.com or call 0844 567 6173
Law Society- visit http://solicitors.lawsociety.org.uk/ or call 020 7320 5757
Institute of Professional Will Writers- visit www.ipw.org.uk or call 0345 257 2570
Society of Will Writers and Estate Planning Practitioners- visit www.willwriters.com/or call 01522 687888
Free Wills Month- visit www.freewillsmonth.org.uk
Will Aid- visit www.willaid.org.uk or call 0300 0309 558
Probate Registry- to find the local probate registry, visit www.gov.uk/wills-probate-inheritance or call 020 7697 0251
Certainty, the National Will Register- visit www.nationalwillregister.co.uk or call 0330 100 3660.
Links to third-party sites do not constitute an endorsement by the Oddfellows and use of the advertised products and services is entirely at your risk. The Oddfellows does not accept any liability or responsibility for any third party material on other websites.