Fundraiser proves royal success
Cleveland and Durham District staged a brass band musical tribute fit for The Queen. The concert, held at St Hilda's Church in Hartlepool attracted a sell-out audience and raised £1,200 for armed forces charity Soldiers, Sailors, Airman and Families Association (SSAFA).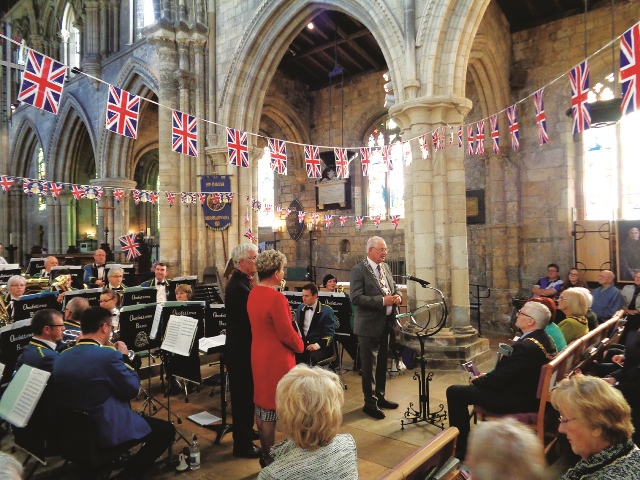 Entitled '90 Glorious Years', the concert paid a musical tribute to the life and achievements of Her Majesty Queen Elizabeth II - including her 64 years as reigning monarch.
The concert attracted an audience of over 250 people. Distinguished guests included Lord Lieutenant of County Durham, Mrs Sue Snowdon, The Mayor and Mayoress of Hartlepool, Councillor Rob Cook and his wife, Brenda, and SSAFA Chairman, Michael Donne and his wife, Ruth.
Music for the afternoon was provided by Oddfellows Brass - the Society's own award-winning national brass band - who played well-known pieces spanning The Queen's 90 years. This culminated with a rousing selection of suitably patriotic music from the Last Night of the Proms.  
We're thrilled that our musical celebrations of The Queen were so successful and especially given Her Majesty and the local area have a very strong, if little known, connection. David Smith, Cleveland and Durham District Secretary
"The actual concert venue, St Hilda's Church, was built in the 13th century, reputedly by a member of the Bruce family, whose direct descendants include King George VI - The Queen's father," added David.

Prior to the concert, David wrote to The Queen to tell her about the concert and the Church's links to her family. He was pleasantly surprised to receive a reply from Her Majesty via her Chief Clerk, thanking David for his thoughtful and enlightening correspondence as well as extending her warmest wishes for a successful and enjoyable concert.

All proceeds from the concert are being donated to SSAFA. Formed in 1885, SSAFA is the UK's oldest tri-service military charity. It provides lifelong support to both serving and ex-members of the armed forces and their families. Her Majesty The Queen is patron of the charity and has been for over 60 years.

David concludes: "We'd like to thank everyone who attended and supported the '90 Glorious Years' concert and also Oddfellows Brass for putting on a truly amazing performance."

To find out more about events and activities coming up in and around Cleveland and Durham District, call David on 01642 655685, or for a copy of their latest Events Diary email david.smith@oddfellows.co.uk.